From the forums comes refurbished Land Rover Series IIa. The seller states that it was treated to a bare-metal respray and that the engine has a rebuilt head, along with many replaced parts. The asking price is $14,500.
Click the link or read the rest of the post for more details.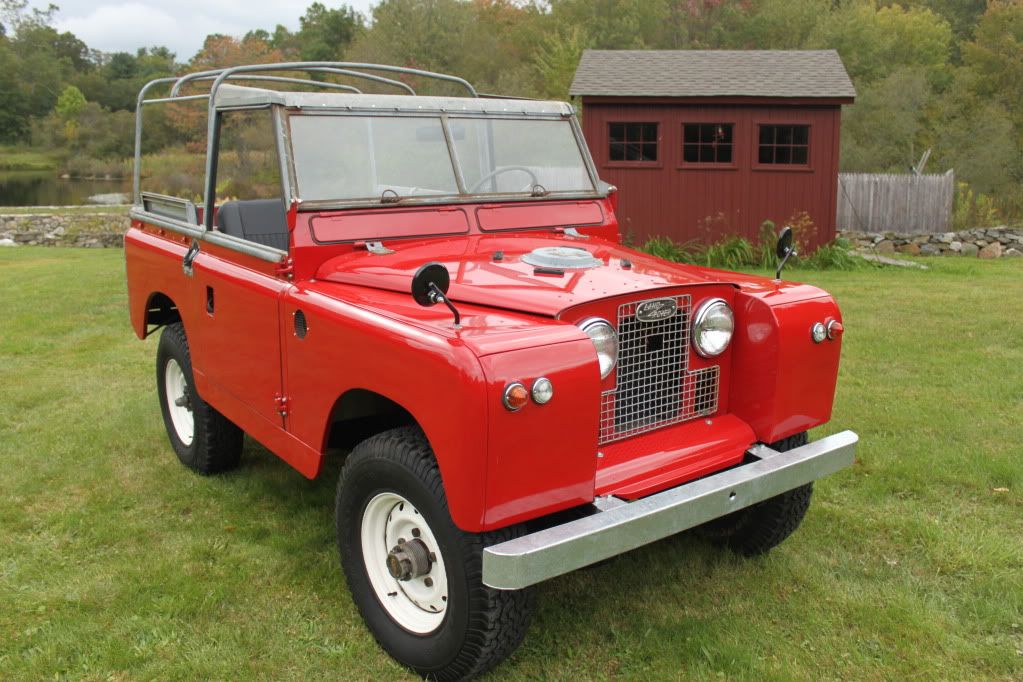 Here is 1962 Land Rover Series IIa that has undergone a refurbishment over the last year. This Rover was an excellent candidate for refurbishment because it was completely original, did not have too much rust and is a relatively rare color, poppy red. This Rover is not a complete frame off restoration but a very thorough refurbishment.
Body:
The body has all of its original panels with the exception of the driver side quarter panel and driver side door, which have been replaced. All panels were removed, stripped down to bare aluminum, etch primed, urethane primed and painted in the original poppy red. The bulkhead was in above average condition and only needed its floors replaced, the interior of the bulkhead has not been repainted, it is still in its original paint. There is no body filler anywhere on the body except a small amount on the driver side fender, from an old repair. There are minor dings on the body that are nearly unnoticeable. The rear body had been removed from the frame and painted inside and out, as has the seat box, fenders, hood, tailgate, doors, vent flaps, transmission tunnel and floor boards. The body has new mirrors, vent seals, windshield seal, door and tailgate weather stripping, and bolts, nuts and rivets. The weather stripping has been upgraded to one-piece Defender weather stripping. All door hinges have been rebuilt, and every bolt, screw and rivet that had been removed was replaced with new. The convertible top frame is a genuine land rover unit but the canvas top is worn and could be replaced for $600.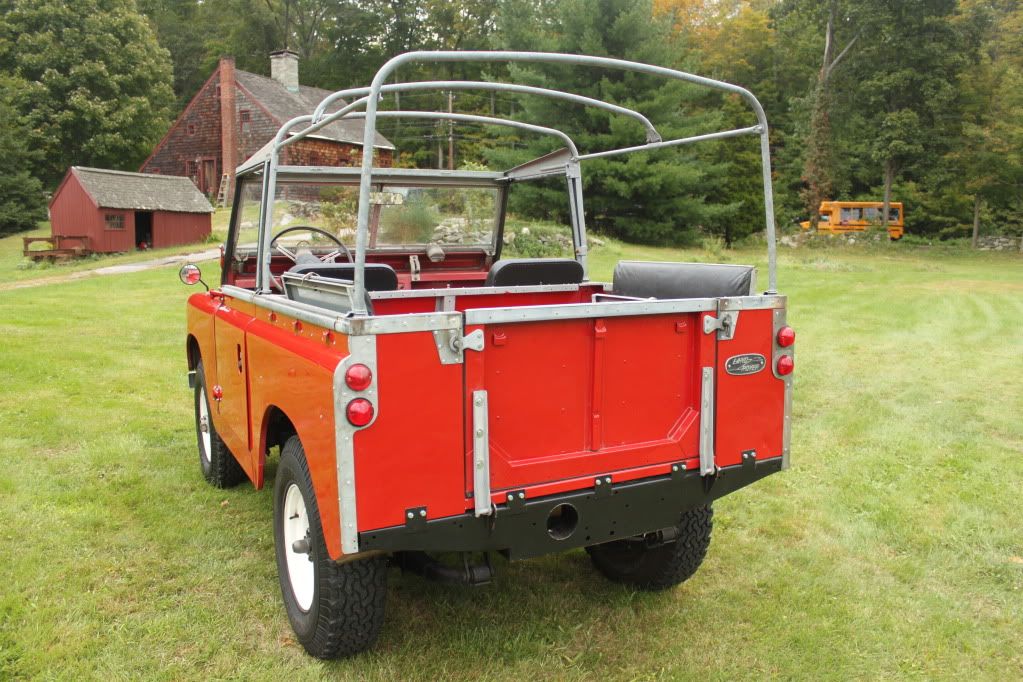 Engine:
The Rover has its original 2.25 liter 4 cylinder gasoline engine. However it has been updated with a rebuilt head for unleaded fuel and a Zenith carburetor. A compression test after the head was reinstalled revealed equal compression in all cylinders plus or minus a couple of psi. The motor has also been tuned up and many parts replaced such as the distributor cap and rotor, points, spark plug wires, spark plugs, motor mounts, fan belt, head gasket, thermostat, all radiator hoses, fuel pump, coil, oil filter, radiator cap, carburetor, and a rebuilt head with all new valves and newer style valve guides and seals. The motor runs great and idles nice and smooth.
Frame:
The frame was in excellent original condition but the rear crossmember was beginning to rot through so the rear body was removed and the crossmember replaced. At this time the entire frame was treated inside and out with waxoyl, a rust preventative coating. The Rover also has a new bumper.
Interior: The black vinyl seats are new, the Rover has its original rear jump seats. All the floor hardware is new to make removing the floors easy should the need arise. The original speedometer, temperature gauge, volt gauge, oil pressure gauge and fuel gauge all work great. The wipers are not currently working. The Rover has also had new seat belts added which did not come factory in this year.
Suspension and axles:
The rear springs were replaced but the front retained since they are in good shape. All new shocks were fitted. All the wheel bearings were removed, cleaned, inspected and fitted with new seals. The gear oil has been changed in the front and rear differentials and swivels. The Rover also has locking front hubs. The tires are 235 85 16 BF Goodridge all terrains these are a couple years old and have about 7000 miles on them. The wheels are Genuine land rover tubeless heavy duty wolf wheels painted alpine white and have all new lugnuts. As an alternative I can have the tires mounted on a set of original Series 16'' wheels which do not have the holes like the wolf wheels, they are freshly painted alpine white. The steering box is in good shape without too much play and has had its oil changed. 4 new tie rod ends and clamps were installed as well.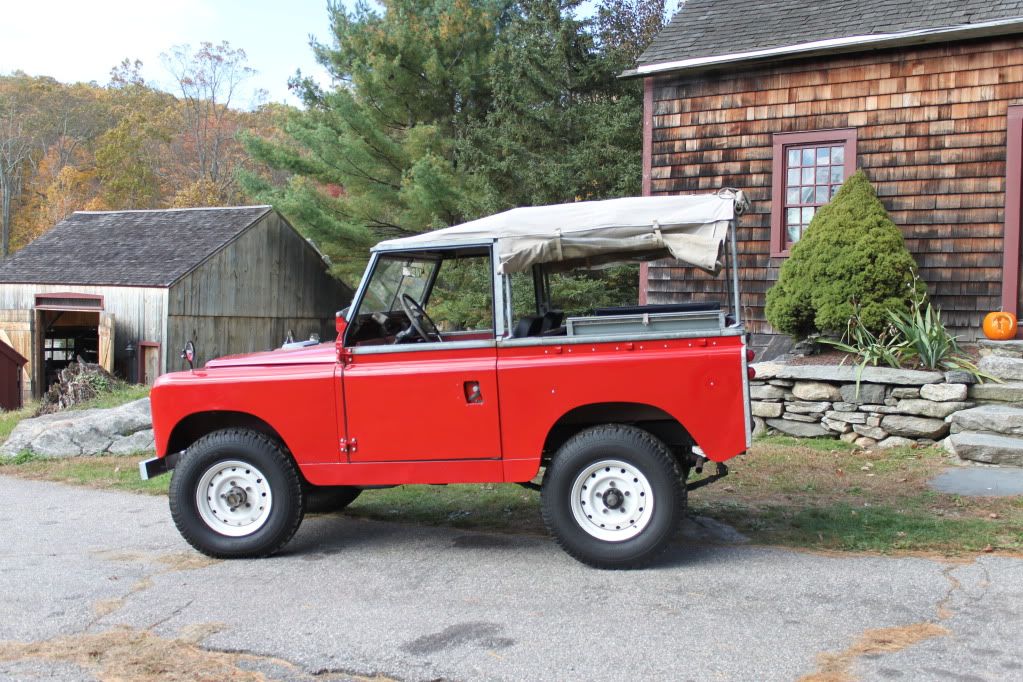 Transmission and transfer case:
The transmission and transfer case are in good original condition, they have had the gear oil changed and new transmission mounts added. The entire hydraulic clutch system has been replaced including a new master cylinder, hard line, rubber hose and slave cylinder. All early series transmissions have an unsynchronized first and second gear.
Brakes:
The entire braking system has been overhauled. This includes a new master cylinder, all new copper-nickel brake lines, brake hoses, wheel cylinders and drums. The parking brake works excellent.
Electrical:
The Rover has had the old generator removed and upgraded to a new 45 amp alternator from a series III. The original wiring harness was in great shape just a few small repairs were made. The taillights, headlights, headlight buckets and headlight harnesses were all replaced. Also the Rover was converted from positive ground to negative ground. All battery cables were replaced and the battery is a year old. The original glass front marker lamps are still intact and in great shape.
Fuel system:
The entire fuel system has been replaced. This includes a new gas tank, filler cap, vent hose, fuel sending unit, fuel lines, fuel pump and carburetor.
Additional work:
The heater is not installed at this time and the original could be restored and reinstalled or an upgraded unit fitted. Also if there is any additional equipment or accessories that will be needed I could install those as well. This includes a winch, trailer hitch, radio, seatbelts for the rear jump seats, a center console, additional driving lights, air compressor or any number of other upgrades to meet the new owners needs.
Contact info:
Call Mike at 203-996-5008
Also you can see additional photos of the restoration on my Facebook page:
http://www.facebook.com/pages/North-…C/318555676409