What's a camper?
For this discussion, let's say a camper is a shelter carried by the vehicle chassis. A camper is a vehicle you can live inside of, rather than a vehicle you unpack and live next to. At a minimum, a camper needs the following features
– sleeping positions in the shelter for the driver and at least one passenger
– seats inside, out of the weather, that are not the positions used while driving
– facilities for food and water storage, and food preparation(cooking outside is OK)
– sanitary facilities, including a toilet of some kind and a wash basin.
From this point of view, adding a rooftop tent does not make your vehicle a camper. Building a sleeping platform in the back of a vehicle is not enough to create a camper. Safari-style large tents are not campers, either. Trailers built for rough road use, such as the Adventure Trailers Offroad Teardrop , and the Kimberly Kamper trailer are interesting shelter options that should be discussed in an article of their own.
Is a camper necessary for adventure travel?
No. It's entirely possible to travel for a few days with little more than a bedroll and a couple of energy bars in your pocket. However, when the journey is measured in weeks rather than days, then the greater convenience, organization, capacity, comfort, privacy and security of a camper are welcome. A camper is great when you face unpredictable or extreme weather conditions. A camper usually can be set up and taken down more quickly than a tent camp. A camper is also a good choice when your companions are not as enthusiastic as you may be about sleeping outside. A camper helps when your journey includes stops in urban areas. A camper is better for an overnight stay in a Wal-Mart parking lot, behind a Costa Rican truck stop, or next to a bar on a beach in Brasil. For these reasons, people choose a camper for adventure travel, despite its extra weight and bulk.
The camping vehicle recommendations that follow are divided into four weight classes:
– Very light duty, cargo capacity up to 1500 lbs. Mid-size pickups and most SUVs.
– Light duty, cargo capacity up to 3000 lbs. Full size pickups and small work trucks.
– Medium duty, cargo capacity up to 8000 lbs. Work trucks like Ford F450 and Fuso FG.
– Heavy duty, cargo capacity beyond 8000 lbs. Serious steel, like F550 cab/chassis, Mercedes trucks, Toyota Hilux with camper by Polycomposit, a French builder.
Turtle Expedition F55
Global Expedition Vehicles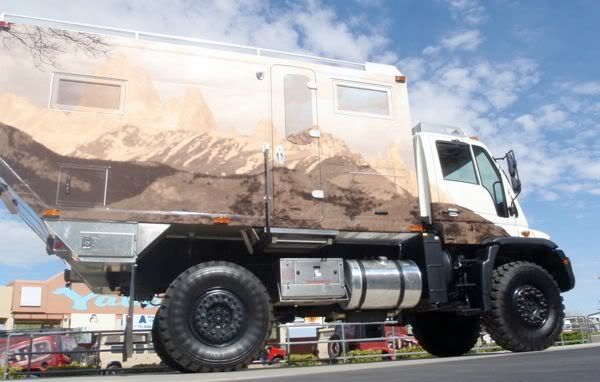 Very light duty (cargo capacity up to 1500 lbs)
The best new camping vehicle in this weight class is the Toyota Tacoma 4×4 pickup, sold in USA and Canada, and its counterpart sold world-wide, the Toyota HiLux. These vehicles have earned an excellent reputation for durability and off-road performance. They have many options and upgrades available from aftermarket manufacturers. Toyota parts and service for the HiLux are available around the world.
Here are three examples of the Tacoma or HiLux with a camper on board: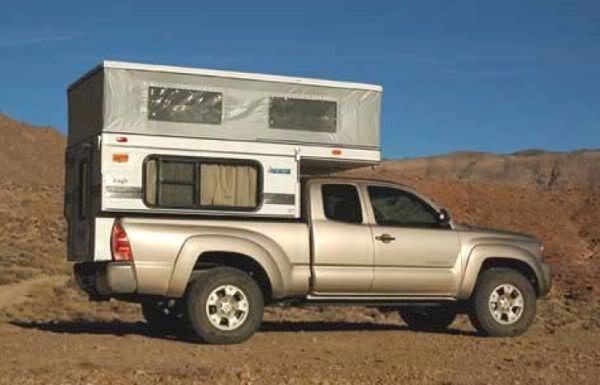 (Image: Toyota Tacoma with Four Wheel Campers Eagle popup camper) (http://fourwheelcampers.com)
(Image: Toyota Hilux with popup camper top by Polycomposit, a French builder.) (http://www.polycomposit.zoomici.com)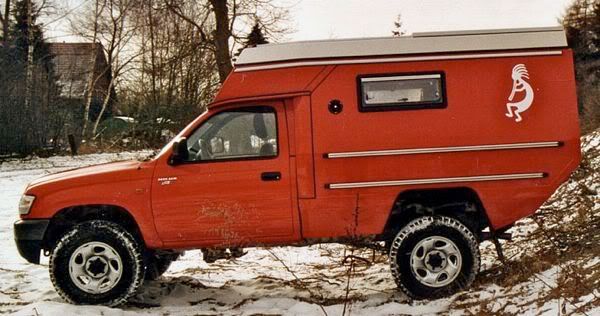 (Image: HiLux camper with tilt-up top by Innovation, a German firm) (http://www.innovation-campers.de/) A second good choice in the very light duty category is the Earthroamer XV-JP, constructed on a modified Jeep Wrangler Rubicon with upgraded suspension.
(Image: Earthroamer XV-JP) The Earthroamer is well supported in North America, but Jeep can't match Toyota's support network in other countries around the world. Other vehicles in this class include midsize trucks from Nissan, Isuzu, Mitsubishi, Ford and GM. None is as durable or as well supported worldwide as the Toyota models. It's a pity North American customers can't buy the HiLux or other models in this class with the small diesel engines their manufacturers make available in other markets. Most SUVs, including the Toyota Land Cruiser, Nissan Patrol, Mercedes Geländewagen, smaller Land Rovers and other worthy vehicles fall in the very light category. They can't match the interior space or, in most cases, the cargo capacity that the pickups provide. Vehicles in the very light duty category have just barely enough cargo carrying capacity for a simple camper, a passenger, and your gear. You need to be very careful when outfitting a very light duty truck to avoid loading it beyond the factory specifications. Even if a vehicle is rated to carry all your gear, you won't want to drive it very far with the springs close to the bump stops and the shocks compressed. Driving a vehicle loaded to the limit over rough roads is a good way to shorten the life of your tires and suspension components. If you choose to build a camper using a chassis from the very light class, you'll probably need to budget for a suspension upgrade. Better yet, consider buying a truck with greater capacity instead.
Light duty (cargo capacity (1500-3000 lbs)
In the first article in this series, the Toyota Land Cruiser HZJ 78 and 79 were chosen as the ultimate new vehicle for overland travel. (See https://www.expeditionportal.com/resources/91-guide/159-expedition-vehicles-part-one-selecting-the-ultimate-overlander.html). The Land Cruiser 78/79 is also the best light duty platform for a camper. The Land Cruiser HZJ 78 is the famous "Troop Carrier" SUV. For camping duty, these are usually outfitted with a roof that pivots open on a hinge.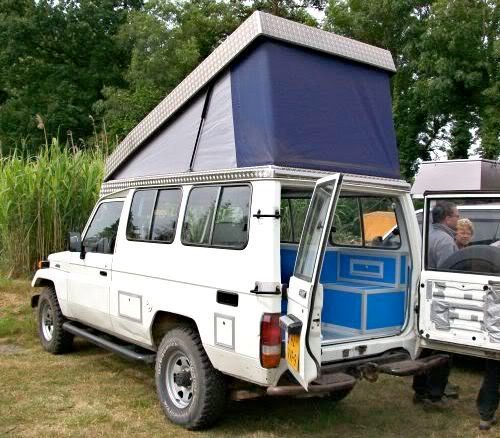 (Image: Popup Troop Carrier by Innovation (http://www.innovation-campers.de/) The HZJ 79 is the cab/chassis version of LC70 series. For camping use, this vehicle is frequently equipped with a lightweight custom built shelter with pop-up roof.
Here are two examples:
(Image: Expedition-Cabin camper on LC70 series (http://www.expedition-cabin.de/)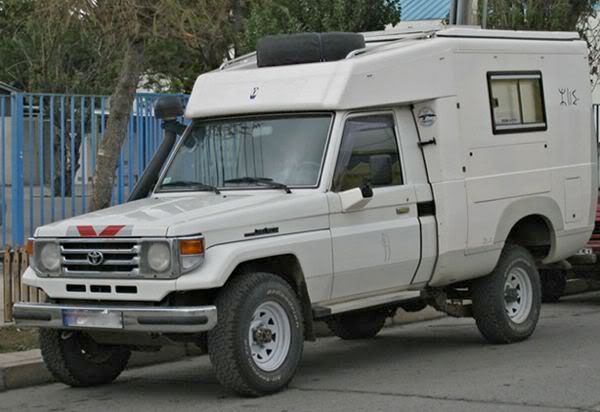 (Image: Azalai camper on LC70 series (http://www.azalai.co.uk/) The HZJ 78 and 79 have a cargo capacity of about 2,700 lbs. That's enough for a passenger, a well-equipped camper, and lots of gear. The current HZJ 79 is only available from Toyota as a single cab. Unfortunately, the Land Cruiser 70 series is not sold in USA. Other European and Japanese manufacturers offer a number of off-road-oriented vehicles in this weight class (e.g., Iveco Daily 4×4, Iveco Massif, Bremach 35, Land River Defender 130, Mercedes Sprinter 4×4, Mercedes Unimog U20, Fuso Canter FD, and others). None are imported to USA. For use as a light duty camper platform in North America, I think the Dodge Power Wagon is the best compromise between carrying capacity and off road capability.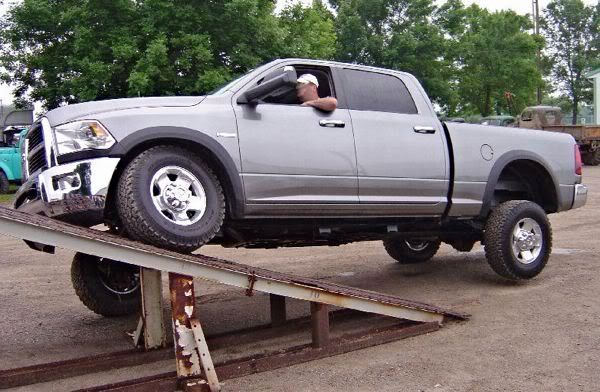 (Image: 2010 prototype Power Wagon at 22nd International Power Wagon Rally) From the factory, the Power Wagon is equipped with a long travel off-road suspension, front and rear locking differentials, 33 inch tires, 4.56 axle ratio, skid plates and winch. The Power Wagon is powered by a gas Hemi engine, paired with a 5 speed automatic transmission. Its 2200 lb. cargo rating will allow you to mount a heavier popup camper and lots of gear. The current Power Wagon is available only in a double cab configuration, which makes it a good choice if you expect to have more than a single passenger. Single cab Power Wagons were produced from 2005 through 2008. If you want a diesel, consider the Dodge 3500 with Cummins diesel. The diesel can be ordered with manual or automatic transmission, single or double cab, and 6.5 foot or 8 foot bed. Unfortunately, the locking front differential is not available from the factory with the diesel engine. The 3500 with diesel engine and single rear wheels has a carrying capacity of about 3000 lb.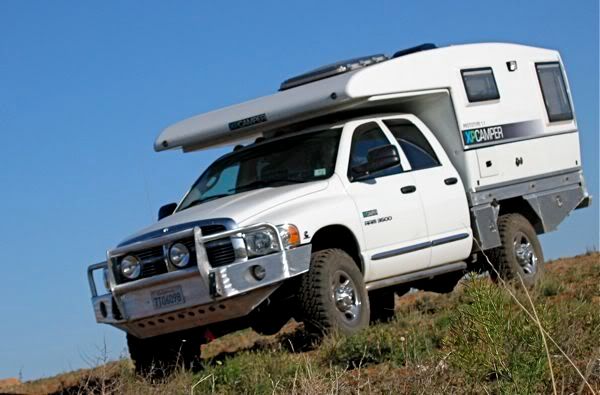 (Image: Prototype XPCamper on Dodge 3500 diesel. While there is no model from Ford, GM, Toyota or Nissan that matches the Power Wagon's combination of carrying capacity and off-road performance, you can build a very capable 4×4 pickup based on any of these brands. So if your brand loyalty won't let you consider a Dodge, there are lots of good alternatives. The full size USA pickup is somewhat larger than the Land Cruiser 78/79. The Power Wagon is 2 feet longer overall, but it's a crew cab model. The Power Wagon is 9 inches wider and 3 inches taller than the Cruiser. Despite the extra weight and size, a properly equipped pickup can still handle challenging terrain.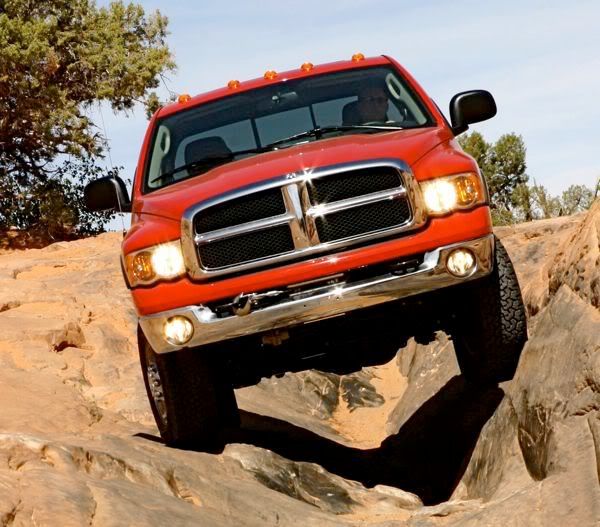 (Image: 2008 Power Wagon in Moab)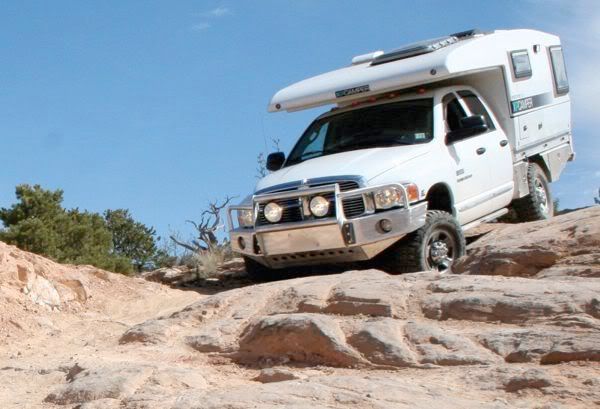 (Image: Dodge 3500 diesel with XP Camper on a rocky trail