Dodged a big bullet. I'll post about it so hopefully others with a TJ/LJ can dodge the same bullet.
About 2 months ago, it felt to me like the ignition switch operation wasn't right - it felt a little "soft" and less "notchy" than normal. Two years ago the lock cylinder in the pickup failed (also a 2006 LJ), so thinking that might be the problem in this Jeep, I replaced the cylinder (an easy job BTW). It felt a little better, but still wasn't right. Everything was working ok other than the "feel", so I decided not to diagnose it any further at the time.
Since then I did the Colorado trip and lots of other miles in the LJ.
The other day the key release pushbutton stopped working right - I couldn't shut off the engine without pushing in the key release button, so I decided it was time to do some further diagnosis. I removed the cover from the steering column and looked at the mechanism of the key release button - it's connected to the ignition activator.
For those who haven't had their steering column apart, the lock cylinder connects to the ignition switch activator and the activator turns the electrical ignition switch. The activator also performs several other functions, such as the key release button and the steering column lock.
I decided the ignition switch activator was failing and if it failed completely, the Jeep would not start, so this was becoming urgent. Turns out Autozone carries the activator, so I went out and bought one.
This is what the activator looked like when it came out:
The rod that turns the ignition switch is a pot metal casting and prone to breakage, mine was broken in the typical failure mode. Luckily it was still able to turn the ignition switch. The end of the rod goes in the recess in the center of the switch: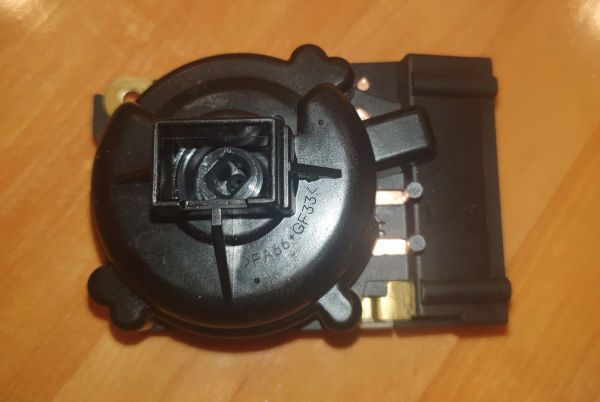 With the activator replaced, it's working fine and turning the key feels "notchy" like it's supposed to.
This has obviously been broken since it first felt soft to me a few months ago, and could have let us down 20 miles from the nearest road in Colorado.
The lead Jeep mechanic at the dealer tells me this is a common failure mode for the ignition assembly and the potmetal rod is the weak link. He says he's replaced quite a few over the years.
So forewarned being forearmed, if the feel of turning your key starts to feel a bit soft, your activator is likely heading for failure. Don't ignore it for too long.