1987 UNIMOG U1300L
Up for sale is a Unimog U1300L RW1 Rescue Truck, one of the cleanest examples you will find! This truck started life as a super clean low mile German fire/rescue truck and then my father and I converted it into the Adventure truck you see here. RW1 trucks are highly maintained, stored indoors and completely rust free! They are also equipped with extras not found on the Military models.
* Super Low Miles - Only 38,000 KM or 24,000 miles!
*OM366A Turbo Diesel engine with Fast Axles
*Continental MPT-81 365/80-R20 Tires with Dynabeads installed, Very low miles.
*8 Speed Transmission with separate reverse lever, you can reverse in any gear and even shift in reverse!
*Rear mounted Werner Hydraulic winch .
*Front and Rear Sway Bars (Great for larger Camper Loads)
*Heavy Duty Springs (Again great for camper conversions!)
*Diesel fired aux heater located under passenger seat (Can run even with the engine off)
*Winching Brakes (Electrically lock the calipers when pulling with winch)
*Electric air dryer system on air system
*Von's Axle Vents
*Custom Overhead Console with radio,speakers and switch bank for LED lighting
*Custom headliners with embroidered UNIMOG Logo's.
*Custom leather bucket driver's seat with suspension base - Matching seat for passenger side included with sale, currently has a two place bench seat installed in passenger side.
*Truck custom painted in Toyota Quicksand tan inside and out, high end Valspar Base/Clear. Not a quick or cheap job!
*Factory heavy duty undercoating under cab. ZERO rust!
*Custom Roof Rack with 5 forward facing Baja Designs ONX6 High Speed Spot lights and 6 Ridged Industries Floods (2 on each side and back).
*Custom built headlights with Hella Projector lamps installed (HUGE improvement over stock lighting)
*Custom front Push Bar with Baja Designs LED ONX6 driving light (Baja Designs lights are not cheap but are the best lighting out there! Over $2500 in LED lighting on this truck and it flat lights up the night!)
*Custom built turn signal and side marker guards
*Custom built side ladders for easy access to roof rack.
*Custom built windshield light brackets and Baja Designs Squadron LED Lights
*Custom Built Rear Turn Signal Mounts
*Stainless Steel exhaust system - Imported from Germany
*Belgium model troop bed color matched to truck, bed was never in service and is in excellent cond. Deck completely re-finished. Perfect platform to mount a removable expedition camper box. Gates slide off and you have a flat bed in just a few minutes.
*Snorkel Intake with Cyclone fine dust separator. Roof rack is custom notched around the Cyclone unit.
*88 pieces custom power coated.
*Full Synthetic oils used all around.
*Extras included full Bosch diesel injector service tools, shop manuals, new brake pads, more
Tons of info and pics on the build out of this truck located on my build thread here:
http://advrider.com/index.php?threads/meet-the-trotn-turtle-unimog-u1300l-build.1143869/
$$67K, located in WA State. Clean WA state title.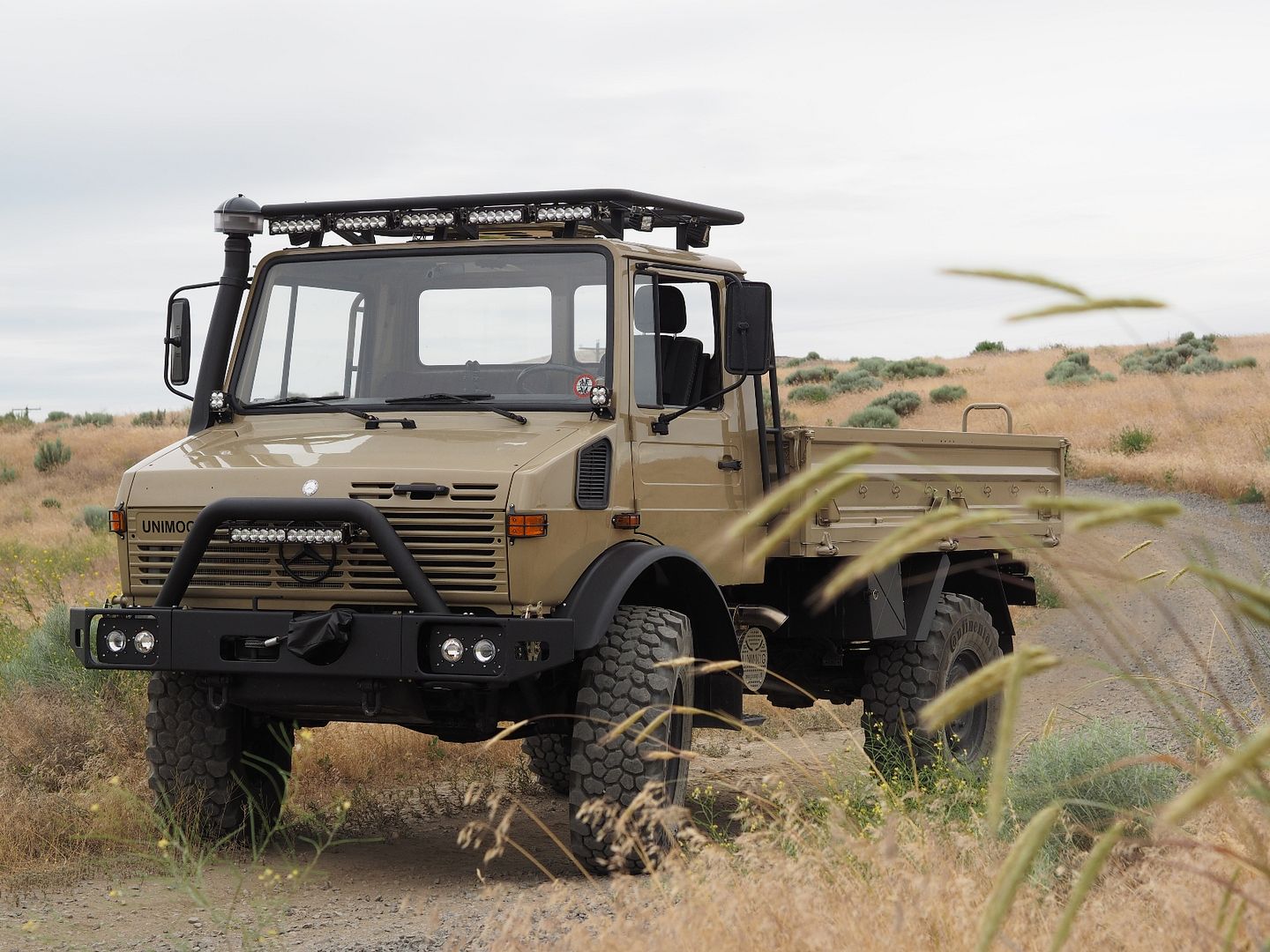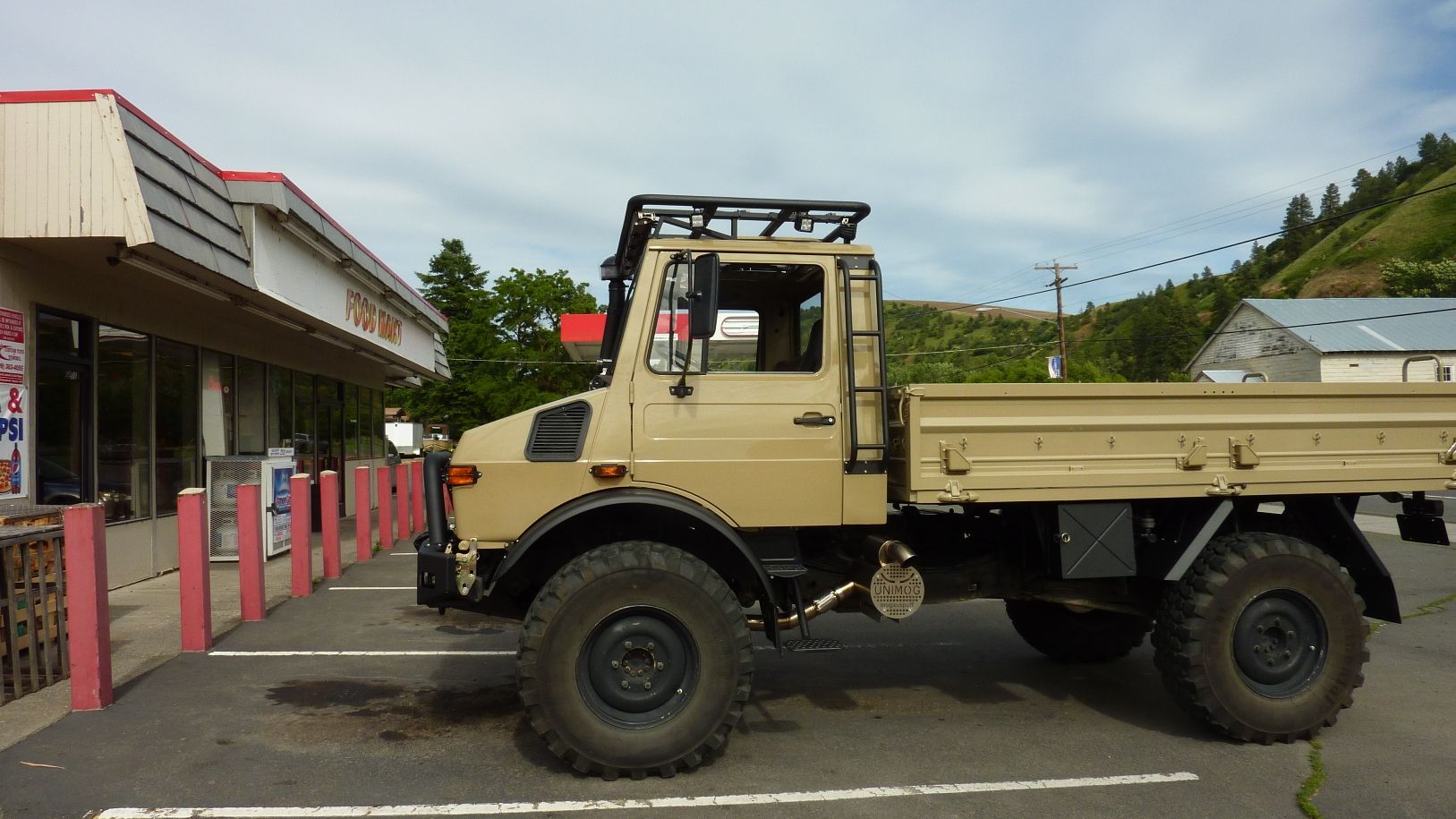 Last edited: