Chincoteague, VA
I know what you mean Jim, driving off on a sandy beach is like exiting the world. Between the end of the asphalt and the hard sand by the water is 50 yards of soft sand. This is where cars and trucks get stuck, but once past that, you have more miles of sand to play on, and maybe even see the Corolla wild horses. I definitely want to get back, and do Cape Lookout again someday.
I drove up the eastern shore of VA, and got to cross the Chesapeake Bay Bridge, an engineering marvel.
As many years as I lived in VA, I never knew this: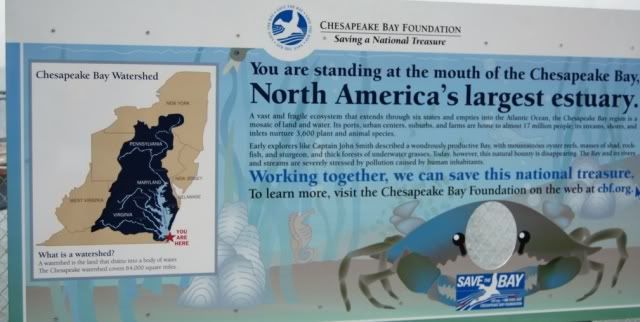 Driving into Chincoteague, I got a little worried cause I saw a million billboards advertising stuff. Thought we were going to have a repeat of Rapid City, SD. Then I got onto the island itself and saw this, and knew everything was going to be ok. They've kept it small and wild, and strictly regulate development. Yay.
Right by my campsite is a dilapidated old pier. Within an hour of arriving, about 6 people must've pulled out 30 lbs of fish. Flounder, shark, rockfish, and lots of crab - other stuff too, that's all I remember.
I learned it IS possible to have a campsite too close to the water. They've been having record tides this year in Chincoteague. At high high tide, Tiger's front wheels were half under water and the road disappeared. I could've fished from it, there were crabs scuttling around the coach door in 4" of water. Fun, but tricky getting Pepper out.
From the bridge over to Assateague: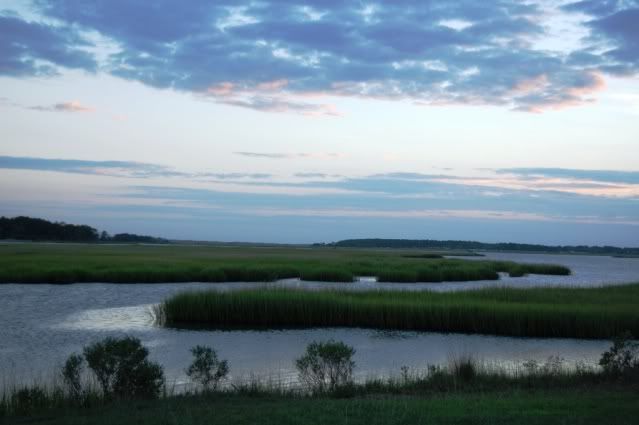 South end of the beach, Assateague Island. My campsite is at the end of that point in the background.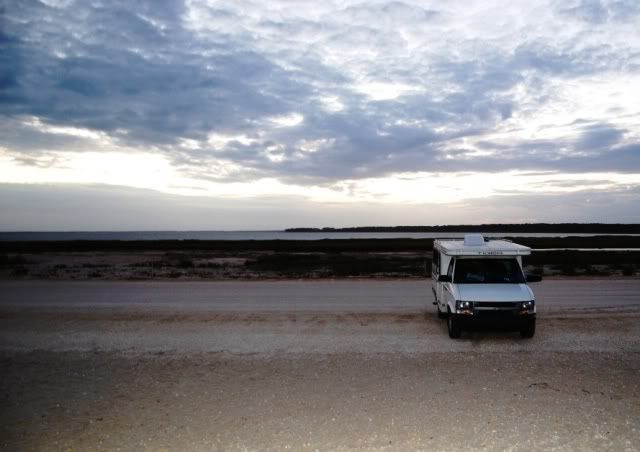 Closed for piping plover nesting most of the summer, not sure who made these tracks.
Tiger at sunset, we can't go any further on this road
Took a boat
eco-tour
of the area. Picture of our guide's pic, he owns 7.5 acres of farming area and told us all about how it's done. Fascinating. At low tide, he gathers the oysters that have grown in beds like this one. Now I know why I keep seeing mountains of oyster shells around - they use them to "seed" the next crop.
Oysters grow an inch a year, which makes this a granddaddy of oysters.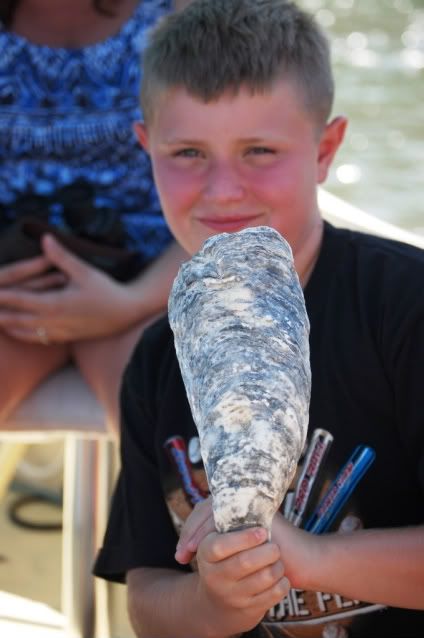 Horsehoe crabs abound in this area, they are harvested for their blood - used in medical research - and then put back in the water.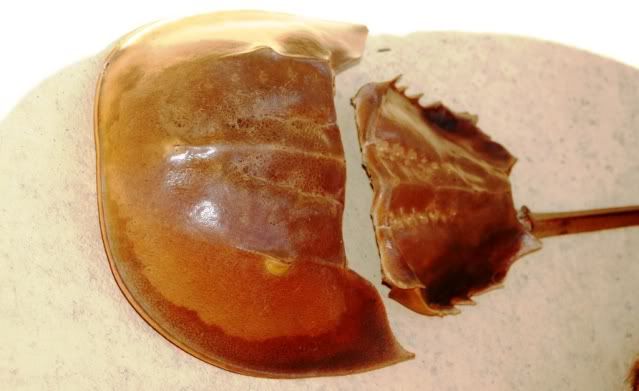 On September 5, 1750 the Spanish warship La Galga sank near Assateague Island. These ponies swam ashore and have lived wild here ever since, they still have the run of Assateague Island. Kayaking is usually the only way to get up close and personal with the ponies.
The local fire department "owns" them now and every year they have a roundup (Pony Pen Day ) and culling of the herd. At one time they were overunning the island. There are about 150 who live here and about 50/yr are gathered and swum over to Chincoteague for the annual auction. It's a great honor for those horsemen chosen to run the herd.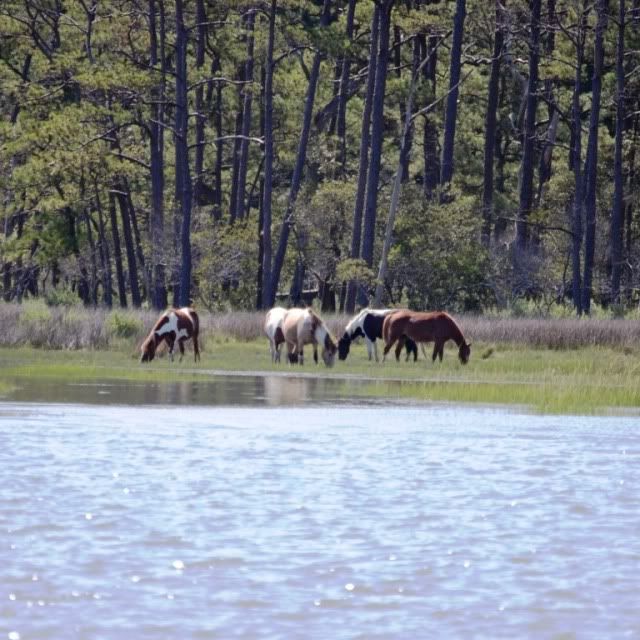 After the annual pony run, the ones that are sold but not yet picked up wait in this pen on Chincoteague for their new homes. The horseflies around here are HUGE, I had to pluck one off Pep's nose that was a couple inches long and at least an inch across.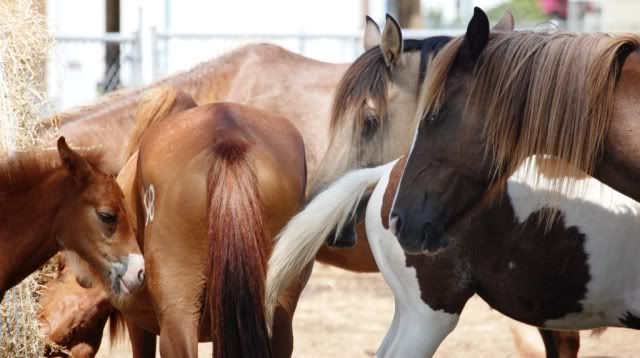 Giant egret, I thought it was a heron it was so big.
Cormorants and seagulls taking a break, Assateague lighthouse and ponies in the background.