So far, I've made the molds for four TrailTop parts - 8' straight rails, a 90-degree 3.5" radius corner, a 12" radius 90-degree curve and a 36" radius 90-degree curve. I'll be molding the first set of those parts next week... I'd mold them this week except that I'm traveling all week.
Here are some camper shapes that can be made with those parts: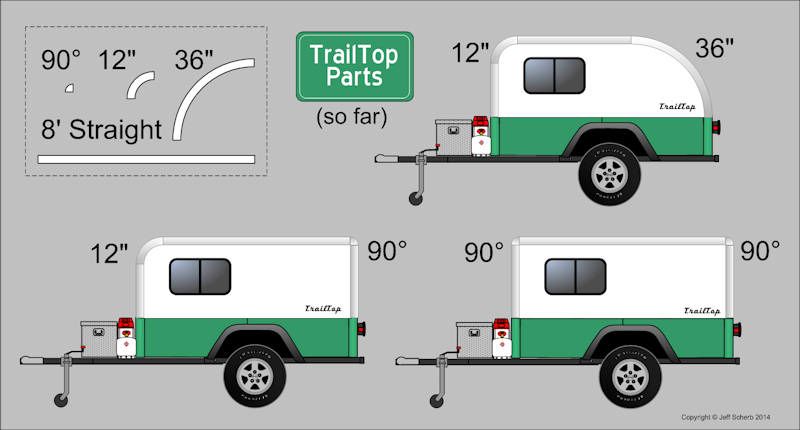 I've received input that some additional angle/curve parts that could allow different camper shapes might be a good idea, so I've drawn a few concepts for your comment. So what if I took the 12"-radius 90-degree curve and made versions of it that weren't 90 degrees?
In this next drawing, I've shown several camper shapes that would be possible with a 12"-radius 60-degree curve and a 12" radius 30-degree curve. I've shown them used in three different ways here: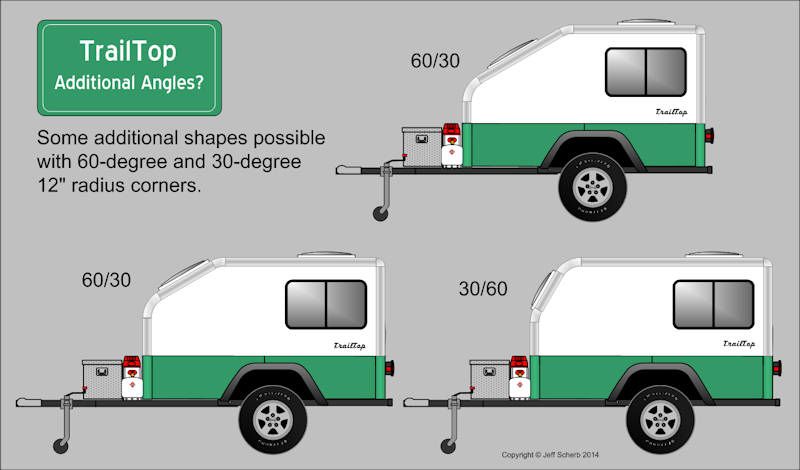 Another idea using the 60-degree and 30-degree parts... a "Teardrop" shape could be made that has a hatch with only straight pieces of wood, rather than curving plywood. The one short curve in the hatch would be done with a TrailTop fiberglass part, so the DIY builder wouldn't have to worry about making curved ribs for a hatch, this hatch would use straight pieces of wood, and a 12"-radius roof curve piece that I showed yesterday. There would be a few ribs to strengthen the assembly that would have a curved section that cole easily be traced off the TrailTop part before cutting to shape.
In the last drawing, I've gone a step further and done a two-angle roof, using a pair of 37-degree 12" radius curves and a 16-degree 12" radius curve. I've also shown a rear view with a large entry door, this idea could be used on all of the shapes in the drawings above except the teardrop shape.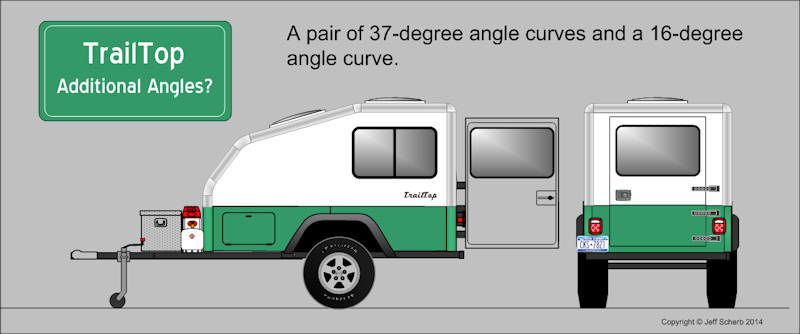 I've drawn all of these new pieces with a 12" radius for two reasons:
1. The 12" radius roof curve piece I showed yesterday could be trimmed from 90 degrees down to 60 and 30 in order to provide curved roof sections to go with these additional pieces, so that mold/part gets reused for all of these angles. (I'll do 3-d views showing how the roof would be assembled once I get feedback on these new angle ideas).
2. These new parts can be very quickly derived from the 12" radius 90-degree curve mold I've made already.
Do any of these angle/curve ideas appeal to anyone or are we good with the set of four parts and the camper shapes shown in the first drawing in this post? Are there other angles/curves that you would find useful to implement a camper design you've got in mind?
All of the concepts above are shown as camper caps on a Jeep-tub trailer, but as I've said before, the Jeep-tub trailer base isn't required.