First some background info:
Over the last few years I've designed and built several off-road trailers. Starting with a trailer made from the rear halves of two Jeep tubs (the yellow one below), I decided that project was too hard for the average DIY-er so I designed and built what turned out to be the Dinoot "J-series" modular fiberglass Jeep-tub trailer kit (the black one). After that I designed and built what became the Dinoot "M-series" modular fiberglass military replica trailer kit. Both of those kits turned out to be easy to assemble and fairly affordable ways for people to DIY-build their own custom off-road trailers.

I'm always looking for ways to make these trailers more useful, so not long after I made the yellow trailer, I built a camper top version of my Jeep Safari Cab hardtop to fit on it: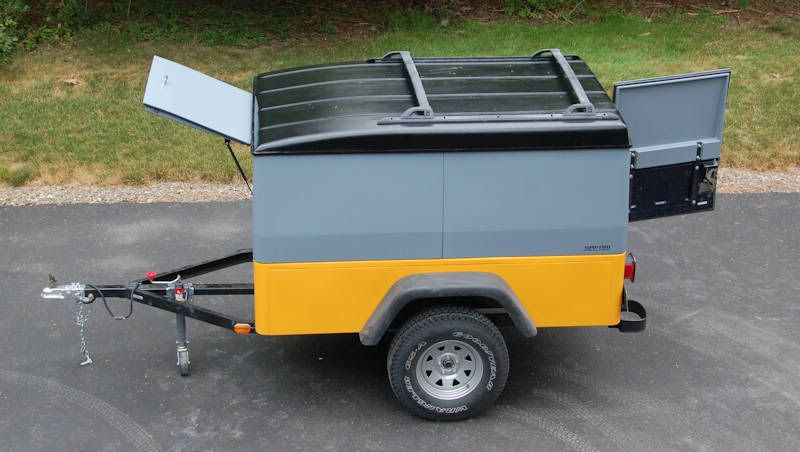 While it turned out that it would have been a nice camper top, I never took it beyond the primered prototype stage and never installed windows or other features due to other projects I was involved in at the time. Since then, I've always been thinking about ways to enable DIY-ers to easily build custom on- and off-road camp trailers using fiberglass components. I'm starting this thread so I can share some design ideas and start a discussion to get your input on the idea of modular trailer building blocks.
But before I post anything about my "TrailTop" design concept, I probably need to say this: I design and build these projects as a hobby. I am not in business to sell these, and I am not an employee of any company. Sometimes companies want to market what I've designed and I license my designs to them, but I am an not employee and never will be an employee of any of those companies. I'm just a guy with who likes to design and build things as a hobby.
Next post: the design concept...
Last edited: