The guys from Como Chingas Offroad (CCOR) announced they were going to do a pre-run for the annual CCOR Big bear fest ..... I had always wanted to do these infamous trails in big bear so I jumped at the chance to bash some rocks with the best.
....and bash rocks I did. My skid plates never took such a beating!
2 days full of dirt and rocks, great weather......and new friends.
On saturday we started in Lake Arrowhead, running DishPan Springs,
followed by Lower and Upper Holcomb and then ending the day with John Bull. Then on sunday a bit more relaxed run thru John Bull connector, Upper Holcomb, followed by Lower Larga.
Hawk lead the group expertly thru the trails with Bajatoy running cleanup and taking notes for thier pre-run planning.
We started of at Dish pan......with a group of 7. My FJ, Bajatoy, Bobby's Land cruiser and Hawks 4runner and 4 other jeeps.
Things started to get rocky real quick
arriving at the first major waterfall obstacle.
Hawk went for the big boy line and was not able to get up but his attempt was spectacular ( I missed him burying his rear bumper with his front wheels in the air)
Bobby was successful in getting up the big boy line but then was kinda stuck in a predicament at the top with no way safely down.....
Meanwhile....I tried to squeeze by him as they winched him to safety.....
I got stuck by the tree on the left....and failed to pick the right line....and unfortunately started the trip with a rock on my door..... I guess it was bound to happen sooner or later. My first trail tattoo....damn.
The tree and the rock (by the base) that decided to take a paint sample.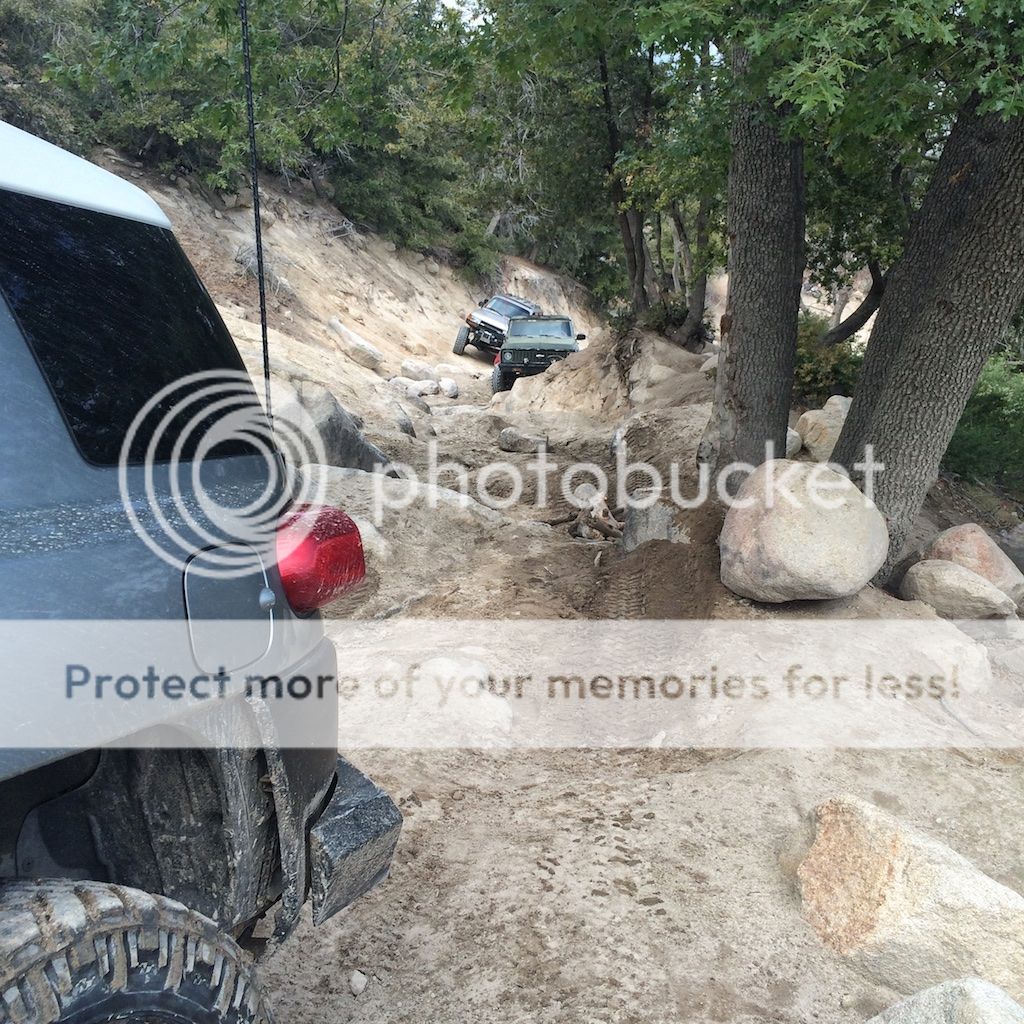 all said it could of been worse....it scraped and mostly didn't push in much. Less of a dent and more of a scratch..... ow well.......chicks did scars right?
seams so easy from up here
--
Hawk Flexing out his 4Runner.....such a clean ride! I dont know how he does it!
As we got higher the weather closed in....
Soon after a small break for lunch we got to the gatekeeper for Holcomb. This first obstacle (where the yellow jeep is.....caught me out....highcentered...damn!
I tried a few lines thru it but always ended up highcentered. Finally they tried unsuccesfully to tug me out....
Later hooked up my winch to a tree and pulled myself over the rocks.
Traveling thru Holcomb valley still with eerie sight of all the burned trees from the massive butler fire 8 years ago or so...
drove thru a bunch of boulder fields along the way...some wet which made things intresting...
pulling over to let by some traffic...
The famous boulder stream crossing....I managed to get by this one.....it's much easier going down...