Looking for an alternate solution to hanging heavy full Jerry cans off the back of my Jeep, I've designed a side mount Jerry can rack. I know this mounting position might not be ideal for every type of Jeep usage, but for my usage it's perfect. Here are some photos of the prototype.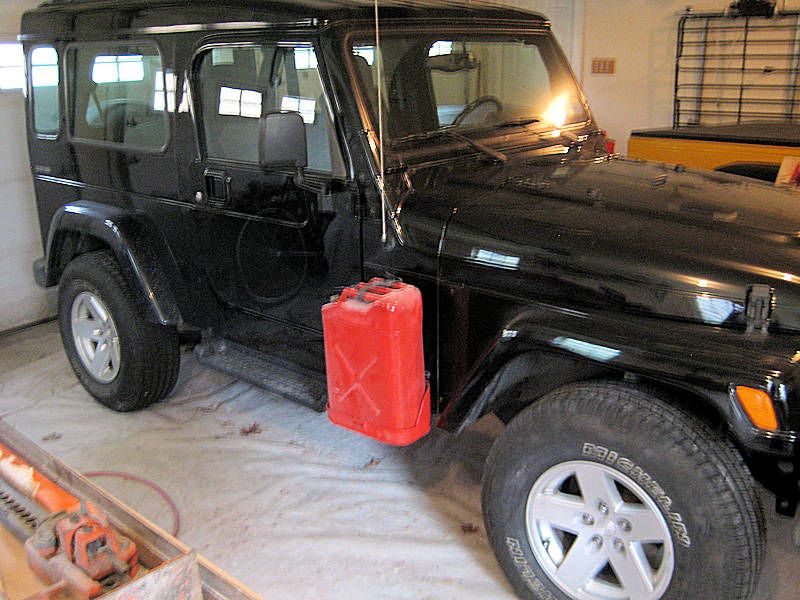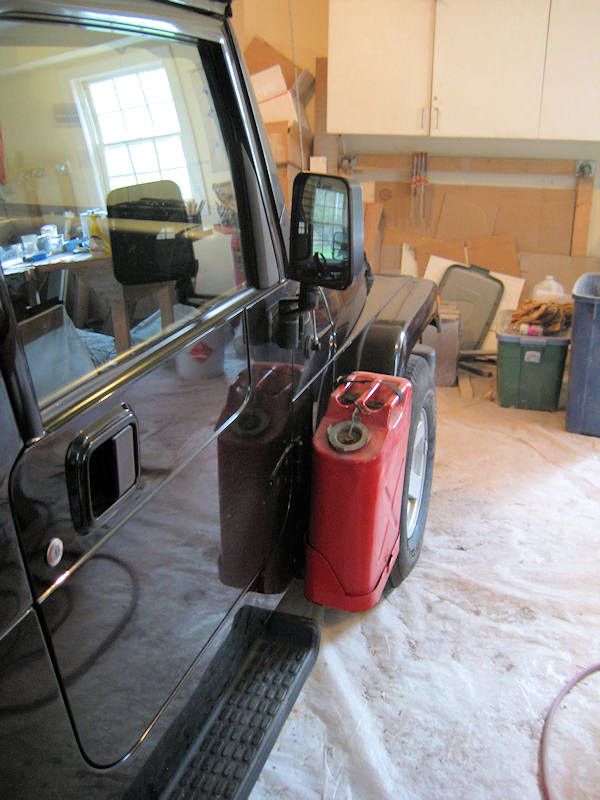 It's a complete bolt-on to the Jeep frame rail; no drilling required. And even though the frame rails are angled inward at the point where the receiver mounts, because of the design of the reciever, it's universal and the same part can mount properly on either the left or the right side of the Jeep. Similarly, the Jerry can holder that plugs into the receiver is the same part for both sides of the Jeep.
Here's a view without the Jerry can. I'm not sure if I'll stick with these sheet metal Jerry can mounts or if I'll fabricate something; the sheet metal ones do flex a bit more than I'd like.
This next one isn't a good photo, but it shows the receiver without the Jerry can holder inserted in it. In addition to the standard hitch pin through the receiver, there's a 1/2" bolt through the bottom of the receiver into the Jerry can holder shaft. This serves as an ""anti-rattle" bolt, and since the head of the bolt requires a 3/4" wrench, the stock Jeep lug wrench is used to tighten/loosen it (so no extra tools are required that wouldn't already be in the Jeep).
BTW the bottom of the receiver is higher than the bottom of the frame rail, which will help keep it out of harm's way off road.
This is still a prototype, I'll be making a few minor tweaks to it before I finalize it, but so far I'm very happy with the design.