Many thanks to ExPo member "Mickldo" for bringing us information about this Toyota camper with pop-up roof.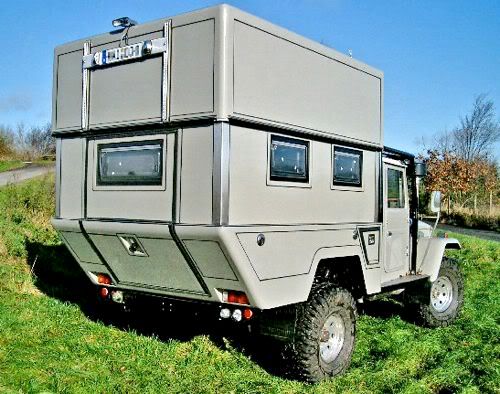 The camper is owned by a fellow who posts using the name "Sönke" on the IH8MUD forum and elsewhere. Here's a link to the thread on 'MUD.
http://forum.ih8mud.com/expedition-builds/245430-travelling-cruisers.html
The camper cabin was designed by Sönke. The truck chassis, cab and cabin exterior were built by Marcus Haase, owner of the German firm Off-Road-Schmiede. Sönke finished the interior of the cabin.
Here's a link to the builder's web page for this project
http://www.offroad-schmiede.com/kabine_hydraulisch.html
The photos above and in following posts are from Sönke and from the offroad-schmiede.com web pages.
Chip Haven