Norway!
Land of fjords, waterfalls, mountains, and endless tunnels, Norway had a spectacular surprise around every hairpin turn of the road. We managed to repeatedly hike ourselves into full body exhaustion (really not 30-somethings anymore), drive most of the most challenging scenic auto routes, and dip into metropolitan culture in its biggest cities.
After a slight hiccup, we crossed the border into Norway from Sweden on August 19th. European countries had just re-instituted stricter COVID related restrictions. We were unaware that Norway was managing its border tightly so our first attempt at driving in failed as we reached a closed crossing - clearly, we needed to do more research. But we re-routed and arrived at a staffed border. As the first Americans to arrive, the young border control officers had to call in supervisors to see if our US cardboard vaccination cards were acceptable. A lot of back and forth and a recognition that we did not have access to the European QRC system and we were allowed to pass.
Our first cultural stop was the mountain village of Røros - one of the oldest wooden towns in Europe (because, as we repeatedly learn, devastating fires were a big deal throughout time - levelling cities, castles and cathedrals on a regular basis).
Røros, Norway - old wooden village lined with shops and cafes
Not content with relying on the occasional roadside wildlife sightings, our next stop was Dovrefjell National Park - home to Norway's only wild musk oxen herd. We hiked into the high country and were rewarded by finding a group to watch. We sat on a rock and watched as a grumpy male tried to join the females - he failed.
Watching the wild life - male musk ox in Dovrefjell
Leaving the musk oxen behind we drove on to Norway's most renowned national park - Jotenheimen. On the advice of our friend Forrest Lewis we decided to hike the most beatiful trail in the park - Besseggen. It was incredible. We accessed the trail by ferry and made our way 9 miles along the ridge with incredible views.
Besseggen hike in Jotenheimen National Park - gorgeous views
With one epic hike done, we decided to focus on a drive next and headed to the Sognefjellet route - well worth the time, and the toe curling narrow turns shared with buses and trucks.
The scenic drives in Norway are many and varied so we went straight on to the next one, Aurlandsfjellet. More remote than the Sognefjellet, we were able to find a scenic camping spot along the way.
Now, time for a city! We opted to stay in a hotel in Bergen for easy access to all of its culture and history. We wandered the old streets, used an app (GPSMyCity) to do our own walking tour (no organized free walking tours here) and ate pizza for the first time in three months. Not traditional Norwegian fare, but an awesome break from truck food.
Iconic Bryggen, Bergen
We left Bergen to tackle another famous Norwegian hike - Preikestolen, or Pulpit Rock. Compared to Besseggen it was an easy trek - five miles roundtrip with an incredible photographic reward at the end point.
View of Lysefjorden on the Pulpit Rock hike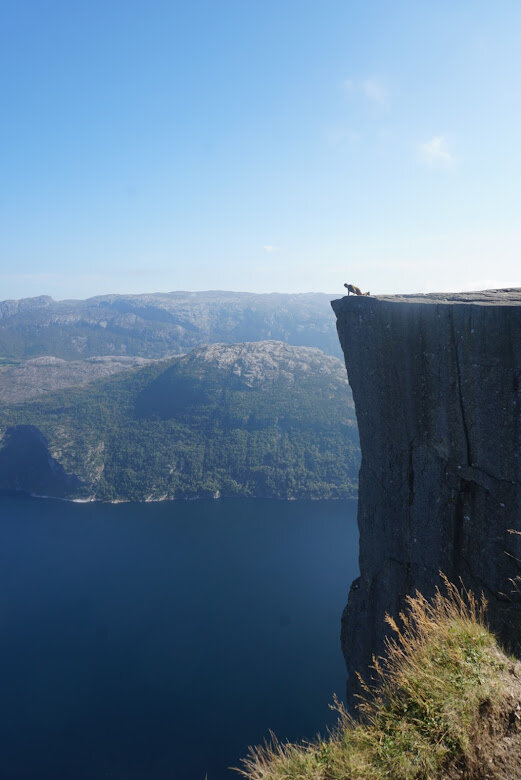 Pulpit Rock photo - Andy getting as close as possible to the edge.
Small car ferry
Driving around Norway, ferries and tunnels are a fact of life. The ferry system is incredibly efficient, treated as an extension of the highway system. Payment is all automatic by license plate. We were often just waved on as our license plate is not digitally connected to the system. The impressive tunnel network makes travel through mountainous areas simpler - although dark and viewless.
Heddal Stave Church
Norway is known for its Stave Churches - medieval Christian churches made of wood. We stopped by to visit this notable one in Heddal, outside of Oslo. Next stop, Oslo. We were hoping to drive into Russia in October and were finding conflicting information online about the possibility of entering right now with Covid restrictions. We had been given an appointment with an agency that processed Russian tourist visas and were feeling hopeful. We showed up with our paperwork only to be told Russia was not issuing toursit visas. Oh well, re-routing our non-Schengen part of the trip and meanwhile, time to wander around Oslo. Much more contemporary in feel than Bergen, we opted not to stay in town but explored some of the sites and got back on the road.
And then we were off again! Heading to Geiranger to see the famous Geirangerfjord.
In Geiranger, we took the regular car ferry to Hellesylt, it took us through the gorgeous fjord without paying for the higher priced tourist boats. It was still an expensive trip (about $100 US) for our budget, but well worth it to experience the fjord from the water.
Felt like the ferry was consuming our home on wheels
After the ferry we drove the famous Trollstigen - crazily engineered switchbacks down the mountain.
Trollstigen road
Our last stop in southern Norway was Trondheim. Once again we used the GPSMyCity app to access a walking tour of the highlights. We visitied the old quarter of wooden buildings and walked up the hill to Kristiansen fortress.
Trondheim, old wooden houses
Trondheim waterfront
Thank you for reading our adventures of southern Norway - hopefully we are providing some information and inspiration for your planned travels. And now, to the north!
Many more pictures on our website, www.roguewanderers.com and also on Instagram at, 2roguewanderers