Guinea - Conakry
Time to move on to another country, from Portugese Guinea-Bissau to French Guinea Conakry.
We had thought the border crossing from Senegal to Guinea-Bissau was remote but it was nothing compared to the one from Guinea-Bissau to Guinea Conakry!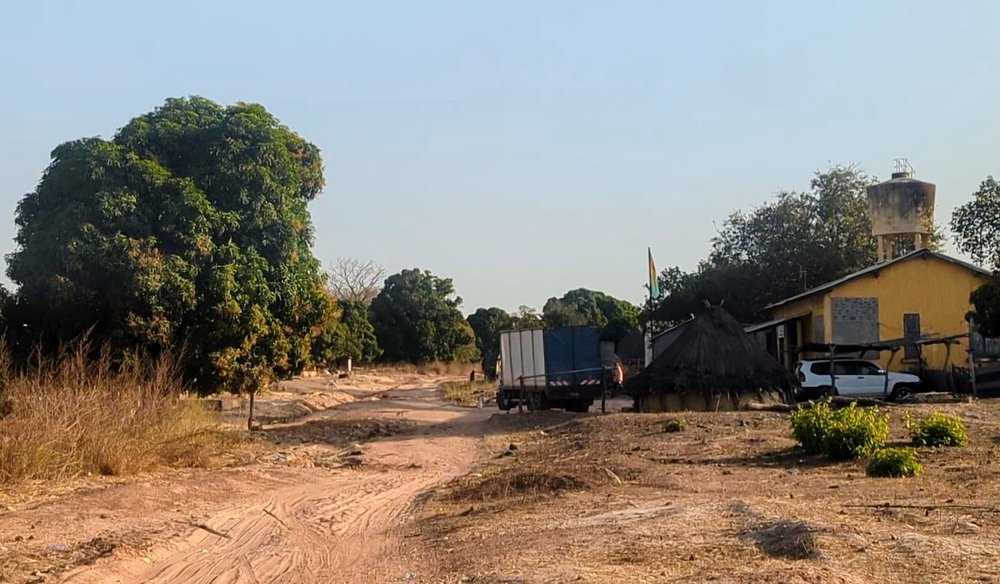 Guinea-Bissau border side. Simple crossing, 30 minutes, soft ask for money which we declined. The customs officer told us the car's LP was 100,000 CFA ($160 USD). We told him the embassy said it was free. He was not happy but handed us our paper and told us to go.
We were looking for some hiking adventures so drove into the Fouta Djalon mountain region. We were feeling upbeat and happy, leaving visa woes behind for the time being and ready to see a new country. But wow, the roads to get there were really challenging. Steep, rocky, rutted…
Beautiful scenery on the way to Fouta Djalon
And then the truck started clunking. Andy got out to inspect and saw that we had broken a control arm on the front anti-sway bar.
After removing the anti-sway bar, Andy duct taped the control arms to get us back on our way
Luckily the roads smoothed out for us
Varied and beautiful landscapes coming down from Fouta Djalon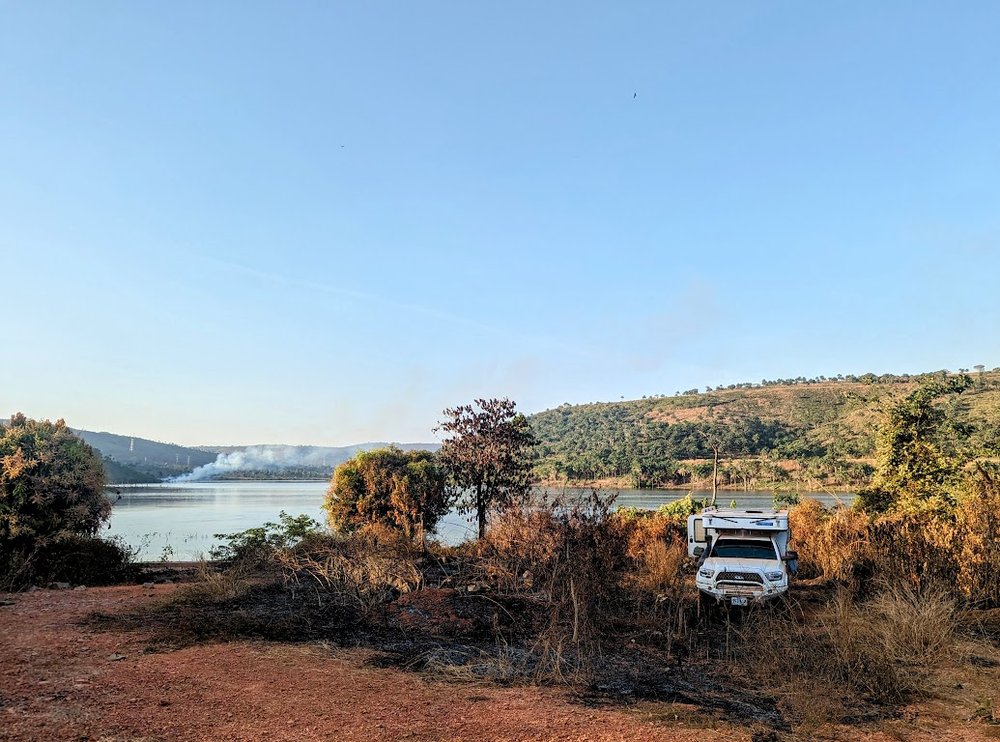 After a long challenging day of driving we found a spot by a reservoir at dusk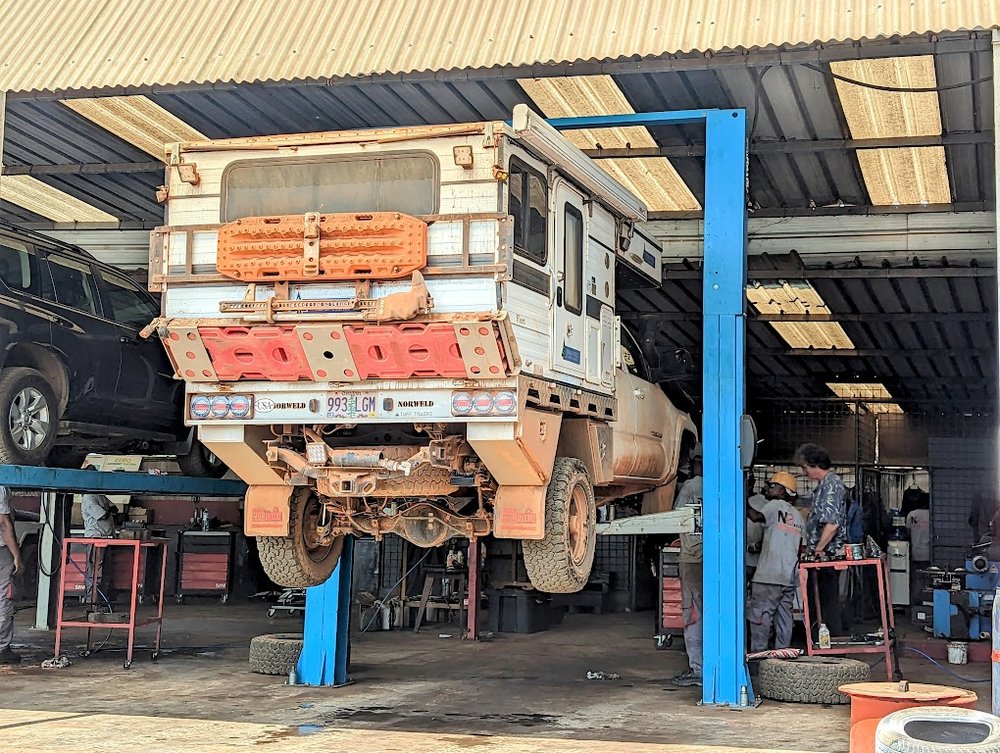 And made it to a mechanic in Conakry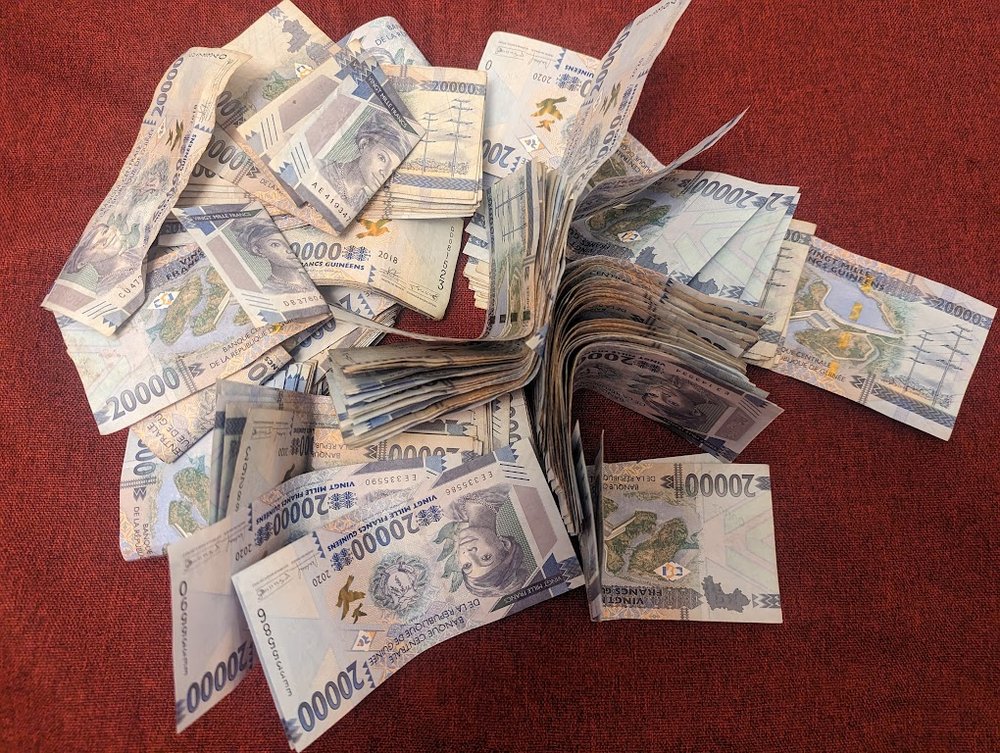 Even for car repairs in Conakry, everything is cash. We had to stand at an ATM for 20 minutes taking out money in the maximum $20 increments to get the full $400. Each bill is worth $2 USD.
But we appreciate this crew at CFAO Toyota in Conakry, they got us back on the road. Luckily the control arm from the local Hilux is the same part for our Tacoma!
Guinea (also known as Guinea Conakry for clarity) had a different personality all its own. The people felt lighter, happier, more smiles and music. They went out of their way to help us when they saw we were lost or having trouble navigating a tight fit with the truck.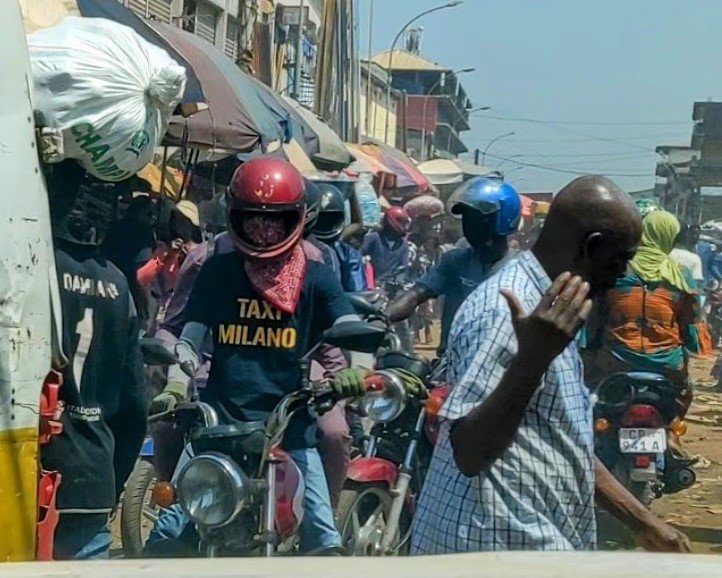 So many kind helpers like this gentleman in the plaid shirt who helped guide us through crowded streets
Conakry was a tough town for us though. The geography alone makes it difficult - the city of 1.6 million people is built on a peninsula with few main roads heading in and out. On one frustrating Sunday afternoon of gridlock it took us two and a half hours to go 15 km.
And thoroughfares shown on mapping programs (OSM or Google) as major roads are regularly taken over by outside markets
As a side benefit, entrepreneurship rules the day with people walking up and down the traffic lines selling just about anything you can think of. Fruit, plastic chairs, razors, toys, shoes, Kleenex, baked goods, clothing, towels… Most of the goods are stored on peoples' heads in buckets, on trays or attached to hats and with an eye to design and marketing. It provided us endless entertainment and the ability to unexpectedly buy some products we had been needing.
Streets also double as soccer fields and mosques with people praying. And the motorcycles are off the charts. As far as we could tell, motorcycles were exempt from all traffic rules, ignoring stop signs and lights and frequently travelling against and around traffic. They reminded us of water with droves of them always finding the path of least resistance.. Even though the traffic is some of the worst we have ever seen, there are not that many private cars. Taxis, motorcycles, tuk tuks and delivery trucks rule the roads. The city is also constantly veiled in a layer of smog - vehicles sometimes pour black and blue smoke and the red dust is constantly blowing in the wind. Although surrounded by coast, the water's edge is mostly covered with densely-populated, poorly-constructed housing. All in all, not our favorite place to be waiting for paperwork. But it was not all negative, the people were amazing. Even when we were lost and blocking the way in a small neighborhood, we felt welcomed and assisted. Traffic here was THE worst we've ever seen!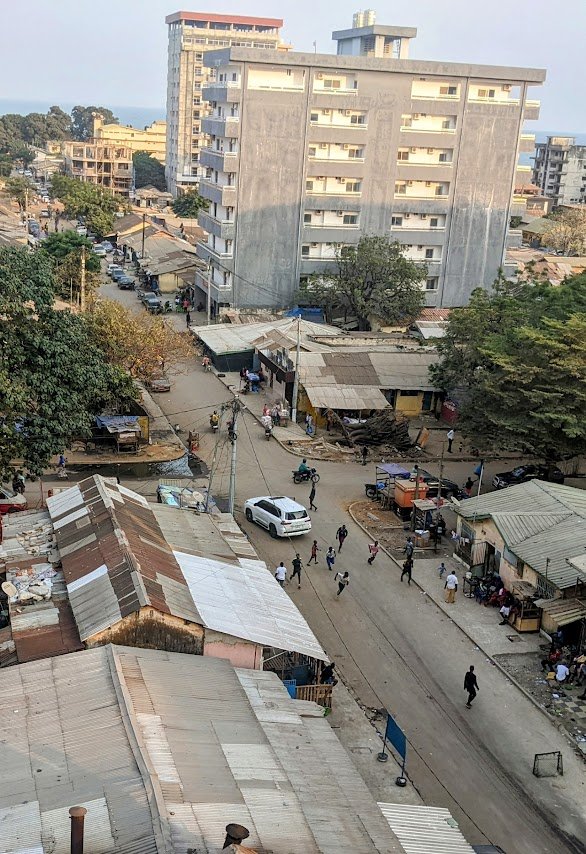 View from our Conakry hotel -impromptu soccer game down below
The other challenge with Conakry was that we had to stay longer than we wanted to. It was a big center for obtaining West African visas. Our goals were Liberia, Ghana, Nigeria, and obtaining our Ivory Coast laissez passer (LP - pass to drive a private vehicle through). For Liberia it was easy at their embassy to obtain both visas and an LP. Nigeria flat-out denied us - said we were too far away and to try in Benin. We got stuck waiting for our Ghana visa and our Ivory Coast LP. The Ghana online visa portal was very difficult has quite a few hidden tricks. Luckily the West Africa Facebook group was super helpful getting us through it (for instance, you cannot check the "arriving by land" box even if you are, it then refuses to accept your following information, you have to check "arriving by air").
We knew traveling West Africa would be challenging. We were prepared for difficult roads, limited water, food and infrastructure, lack of communication, and remote village life. We were not prepared for totally chaotic, polluted cities and constant anxiety about being able to get the paperwork needed to continue our journey in a timely manner, or even at all. There are still multiple points where we know we could be forced to turn back or try to find a way to ship our vehicle around.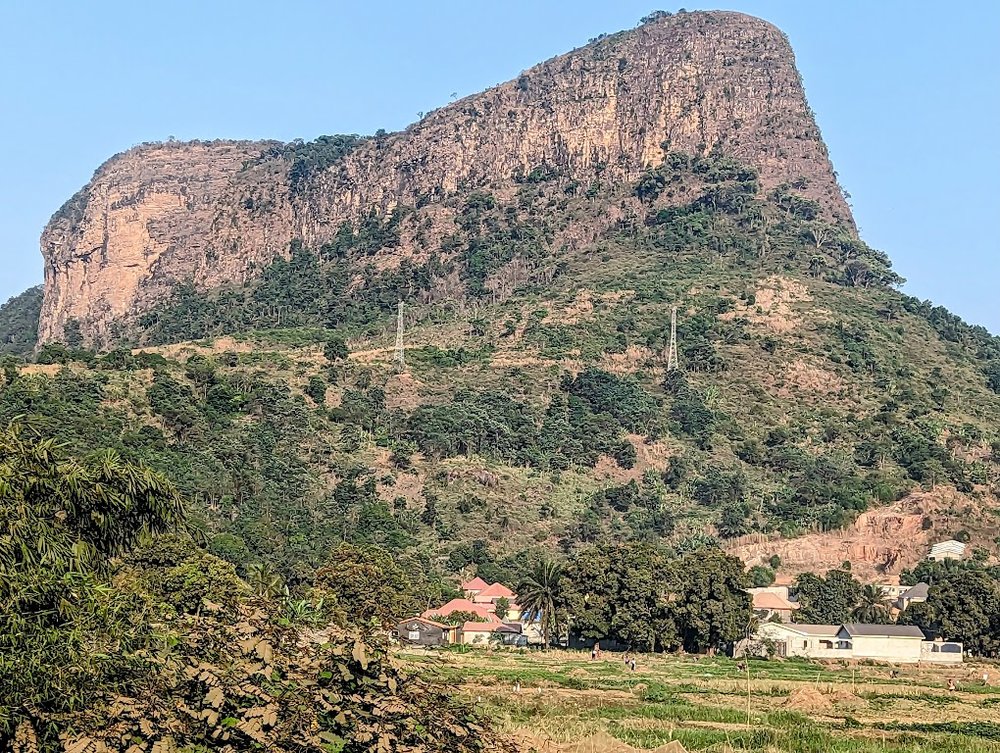 Dramatic mountainous terrain outside of Conakry
Definitely no wasted space on this vehicle!
Our last day in Conakry was our best. We had been feeling discouraged and were still waiting for our Ghana visa, not being sure if we had one or three more days to wait. We made our way to the Centre d'Art Acrobatique Keita Fodeba that we read about in our Lonely Planet guidebook.
A young man standing out front asked if we were looking for the acrobatics and we said "yes!!!" He smiled and guided us into a huge warehouse and introduced us to the leader of the school. He explained that they recruit children from the streets and train them in various disciplines in the performing arts. After a couple of minutes, he said they were going to put on a show for us. Just for us. And they set out two chairs. Wow, the performers were amazing. The whole experience was so inspirational that we left Conakry with warmth in our hearts and hope for the youth that are committed to changing their lives
Performances accompanied by live music - the drum section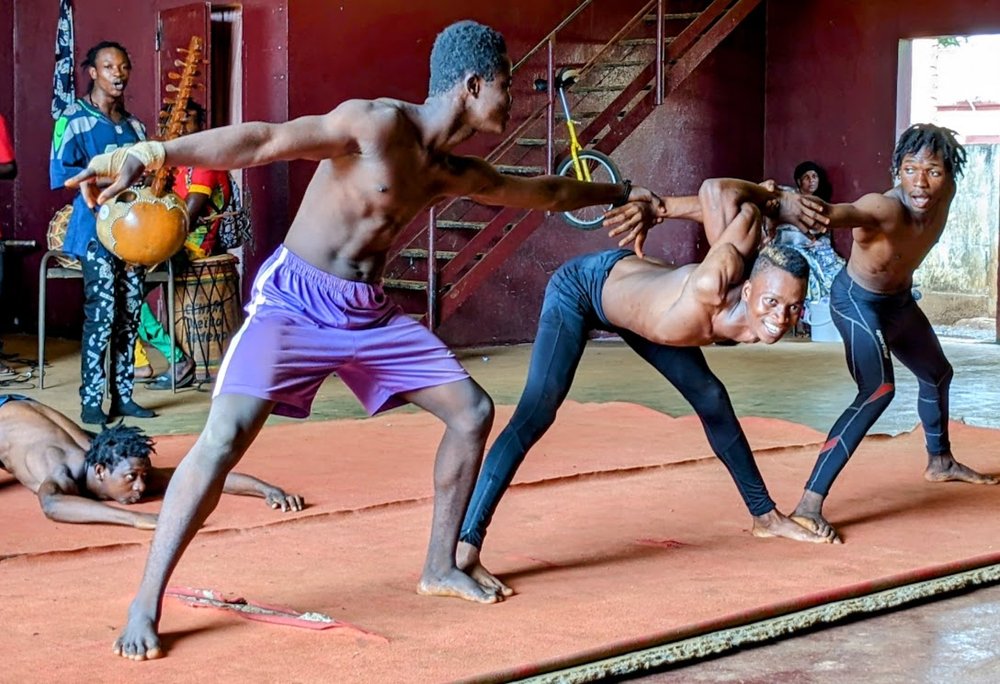 The contortionists were incredible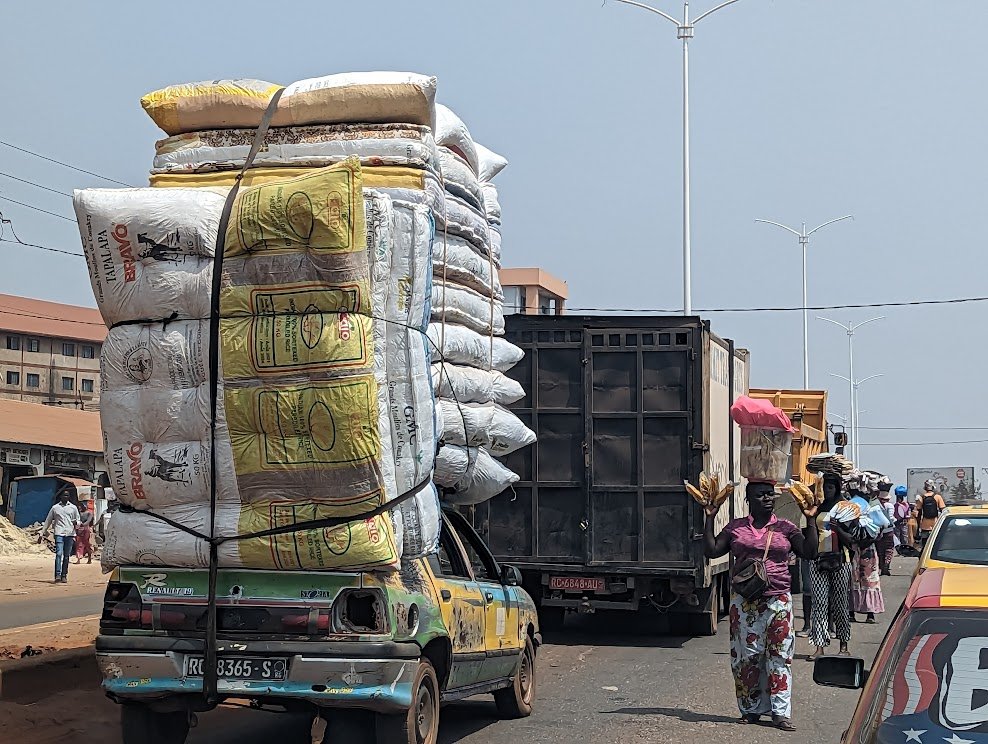 Our last fully-loaded vehicle and roadside entrepreneur shot as we leave Conakry