Greetings!
Been reading this and other forums for a year now while planning a camper van build and learned a great deal but like they say, the more you learn, the more you realize you don't know. I'd basically made a wish-list of the van I wanted and cruised several online classifieds daily looking for that magic combo. I knew I wanted a Ford or Dodge (personally preference mostly), knew I didn't want the noise and complexities of a sliding door, knew I wanted the long-wheelbase (no point in a 'big van' that wasn't big enough), knew my budget was going to put me in a high-mileage and/or older rig so a dependable and repairable drive-train were paramount, and knew this was going to be a long-term project for me and my primary vehicle for part of that, so a versatile wide-open floor plan or a totally empty van were my best options for not only daily-driving the van but also to keep purchase price reasonable.
So I wanted either
really
low miles on a newer van or one old enough to register as an antique ($7, one-time fee in AR) and a 138" WB RB or an EB with a 6.9 or 7.3 diesel (love the IDI's) or the 300 I6 (most diesel-like gas burner there is) with either an AOD or a C6 spinning 'highway gears' (3.08-3.55) as opposed to 'towing gears' (3.73-4.10) and wanted the fewest undesirable, cost-raising options possible. I don't need to pay extra for lots of seats, power windows that probably don't work anymore, somebody else's idea of the ultimate stereo, or fancy "street van" interior that wouldn't suit my needs or tastes and likely couldn't be resold to recoup funds.
Found exactly what I wanted for a van and although it may not fit anybody's wish list but mine, I've spent a lot of time researching this thing and I'm glad to finally be getting the ball rolling on this. My 'van with no name' is a 1989 Ford E150 Supervan (LWB + EB) Cargo that was converted by Sportsmobile to a pop-top camper with a Penthouse roof, side windows, interior build-out, and 110 wiring. It's got the EFI 4.9, C6, and 3.08 gearset in the 8.8" rear, manual windows, and fully-functional cruise-control :ylsmoke:. The interior build-out has been removed with the exception of the wall paneling, leaving behind a perfectly blank canvas for me to get started.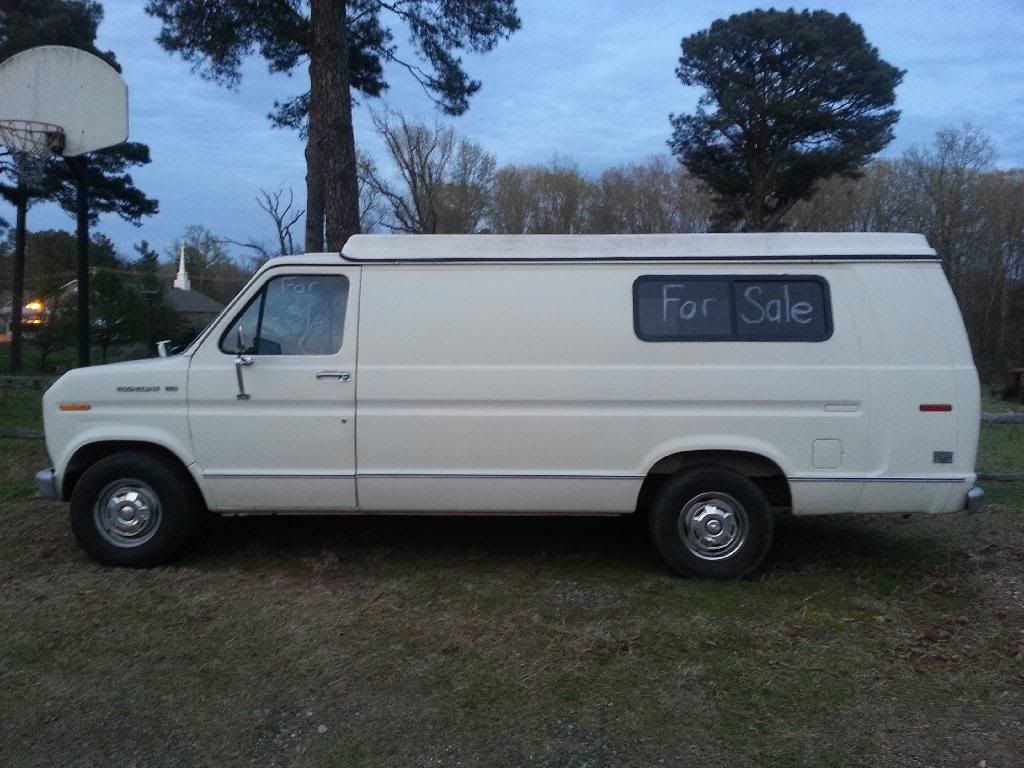 The penthouse canvas is in good shape and I'm working with Nancy at Sportsmobile North on getting new window panels for it because my vinyl is cracked from the TX sun. Hope is to get new canvas panels with screens, zippers, and vinyl windows sewn into them so I can remove my canvas and have a local upholstery/boat-cover shop remove my windows as panels, sew in the new, and I can re-install the whole thing. Not a small project but the most effective means I've been able to come up with to get new vinyl and screens put in my old top without a total canvas replacement since the EB Fords of this vintage are no longer supported by SMB but apparently (hopefully) the window sizes haven't changed.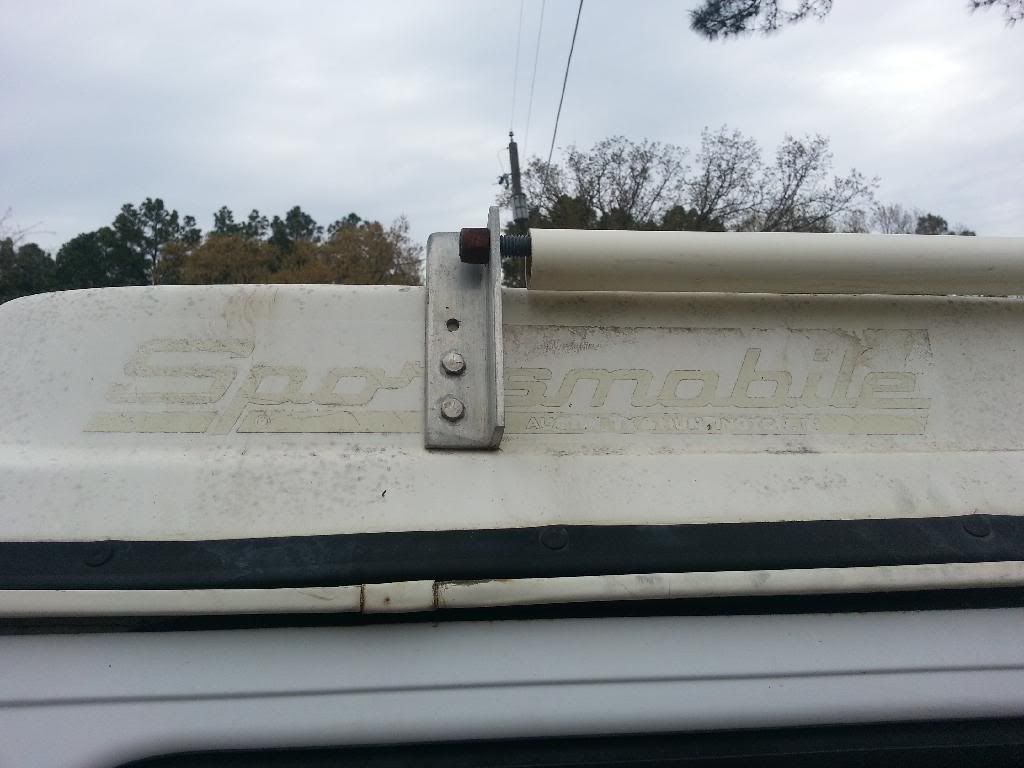 The body on the old boy is basically PERFECT. I was blown away. There's one little scrape in the driver's front fender and a scuff on the passenger's rear corner but the paint is very solid and the ONLY rust I've found is in the step of the side doors and it's minimal, as you'd expect on a Texas rig. Been trying my hand at photoshopping paint schemes on the big body and once I get presentable prototype I'll post it up for opinions.
My plans are to fix the very very few mechanical issues (leaking injector, inop windshield wipers), get maintenance up to date/upgraded (change fluids, Sixlitre ignition tune-up, use synthetics) add some longevity mods (trans temp gauge, e-rated tires), and start a westfalia type interior build-out for dirt-bike camping. I've ordered an exterior tire carrier (not gonna give up any interior space for that) and new hitch (old one is welded on junk).
The interior at present is just stock vinyl front seats in need of recovering/replacement and bare plywood walls that probably have fiberglass insulation behind them (haven't looked but it sounds that way to me and seems to be what SMB would do). Ignore the electric bench seat, it's just strapped down (and probably going on CL) and the parts washer was picked up on the same trip; it's going in the shop not the van.
My first "mod" after maintenance will be to pull the paneling, store it for use as templates, and get started insulating this thing. I'm ALL EARS for that project and open to suggestions. My current thoughts for the walls are (outside to inside, in order) van skin, diy lizardskin on the walls and floor (penthouse takes care of the roof), Eastwood sealer inside the body ribs (the kind with the long straw), some kind of fatmat/dynamat/etc on the walls, wheelwells, in the doors, on the floor, etc then some sort of bulk insulation (rather not use fiberglass batts, maybe auto grade 3M thinsulate?) followed by reflectix fully seam-sealed and covered with plywood (or masonite) upholstered with 1/4" or 1/8" foam and a mix of vinyl/tweed. The floor will get the diy lizardskin and probably just plywood for sound/insulation/durability with self-padded carpet on top of that. Might try carpet tiles instead of automotive carpet.
Thanks for looking and please share any suggestions/links/etc especially for insualtion/sound control!
Last edited: