hey all,
I haven't been around here in quite a while, but I thought I might share the progress I've been making on my trailer.
Here's the original build thread.
I'm just copying and pasting into this site, so forgive me if there are some non-sequitur issues.
Current setup as of 6/4/14
Mombasa Expedition RTT w/ changing rooma
Camping Labs Awning w/ changing room
Inno Awning
Custom battery box w/ Optima YellowTop Battery
Custom height adjustable rack w/ 4 100lb gas springs - Thanks CAM Offroad!
Harbor Freight Tongue Box
Harbor Freight 2500 lb ATV winch
Max Coupler
2" receiver mount on drivers side
2" receiver mount on rear
///
Here she is the day I picked her up from Fort Hood, Texas
A quick back story:
I bought this trailer off Government Liquidation about 5 years ago with the intent of making it into a camping trailer. I had it for 6 or 7 months and never did anything with it. My wife got a job offer in California and we jumped at the chance to move to the coast. We left Texas with no real plan or place to stay, so I sold the trailer to another member here, JoeUser. Our stint in Cali didn't last very long and we moved to Colorado. Joe messaged me one day asking if I was interested in buying the trailer because he had picked up a new hobby, so we drove down and picked it up over a weekend.
That leads us the where this thread begins.
///
Today I worked on my RTT trailer. A few weeks ago I bought back my 101a2 from JoeUser in Texas and brought it back to Colorado. I was determined not to let it sit in the garage this time like I did last time. I wanted to make this a convertible design, so I can use it as a utility trailer, camping trailer, or box trailer (with the canvas on). I considered having a welder make up a rack for me, but after reading Texas TT's patchwork trailer thread, I figured I could knock this out on my own.
Borrowing from Texas TT, I decided to swap out the wooden bows with metal, tie them together with more material, and put the tent on top. This would be plenty strong, cheap, and most importantly, I could knock the design up without having to weld, because I don't yet. Went to the steel yard this morning and had them cut me 3 57" long pieces of 16 gauge 1.25" square stock, along with 2 pieces 54" long. I also got some 1' and 2' pieces to make some stronger legs for the bows, but didn't need them. Then I stopped at Ace and picked up some hardware.
Time to get to work.
My Harbor Freight drill press worked out well for making straight holes through the steel.
Old Bows
One new bow in place.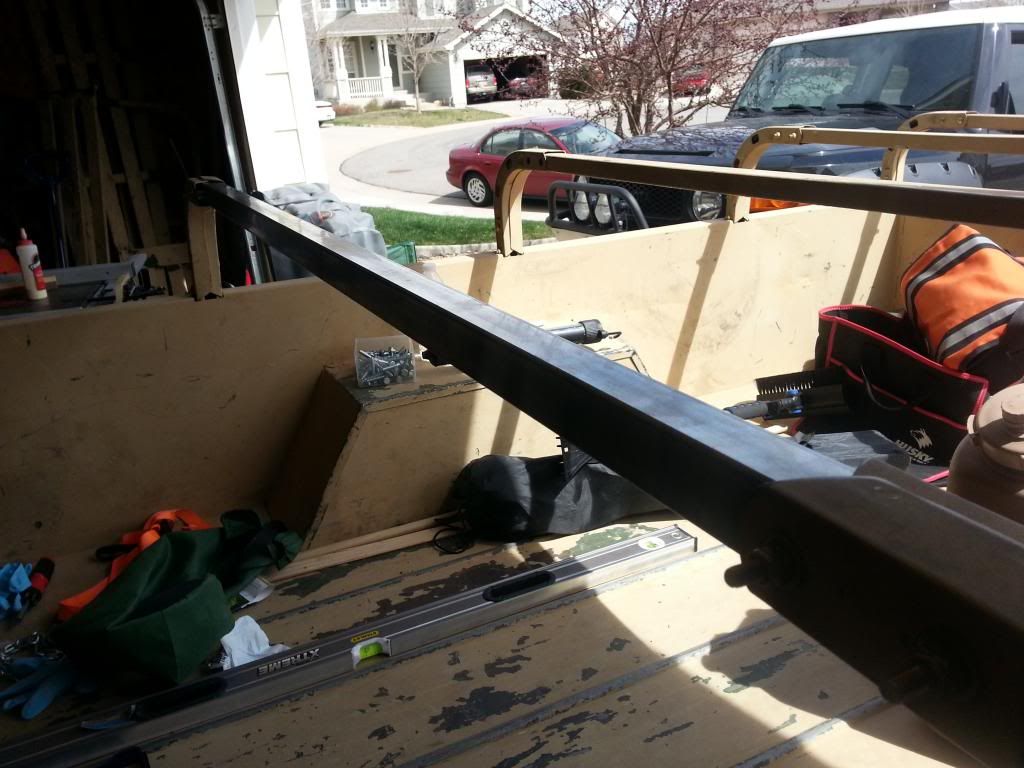 The original wooden bow tops were closer to 1.75" wide by 1.25" tall. Unfortunately, I couldn't find rectangular stock in that size, so I went with 1.25" square and added spacers to fill the void and make everything tight. On the first bow, I used stacks of washers. On the other 2, I used wooden spacers I made.
Here's the general arrangement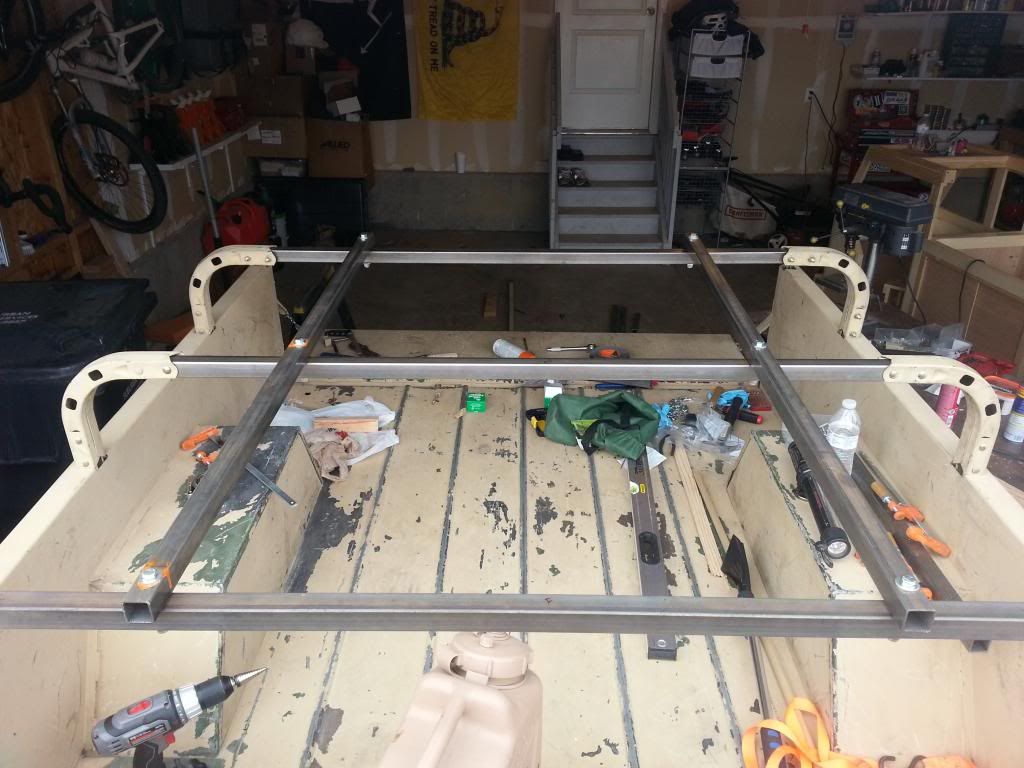 Went together smoothly, surprisingly. Mounted up the RTT and tested it out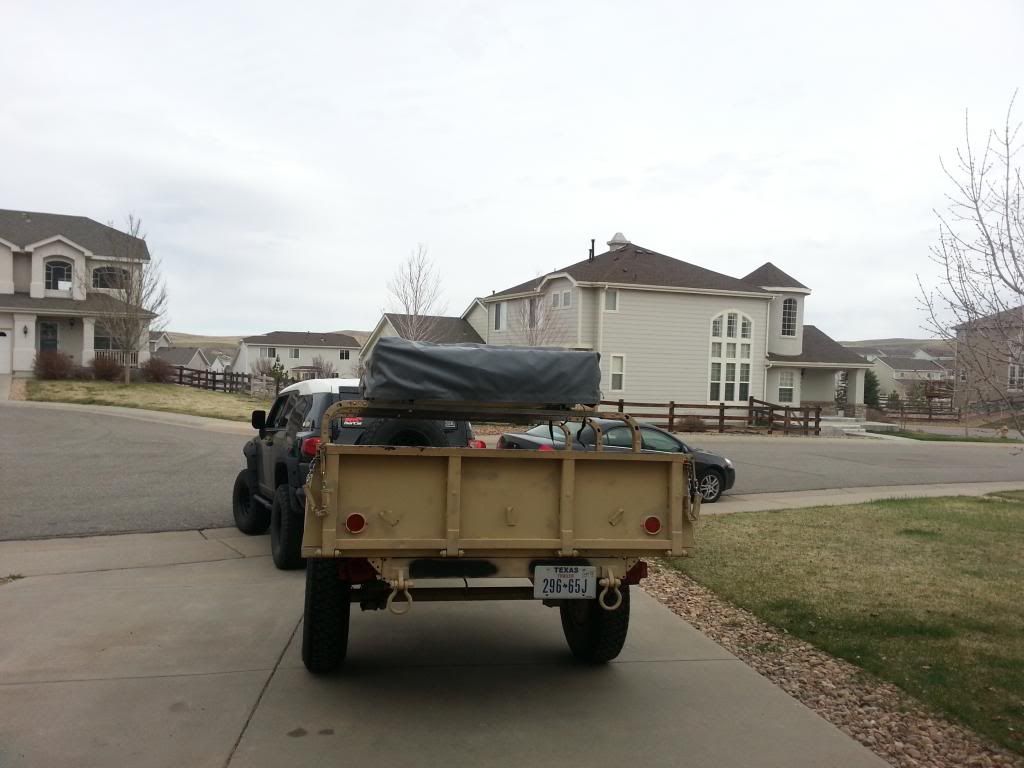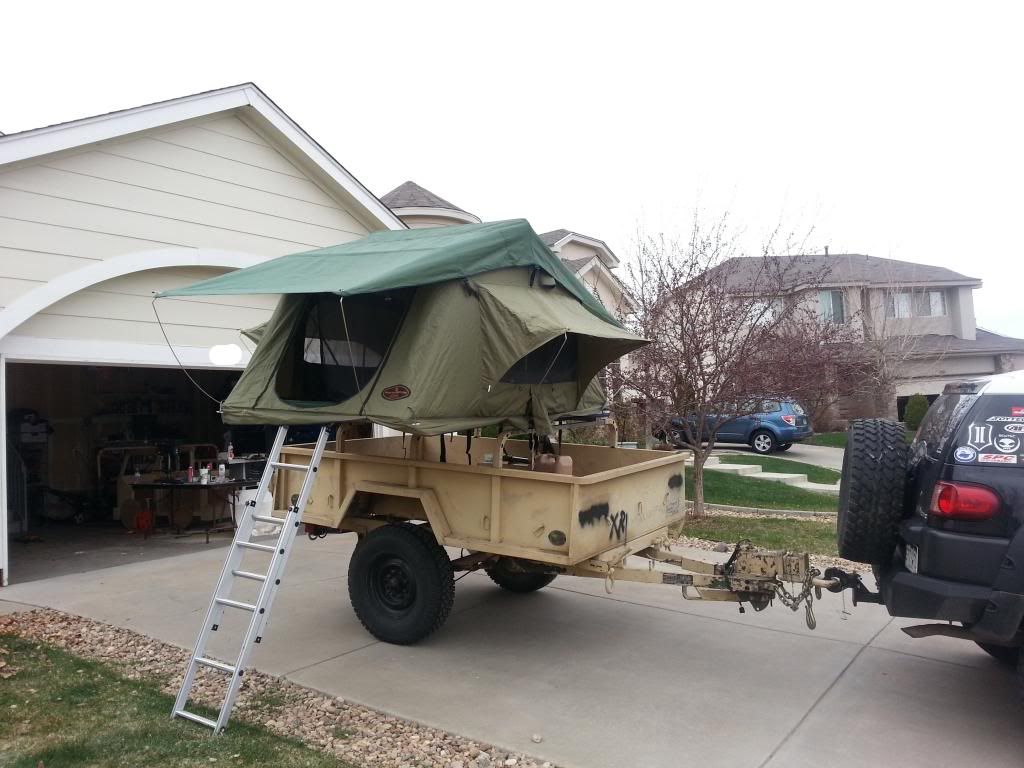 Tomorrow I'll take it all apart and prime and paint the steel. Then, next steps will be to remove the surge brake and axle, and replace with 6 on 5.5 axle, paint, rims to match the FJ and electric brakes. Might do a max coupler later on but for now I'll probably go with some sort of removable lunette. I'm also going to add some 2" receivers along the sides and rear of the frame, for whatever I might want to add later.
Oh, total cost for the retrofit, including steel, hardware and a new set of Irwin drill bits, was right at $100. :rocker: