I wanted to throw something together from this past July's visit to Michigan's Leelanau Peninsula, the area where I grew up and still frequent occasionally. Its a place that is inspiring by its beauty but also suffers a bit from its popularity from said beauty.
For the uninitiated, Leelanau County is the pinky finger of the mitten that makes up the lower peninsula. Yes I know, I am an Upper Peninsula guy, yadda, yadda, but to overlook this area just due to the fact that it is south of our Yooper version of the Mason Dixon Line, the Mackinac Bridge would be a shame. The fact is the northern portion of the LP is a pretty amazing place in its own right..... as long as you aren't frightened by the onslaught of hollow gazed, fudge crazed, 35mph driving tourists. That said, there are plenty of ways and places to avoid the crowds and sample what makes the area so special. Here is a look into a week we spent down there and some activities that made for a great time. We even put together an overland route from the south to the north end of the Sleeping Bear Dunes National Lakeshore. Less words, more pics... that is the theme here...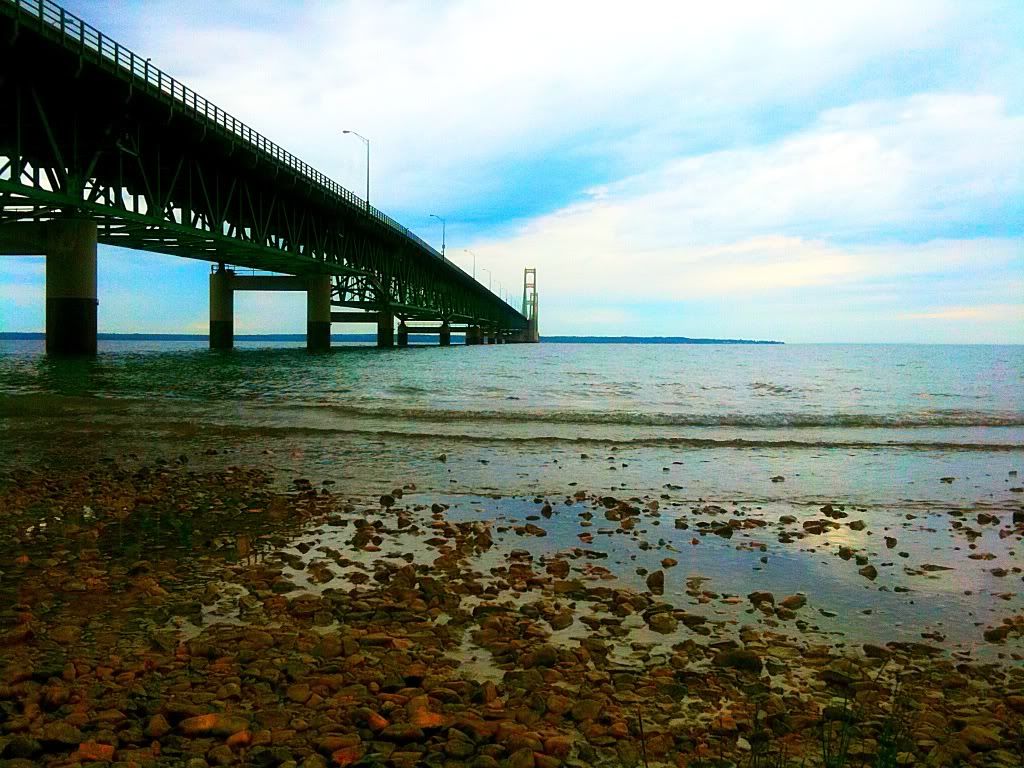 The Mackinac Bridge, the world's second longest suspension bridge which connects the LP and the UP at a distance of 5 miles long. It never fails to impress and immediatley whether going south or north you realize that whatever peninsula you find yourself on is distinctly different from the one you just left. Little known random fact, my mother was in the 1957 bridge opening ceremony as one of the beauty queens for the ribbon cutting.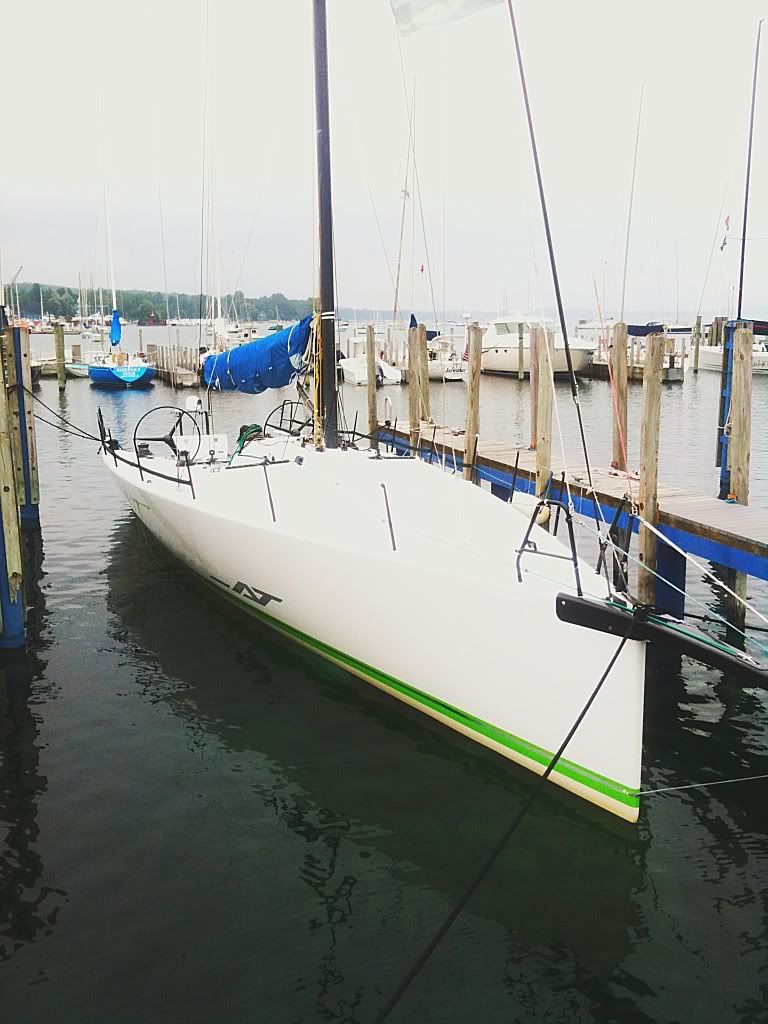 We took a little detour through the midwestern Riviera, aka Harbor Springs, Petoskey, and Charlevoix. The Chicago/Mackinac race just ended and we marvelled at the race boats we saw at the marina in Harbor Springs along with some pretty impressive yachts.
Touring some dirt roads through a tunnel of trees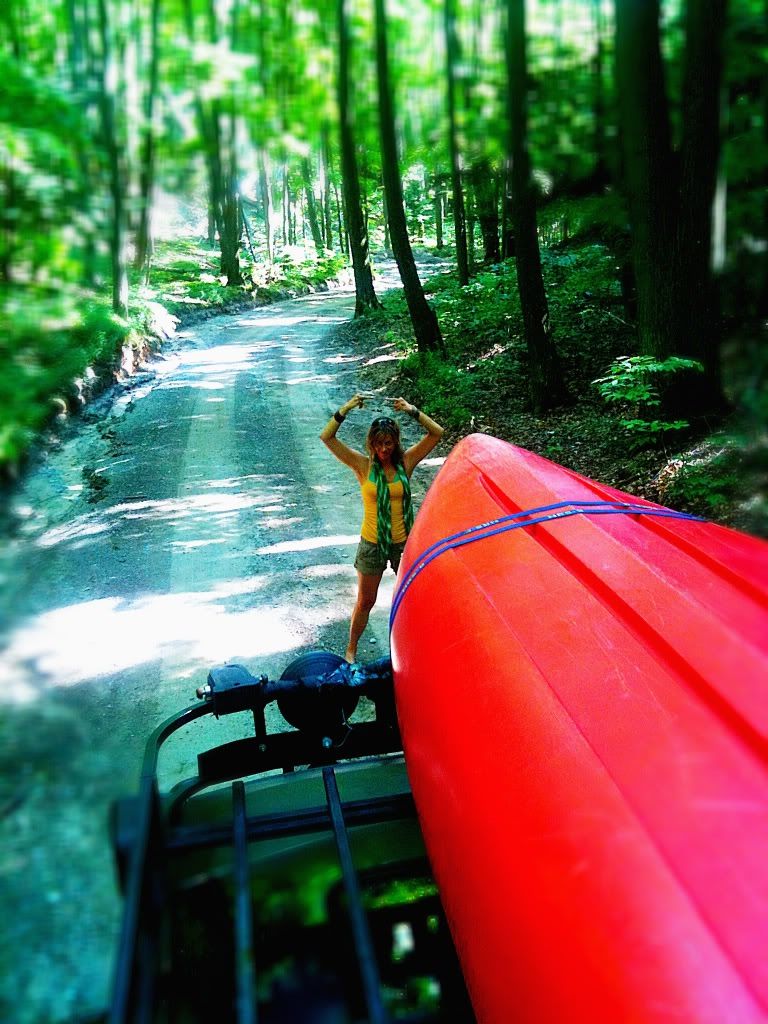 Taking the backway to North Bar Lake to kayak out into Lake Michigan and along the sand dunes. We left our kayaks and canoe at home to keep things simple and borrowed a recreational tandem kayak from my father. At first I thought I would hate it, being a sea kayaker but honestly, it was perfect for a little fun day excursion and we had a blast.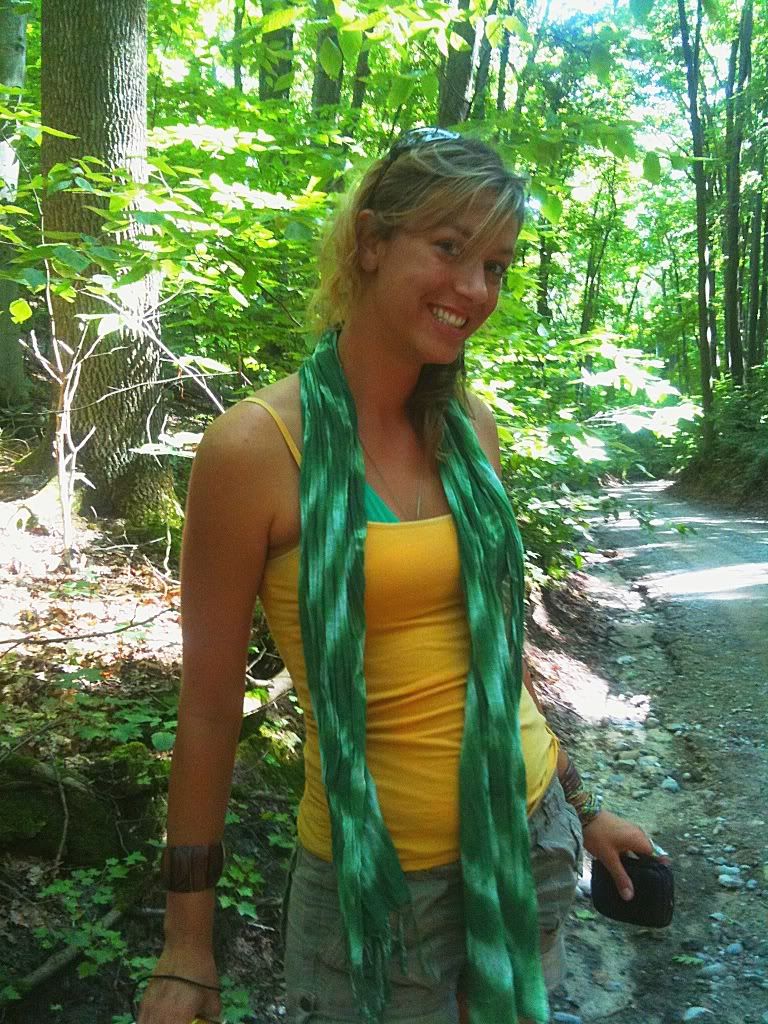 My partner in crime, Miss Alyssa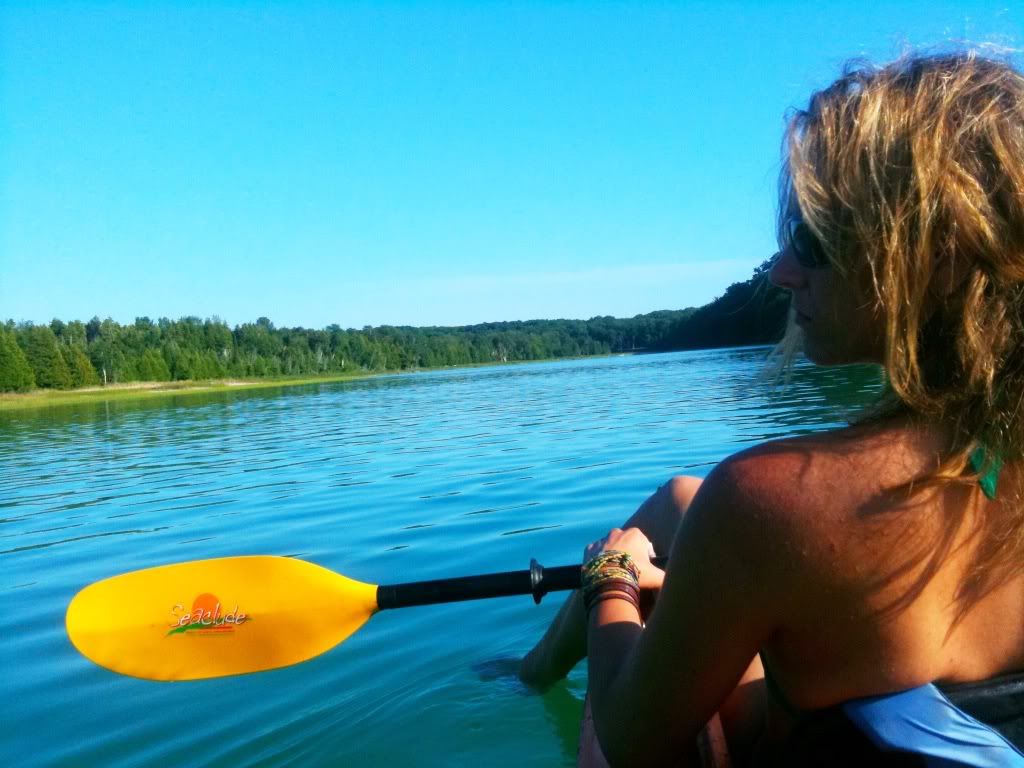 North Bar Lake. A cool little inland lake seperated by a couple of hundred yards and a sand dune from Lake Michigan. A popular beach in the summer but it only takes the effort to go a 1/4 mile in either direction on Lake Michigan to get away from everyone.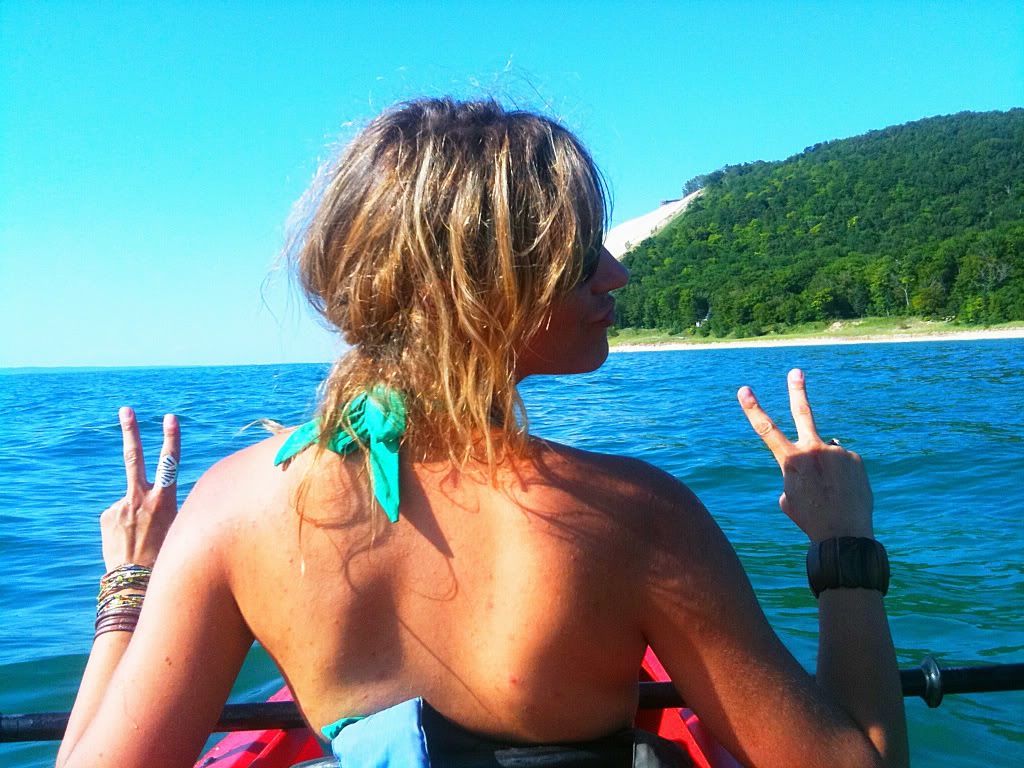 Out on Lake Michigan with the Sleeping Bear Dunes in the distance.
A unique landscape of water, sand, and sky. The dunes rise 450 feet above Lake Michigan and are the namesake for the National Park here.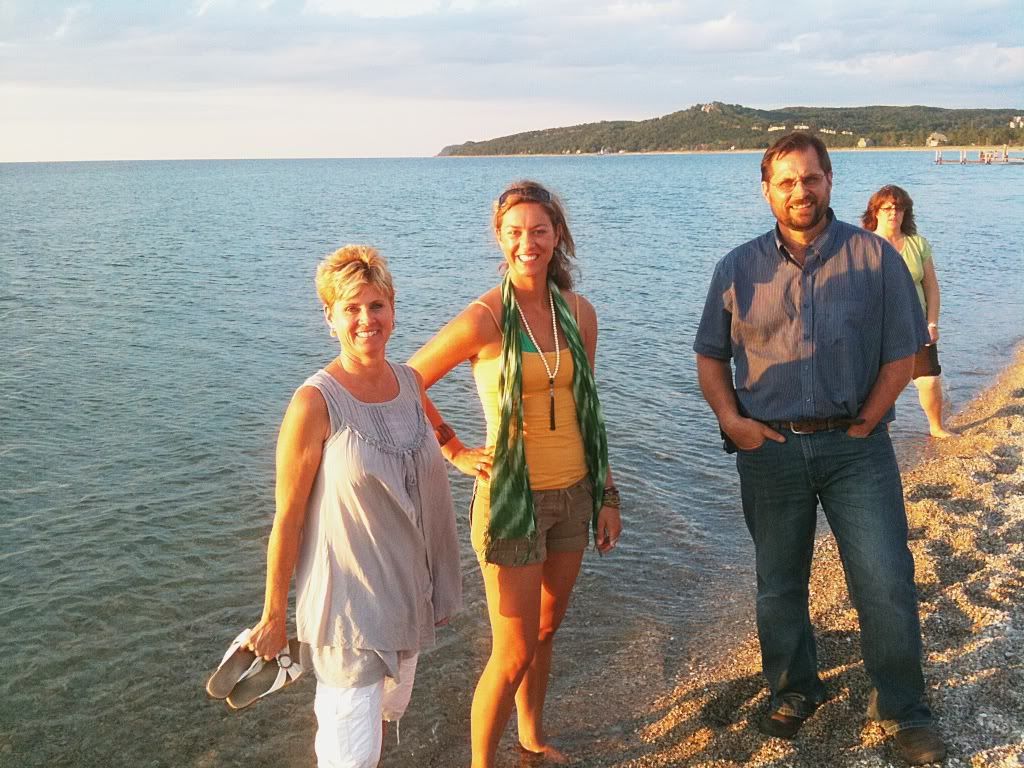 We met up with my brother and sister who came into town for a class reunion. This is on the beach in Glen Arbor, a town I claimed as home for a few years, nestled in the national lakeshore. Sleeping Bear Dunes was just named the most beautiful place in America by Good Morning America. It definately is stunning, especially around sunset time.