This image was in a recent Instagram post from Exmoor:
The trailer is interesting because of the fenders - the fenders allow the tires to be completely outside of the tub.
Why is it interesting for this thread? Many people make trailers from Jeep tubs, and generally keep the inner fenders, which reduces the space available inside the tub.
When I was making my fiberglass Jeep-tub trailer that became the Dinoot j-series (
https://compactcampingstore.com/products/dinoot-j-series-tub-kit
) I posed a set of tub parts with several different fender styles. I designed the kit to use Jeep flares on the outside and made molds for fiberglass inner fenders, but at the time I was also thinking that fenders that kept the tires outside of the tub might be a good idea for people who needed to maximize room inside the tub so I made the molds for the side panels without fenderwell cutouts.
This photo shows a trailer with traditional Jeep flares and inner fenders and a set of kit parts on the driveway with external fenders similar to the ones in the Exmoor photo above except that these fenders are wide enough to cover typical Jeep tires instead of the skinny ones in the Exmoor photo:
Fenders like this could be very useful for a cargo trailer designed for maximum interior volume, or a camper like this teardrop concept: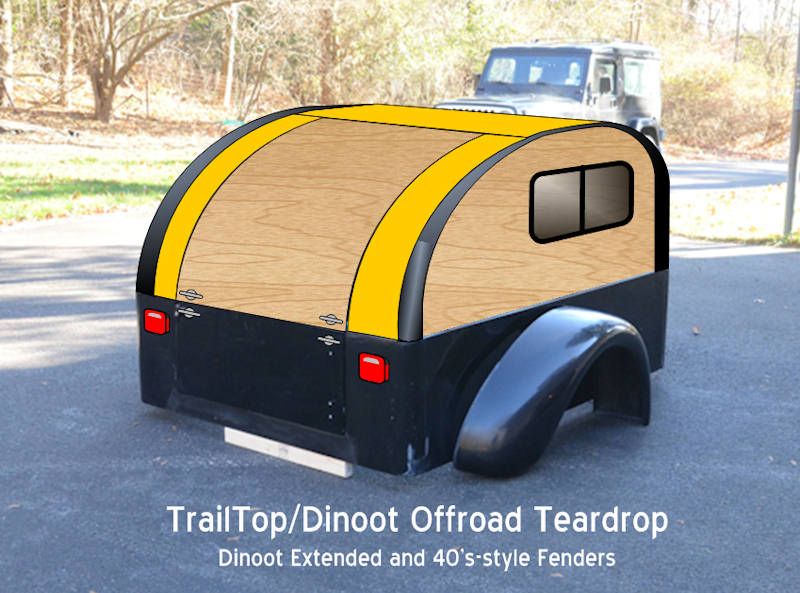 Worth considering if you're building a Jeep-tub trailer and want to maximize interior space.