At the moment I'm a persona non grata in Klubb XTC. For the last 3 months and the first time in 18 years Jeanie and i have no camper. There is definitely something missing in our lives but this will change next month when we pick up our 2020 Northstar Laredo SC at the factory in Iowa ordered with just the items we wanted: no frills or bling.: Sub Zero insulation package. Only tried and true appliances with a stable track record with pairs of propane tanks and batteries. The 'NO list' is long. No TV; air conditioner; microwave; oven; awnings; backup camera. We will stay at a nearby campground for a couple days working every system and appliance to make sure the 'period of adjustment' is close by the factory before we start our long trek as leaf peepers to take in the N.E. color palate. I will make a full report after the trip.
But this thread is about the truck. Below is an edited list of upgrades we have done to our 2001 Dodge CTD specifically to haul our hardside camper and survive any season or road condition.
In 2001 I bought a new 2001.5 (the ".5" was the addition of rear disc brakes) Dodge 2500 4x4 High Output Cummins Turbo Diesel, Camper Package, essentially the SRW 1-ton of the time, NV5600 NV241HD (wide chain to reduce the negative effects of shock loading when snow plowing), short bed (6-1/2 feet), 3 inch front coil spring spacer lift. Transmission ratios: 5.63/3.38/2.04/1.39/1.00/0.73/5.63R At 27% overdrive, this has the tallest top gear of any of the 6-speed manuals.
TGC Top Gun Customz 2000-2002 Dodge Ram Control arms for 2500/3500 4x4 for 6" of lift but installed on a 3" lift; front coil spring spacers placing the front axle 1-1/2 inches forward.
4" exhaust system with resonator delete. No smog reducing add-ons, just a pipe and and a more free flowing muffler.
Vulcan Big line Pusher Pump Kit relocating it to frame in front of fuel tank.
upgrade lift/transfer pump and fuel tank sending unit
Low fuel pressure alarm (idiot light goes on below 5 pounds fuel pressure) I still run the original VP44 injector pump.
K&N Filtercharger PN 33-2056 /2006
short tube on turbo waste gate to engage turbo at a lower RPM
SpynTec Dodge Dana 60 Hub Conversion Kit, inner spindle bearing kit, new Dana 70 spindles, new Timken bearings, hub seals, Dana 70, 35 spline outer stub shafts, Mile Marker Dana 70 Lockout hub assy, factory ABS sensors and studs. Front axle disconnect (CAD) delete. Front unit bearing delete. Add front 35 spline Eaton Detroit True Trac torque biasing, gear driven limited slip, and 4.10:1 gears.
Dana 70 Mosier 35 spline front long and short front axle shafts. Stock 32 spline axles deleted.
Dana 80-35 spline rear axle with Eaton Detroit True Trac torque biasing, gear driven limited slip with 4.10:1 gears.
8 leaf rear springs: 3 upper secondaries, 1helper spring in stock spring pack. Stable Loads. Rancho 9K adjustable shocks. This translates to a 3" loaded lift with the loaded camper on.
GEN 4 tie rod, drag link, TRE's, and pitman arm. steering stabilizer. Upgrade steering box and pump.
10" x 16" 'Power Wagon' Stockton steel super single rear wheels (1/2" plate center hubs) 4-1/2" B.S. Stupid high load rating.
7-1/2" x 16" steel front wheels. 6.25" B.S. unadjustable 4WP stiff shocks front. With a load or not, the front axle weight does not change appreciably.
35 inch Cooper AT3's in a 315/75 R16 size, load range E: 3860 pounds. Lots of sidewall for deflating on sand.
New factory clutch, T.O. bearing, pilot and rear main seal
Warn Transformer winch carrier, Warn #30092 transformer grill guard with added tubing and radiator saver. Fairlead #69604. Warn #62027 foot forward winch mount. Warn 15K pound winch. Camper jacks and rear seat removed for long distance travel. New sound deadening pad under the hood.
12 ton hydraulic jack with jack board that will fit under the axle on the side with a flat. Lots of recovery equipment. On board air and 'Safety Seal' , on-wheel tire plug kit. Spare hoses and belts. Receiver hitch square tubes front and rear. Aluminum rack when needed. Fits front or rear. In the pic below the rear end drops about 3 inches to level with the camper on engaging the overloads and Stable Loads.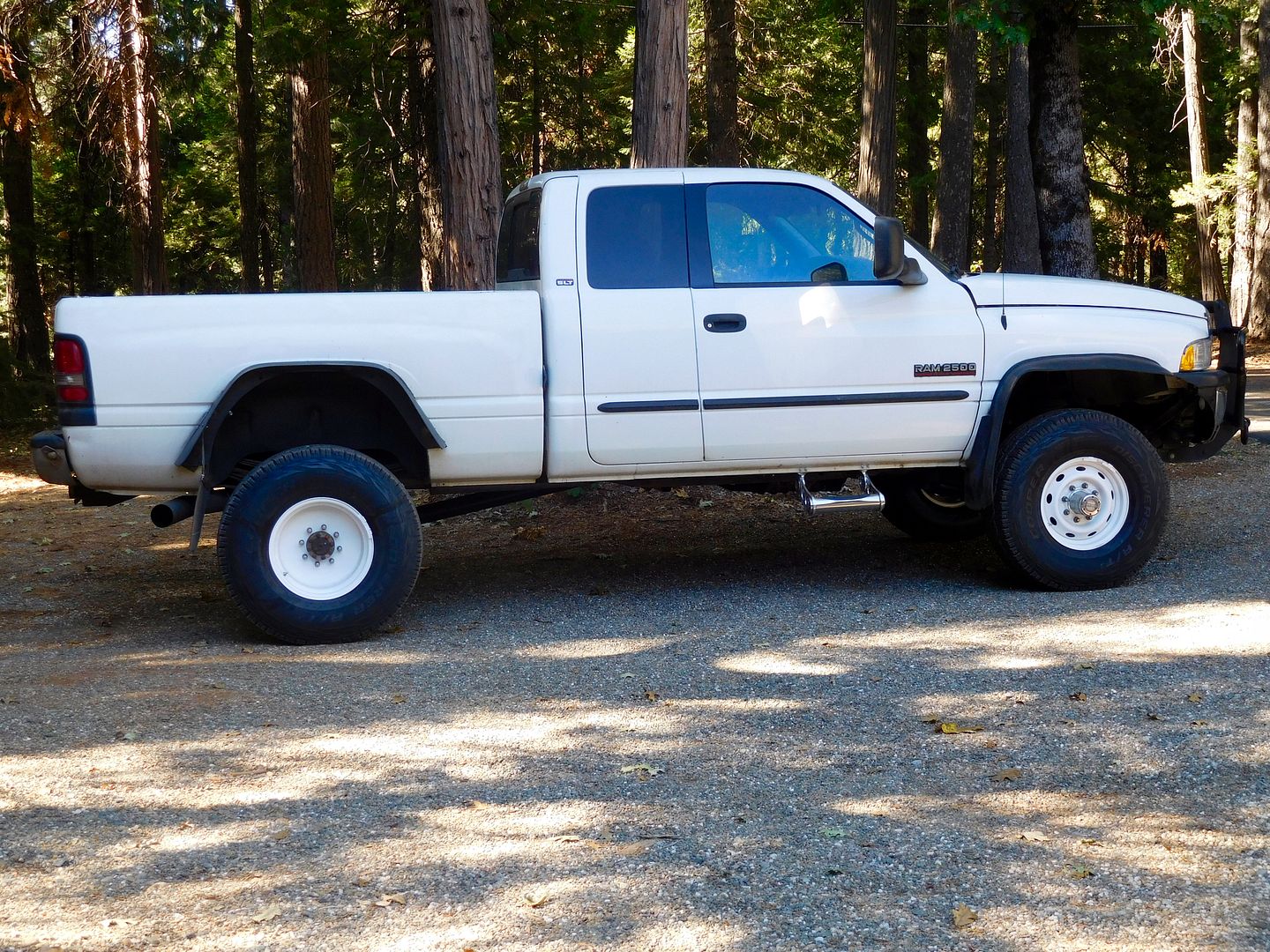 Those fender lips are to protect the wooden frame camper from moisture as much as possible.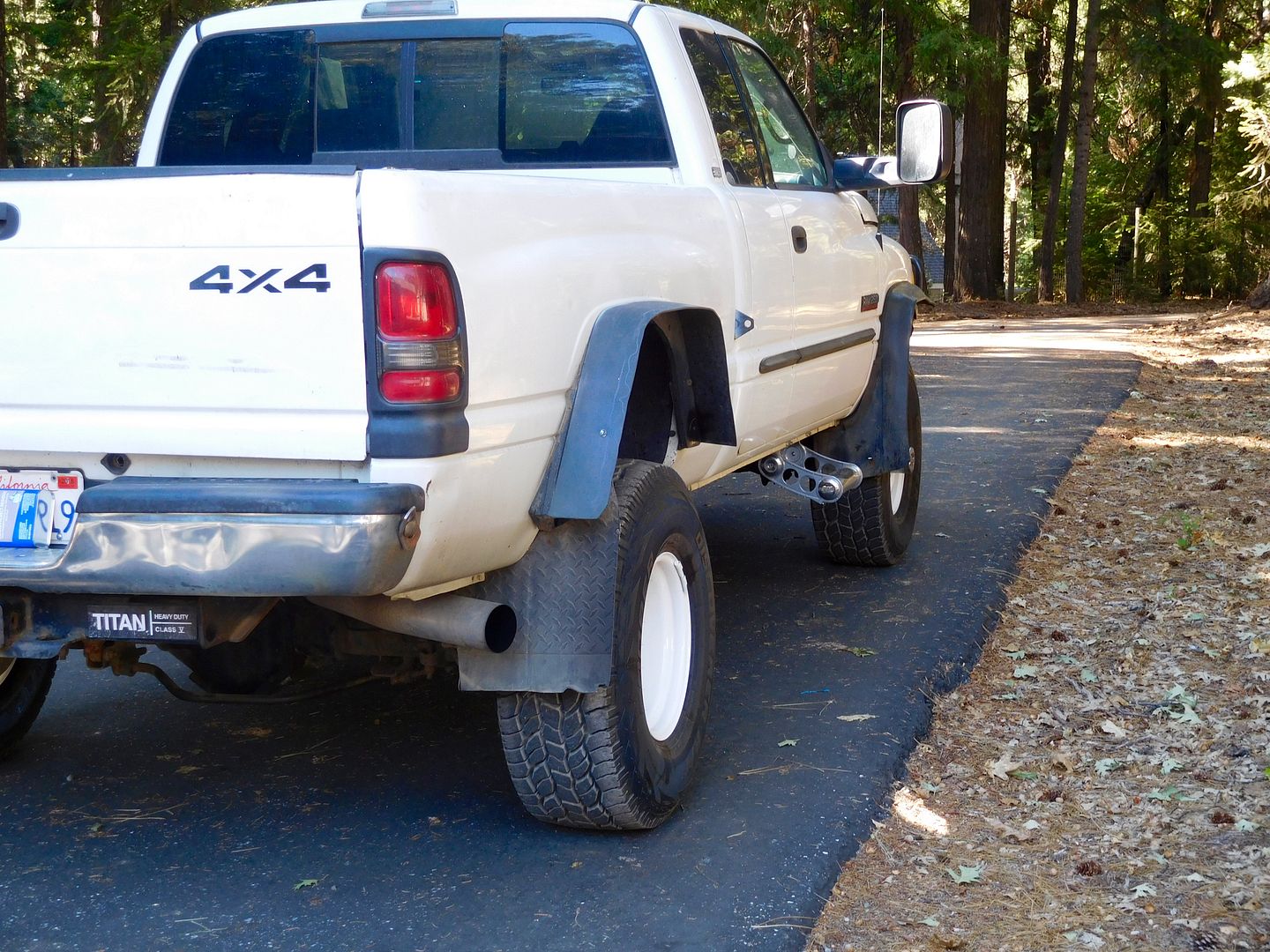 The rear spring pack: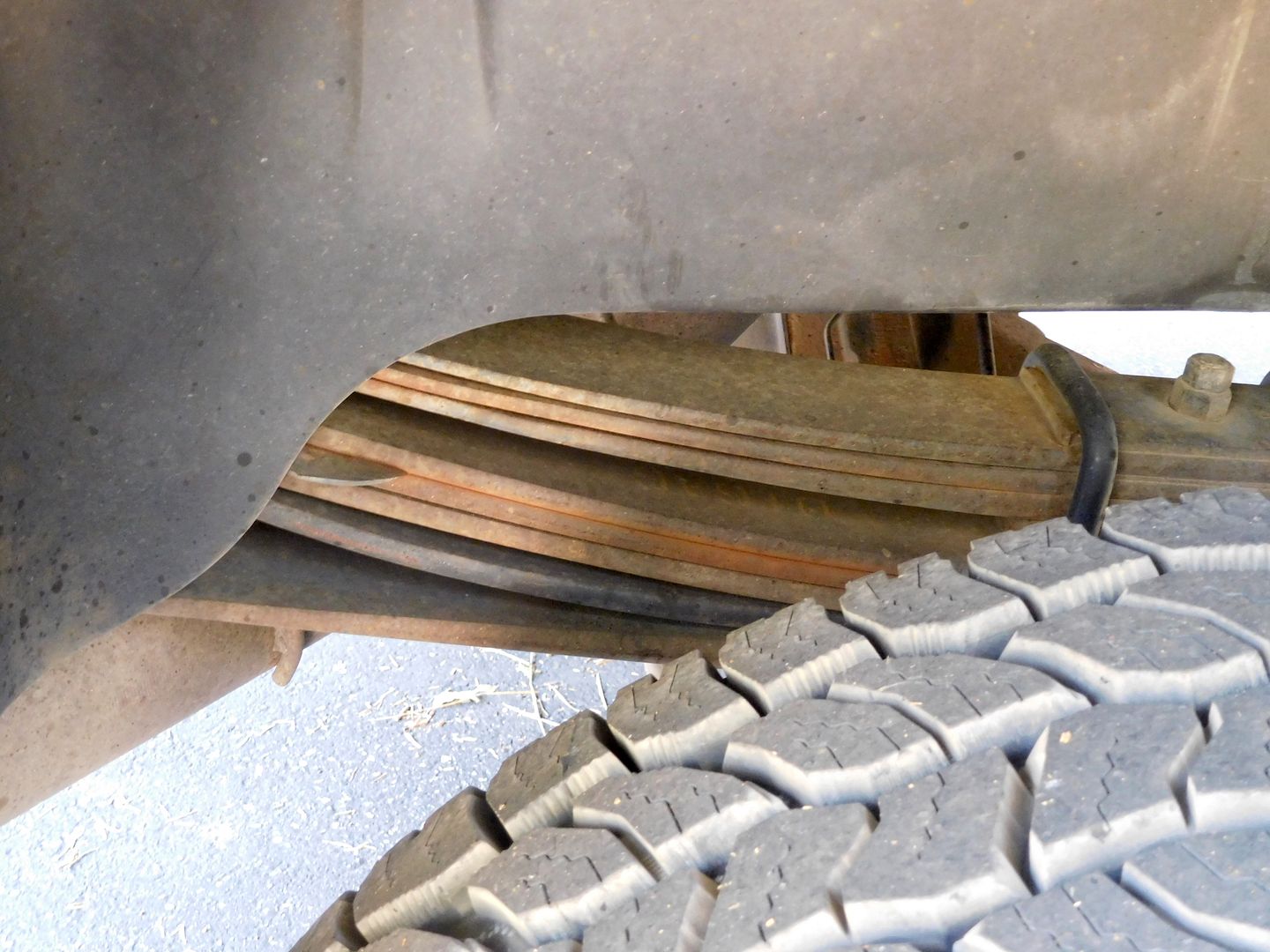 Last edited: