Hey guys, I've been using a Jackery solar panel for a while, gifted from a friend, and recently got another panel and a Jackery 1000 donated to me and thought I'd give a quick overview before I do a longterm review.
The main use-case for a setup like this is either for weekend camping or fulltime use. There are smaller and bigger units, but the 1000 is the sweet spot for "extending camping", light fulltime rigs, or if there's more than 1 person. A friend of mine runs a Dometic CFX35 on a Jackery 1000 for 3-4 days no problem, and I'm planning to replace my cooler with a similar fridge.
To the point, I'll start with the panels.
They're 100w panels and it takes around 8 hours depending on the sun, to fully charge the unit. But in my experience that's unnecessary. You can also charge it through a wall outlet or cigarette lighter to keep it juiced up. So charge it before you leave home, and if it's a short trip that might be all you need. But for longer trips, charge it when you drive, and if you stay put for a a few days, use the solar panels. Worth noting it could last you anywhere from a few days to a few weeks depending on you.
The panels are solid, the fabric or canvas material that surrounds them is, so far, relatively durable. This makes it easy to adjust the angle depending on the sun, they also have stands on the back. As for said fabric durability, I won't know until I know.. I'll address it in the main review as time goes on. But I got one panel in SLC halfway through my trip used from a friend, I used it to charge my phone often, and it doesn't have any wear. And I did not exactly baby it.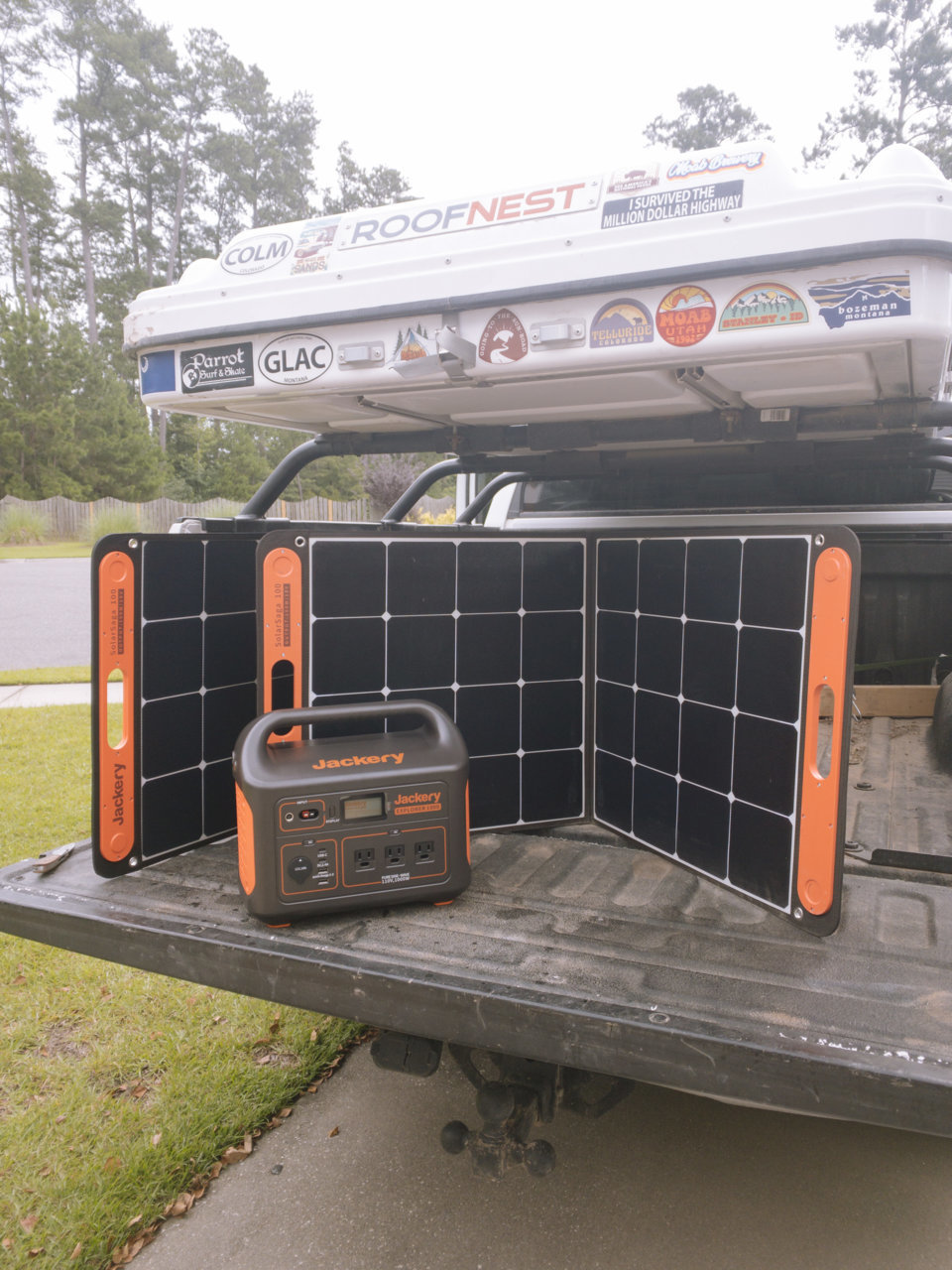 As for the unit itself, there's not much to it. The panels connect through an included cord, it has multiple household outlets as well as USB and a cigarette style. It has a screen that displays battery level and other info. Again, simplicity is the main benefit. You don't have to think at all with these setups. A thought I had before was "how long does it last?" but that's not really a problem because of the different ways to charge it. How long are you going to go without a wall/cig outlet or the sun? Probably not more than the 3-4 days it takes to drain with a decent sized Dometic.
So that's great, but there are 2 main downsides.
1
. a comparable DIY solar setup to mine would be a few hundred cheaper. The Jackery 1000 w/ 2 100w panels is $1500. For me, the convenience is probably worth the difference and peace of mind my truck won't catch fire. On that note, it's pretty much like a dual battery setup - except the battery is larger and mobile and can be charged not just by the alternator.
2
. Battery durability. This is two separate issues.
2a
. If something goes wrong, you can't splice a new part into the power unit itself (obviously solar panels can be easily replaced). But I haven't heard of anything going wrong with one of these, and I have heard good things about Jackery support in general. If something does happen I'll share my experience.
2b
. Longterm degradation. Goalzeros/Jackerys/similar units are good for either 500 or 1000 full cycles before degradation (to 80% capacity). On a DIY setup, the standalone battleborn battery would be good for somewhere around 2000 cycles. Now, realistically, does this matter? Probably not, even if you travel for extended periods like myself. But it is worth noting.
I'm a heavy user, I do trips for months at a time, so I should be able to get a really good idea of this setup. But that will take time! If you have any questions let me know.
brycercampbell.com