For the past 5 years or so I've ridden the KTM 530 as my desert weapon of choice, I've also used the Giant Loop luggage system since their first version came on the market years ago.
Over the years I've reduced the weight/bulk of my pack with each trip taken.
Lighter is better
...making the bike more fun to ride. I've learned what I really need and what I can live without. As a general rule lay out everything you think you need to take, then separate the gear into a pile that you can live without and stuff you really think you need. Then get rid of the pile you can live without and cut the remaining pile in half....perfect now your ready to pack.
2011 530 in Desert Trim.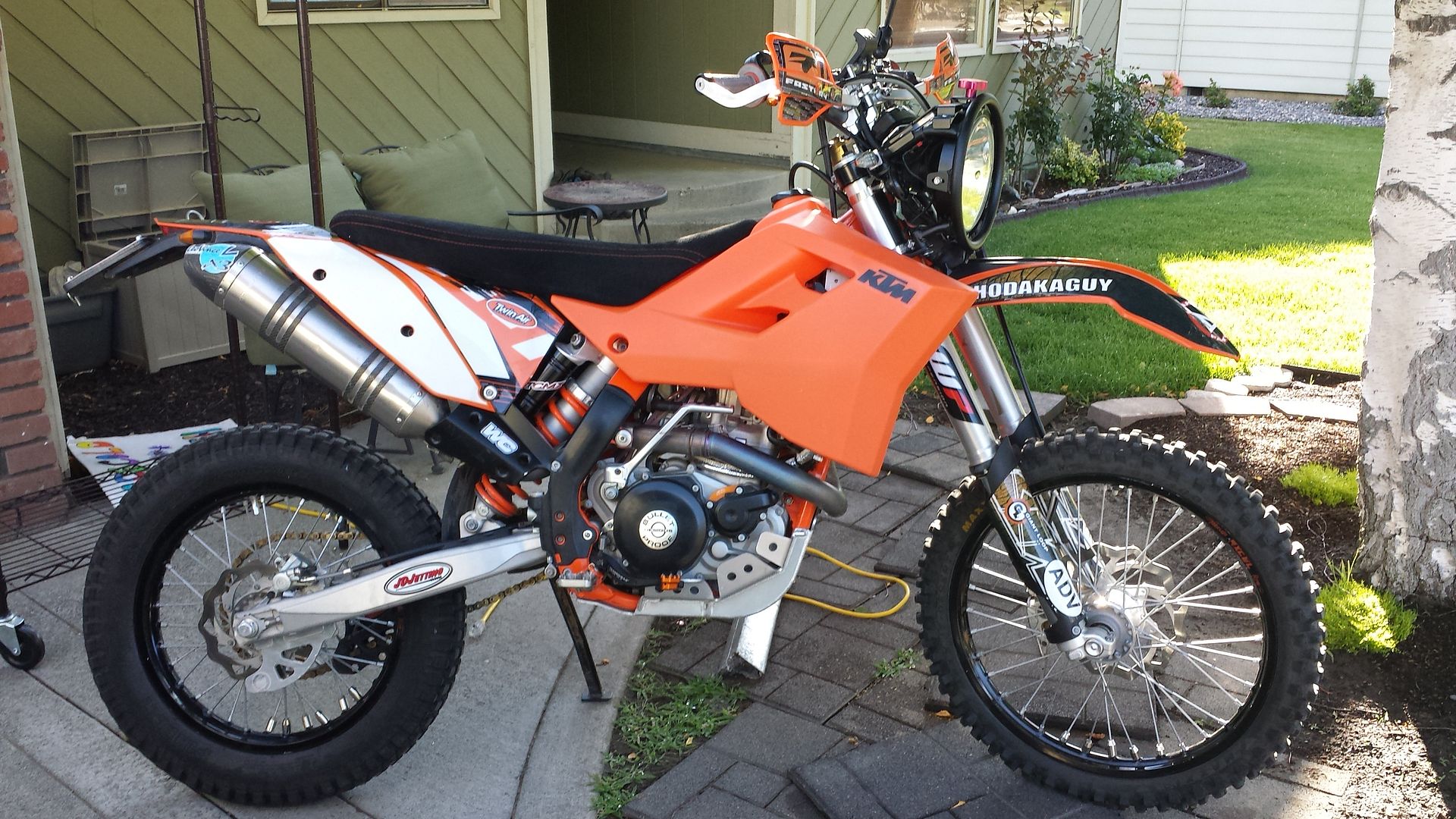 And here's a list of my mods/farkles that I've added to the bike to make it reliable out in the middle of nowhere as well as a list of the equipment that I use during desert trips.
BIKE SETUP:
*Scotts Steering Damper – The little gold magic box!
*Gatos Bros Submount and Riser Setup, The best mount/riser combo going! Read more here:
CLICK HERE
*Cleanspeed Cable Guide – Keeps your throttle cables clear of the Damper and the handle bars. I have also used the fuel hose/cable tie method with great results...I recently switched to the Cleanspeed unit for a more "factory" look. Link to a pic of the hose mod:
CLICK HERE
*Fastway Hand Guards
*Ignition Map Switch – Not really needed in my opinion. I run in the high setting pretty much 100% of the time
*Trail Tech 8" HID Race Light and Brake Hose Guide, your own portable sun! – Light that is actually usable, plus I just love the looks of a race light!
The stock 530 light is the worst I've ever ridden behind! The 8" light is not DOT legal but I run it aimed low on the street and have never had a issue with it. Here's a link to my Re-wire and Install of the 8" Racelight Halogen model on my original EXC:
CLICK HERE
. I also run a Aerostitch 3M headlight guard film on the face of the light to help keep it in one piece out on the trail. Link to the film here:
CLICK HERE
*Bullet Proof Designs Radiator Braces – Awesome build quality and rock solid!
*KTM Fan Kit – Great for slow trail riding...a must have!
*KTM High Flow Water Pump - Every little bit helps.
*Trail Tech 100W Stator – A must have upgrade when using the fan kit
*Shorai LFX14L2-BS12 Lithium Battery. (Nice and light....not sure it's worth the $$ though)
*C.R.T Coolant Recovery Bottle – Installed in the air box. Cheap insurance if you overheat in the middle of know where so you don't lose any coolant.
*Double Take Mirror – Built like a tank, folds nicely and is actually usable! Get them here:
CLICK HERE
*GPS - The 478 used to be the KING of GPS units for ADV riding. I've recently sold the 478 and purchased a Garmin Montana which works even better for remote desert travel. The 478 limits you to 15 tracks at 700 points each (that can really cause problems), the Montana holds 200 Tracks at 10,000 points each! LOTS BETTER! Here's a link to a more detailed description between the two units:
CLICK HERE
*Touratech GPS Bar Mount Adaptor *Works Connection Skid Plate – Fit is excellent and offers great protection and increased ground clearance, my favorite skid plate...unfortunately they are no longer being made and finding one is only slightly less difficult than turning lead into gold.
*Clockworks Gas Tank – My "normal" tank for single tracking etc. Fit and build quality are excellent. More pictures of the tank here:
CLICK HERE
*Acerbis 6gal Desert Tank – Great tank for long desert trips. Link to pic of heat shield installed on underside of tank:
CLICK HERE
*JD Jet Kit - Highly recommended.
*JD Fuel Screw - Brass tip
*7602 Racing T6 Carburetor Vent Line Filter Kit – Great unit to keep sand/dirt out of your carb slide Link:
CLICK HERE
*Rear "Shark Fin" with carrier – Enduro Engineering *Enduro Engineering Clutch Saver with Metal Knock Down Bar - Cheap insurance!
*14-52 Gearing (118 Link Chain)
*Iron Man Rear Sprocket,OEM Front Sprocket
*KTM Euro LED Tail Light – Fit is excellent and build quality is very high.
*Sicass Rear LED Flush Mounted Turn Signals – Mounts up nicely to the Euro Tail Light.
*Renazco leather seat - PURE COMFORT ON THE TRAIL! More pics here:
CLICK HERE
*Fastway Foot Pegs – Mounted in the low position to give more leg room. These pegs are great. Excellent traction and the wide stance really helps to keep your feet from getting sore at the end of a long days riding.
*Full Titanium LeoVince Pipe/Header. Great performing pipe with a great sound, it came on the bike otherwise I probably would just run the "KTM" FMF Pipe with OEM header - I've ran that combo on my last two 530's with great results.
*Dirt Tricks Cam Chain Tensioner
*Bullet Proof Designs Chain Guard Tab Brace
*Pro-Moto Billet Kick Stand – Super strong and fits great!
*Trailjammer Designs clutch saver - insurance for your clutch cover:
CLICK HERE
*TrailJammer Designs Exhaust Guard.
*Custom "Twist-A-Plate" License Plate Holder. Link Here:
CLICK HERE
*Hammerhead adjustable billet brake lever - Great lever! I got it for a great deal, otherwise the stock one has always treated me well.
*
Oil
....I've been asked several times what oil I run. I run Mobile 1 15W-50 for high performance engines (The bottle with the little race flags on the corner) in both the engine and trans. This oil is popular in the bike circle, is easily available and works great. During desert trips I carry one qt in my Giant Loop which gives me enough to top off with every morning and change oil on the engine side at the half way point. This oil has extra anti-wear additives and closely matches the bike specific oil blends, Some Walmart stores carry it in 5qt jugs for $23 making it a great bargain.
Luggage:
Giant Loop Luggage - This luggage is absolutely awesome! Holds your gear tight to the bike so you can ride like a dirt bike with all your luggage. Everything stays in it's place and there is no metal frame work to bend/break in a crash. I've used this luggage on numerous long distance desert trips now and it's performed flawlessly. I like to pack everything in small individual dry bags before loading them into the GL bag, keeps everything waterproof plus makes it easier to go after a specific item.
Giant Loop Fandango Tank Bag - On our second trip I added the tank bag. Build quality is great and it's super handy as it allows you quick access to your camera, helmet cam, extra batteries/memory cards etc. I carry my camera in a zip lock bag inside the tank bag, keeps dust out of the camera and if you go down in a river crossing the camera won't be damaged. More pics of the tank bag here:
CLICK HERE
Tools/Spares:
*Tire irons
*Spare Tube in a front fender pack (Remove the valve core from the spare tube, coat the tube in Talc, fold it up and place it in a vacuum seal-a-meal bag. The vacuum will make it a fraction of it's normal size and the thick bag will offer abrasion resistance for the tube while it's in the pack. If you need the tube while on the trail just cut open the pack, re-install the valve core and you have a pre-talc'd tube ready to go!)
*General hand tools...ie wrenches, pliers etc.
*Metal Epoxy stick - great for fixing holes in side covers etc
*Super Glue
*Snap Ties
*Electrical Tape, Rescue Tape
*Knife
*Lighter
*Tire Patches
*Tire Pump - I use the Crank Brothers Pump. It's small, light weight and works great. I carry it in the tank bag:
CLICK HERE
*Spare Spark Plug
*Spare Levers
*Spare Master Link
*1 qt Oil
*Misc bolts
*Micro Sized Digital Multi-Meter(Handy for any electrical problems while on the trial):
CLICK HERE
*Short section of fuel line
*Repair Manuals. I carry a complete factory repair manual in PDF format on my phone for quick access on the trail. I carry both the XR650R and the KTM 530 manuals.
Camping Gear/Luggage Setup
Old Setup:
Here's a picture of my original 530 loaded for our first long distance trip. Notice the large top bag.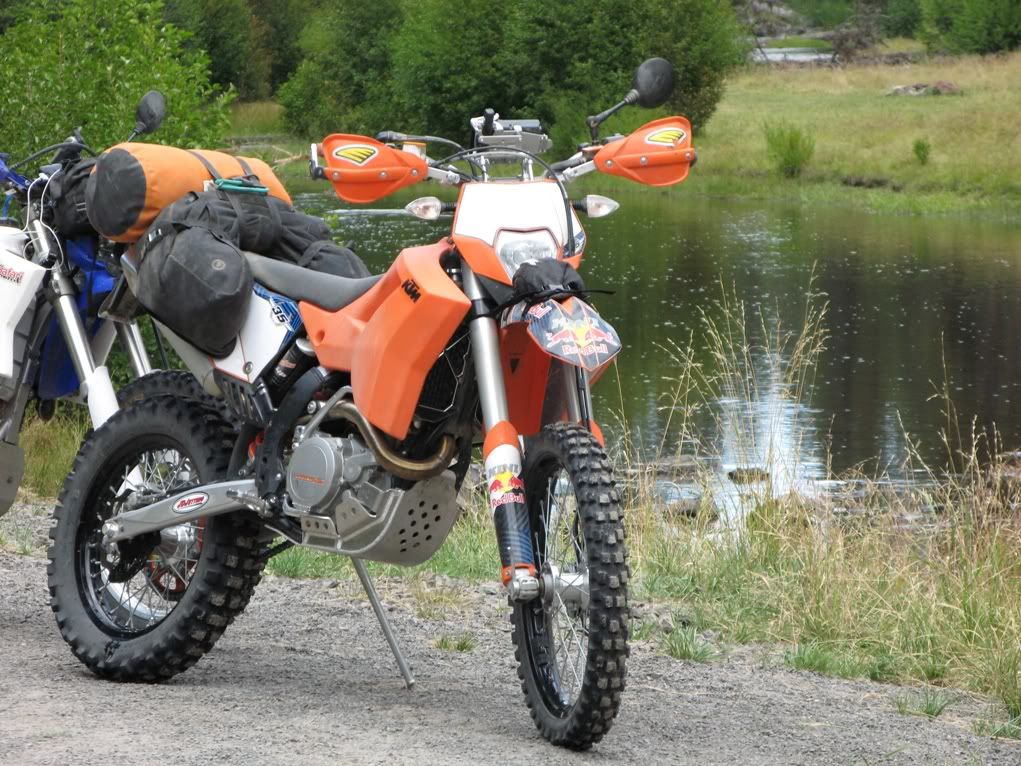 And a layout of all the stuff I carried in the GL/top dry bag. LOTS of stuff here that really isn't needed. This is the kit after we returned from our trip...notice all the food that I packed for days on end that came back home with me. Pots, stove, fuel, folding bucket, etc. I was also using my Big Agnes sleeping bag and pad, while it's an awesome sleeping setup it's bulky and weights quite a bit.
I use the tank bag for stuff I want quick access to...mainly my camera and extra batteries. I also carry a charger for the camera batteries and phone that I plug into the battery tender plug so I can recharge them at night while at camp.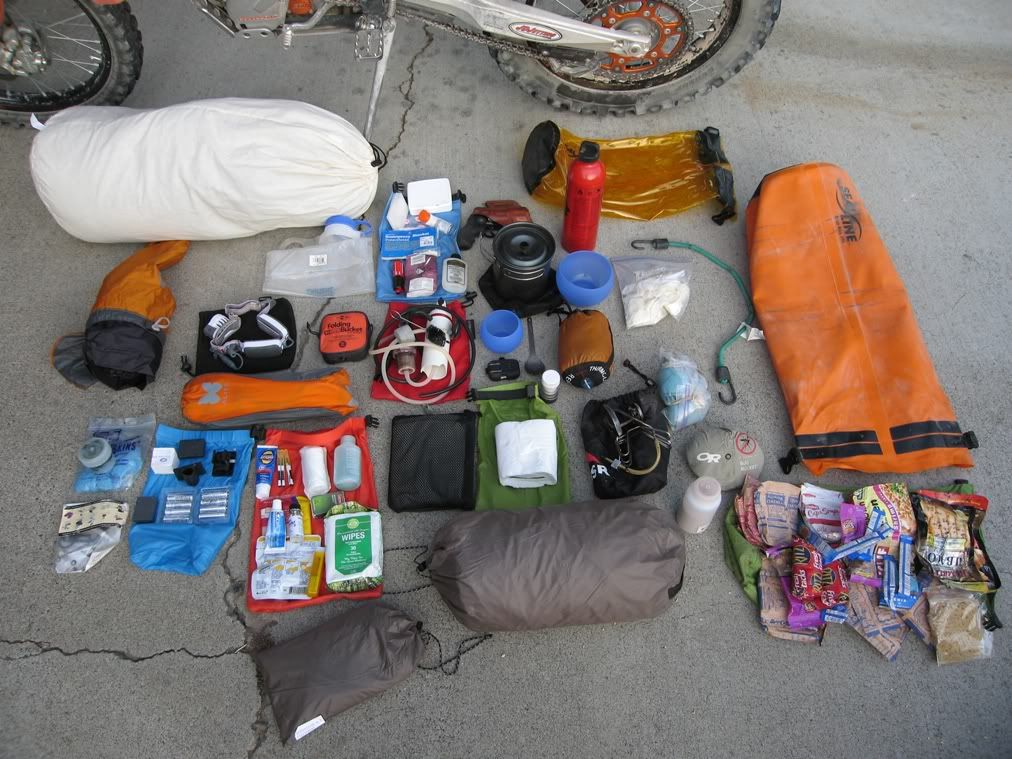 Current Setup:
Here's my current setup, fully packed for a 10 day trip. I've learned to pack light enough to get everything in the GL itself with no need for a top dry bag. I strap my tool belt onto the top of the GL where the dry bag used to sit (Soooo much nicer than carrying it on your back). I carry a cheap pair of sandals on the back of the GL, running them through the straps. This location works great when the sandals are wet and dirty, and having something besides boots to wear around camp, in hot springs, or just out to dinner feels great!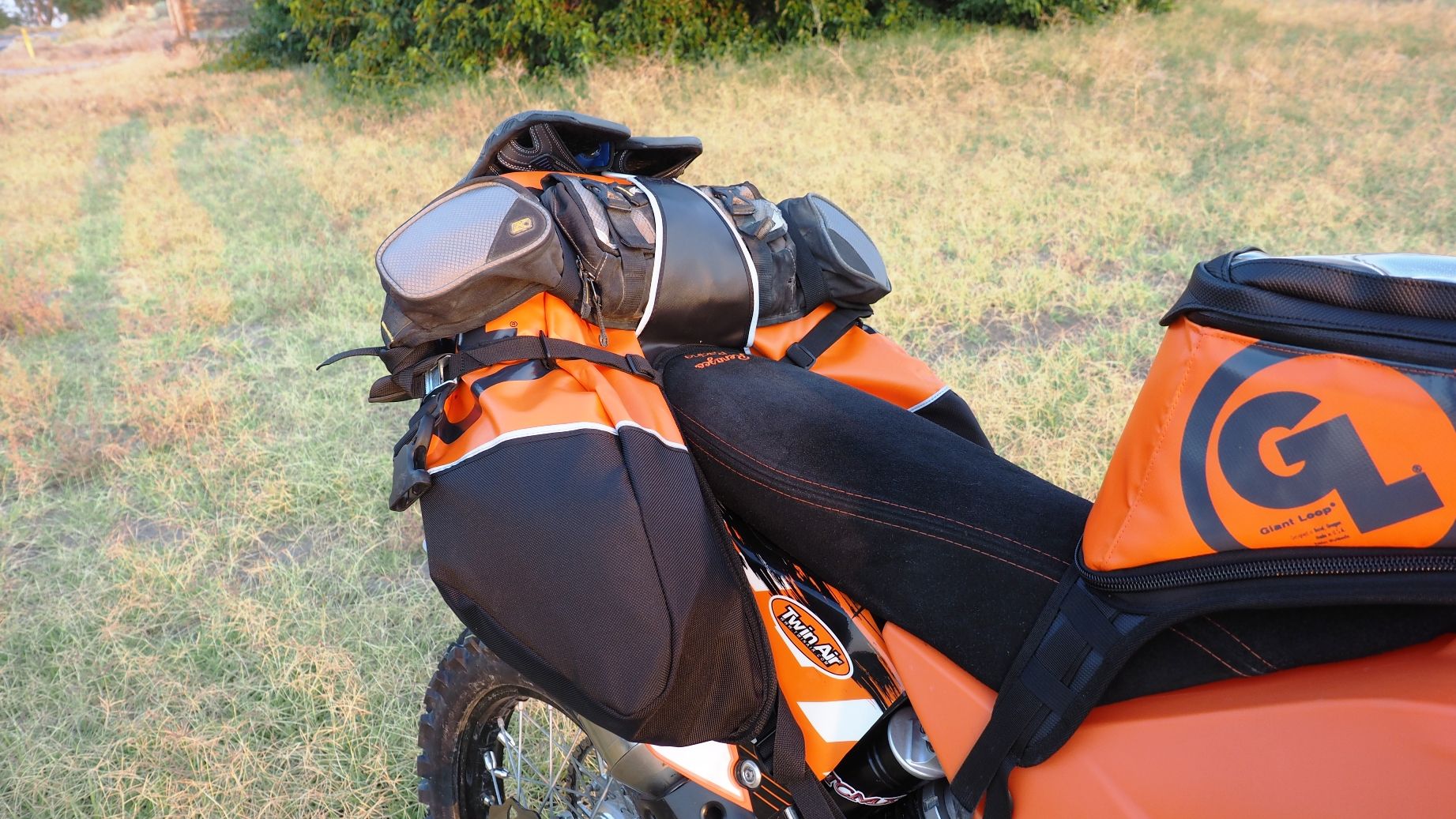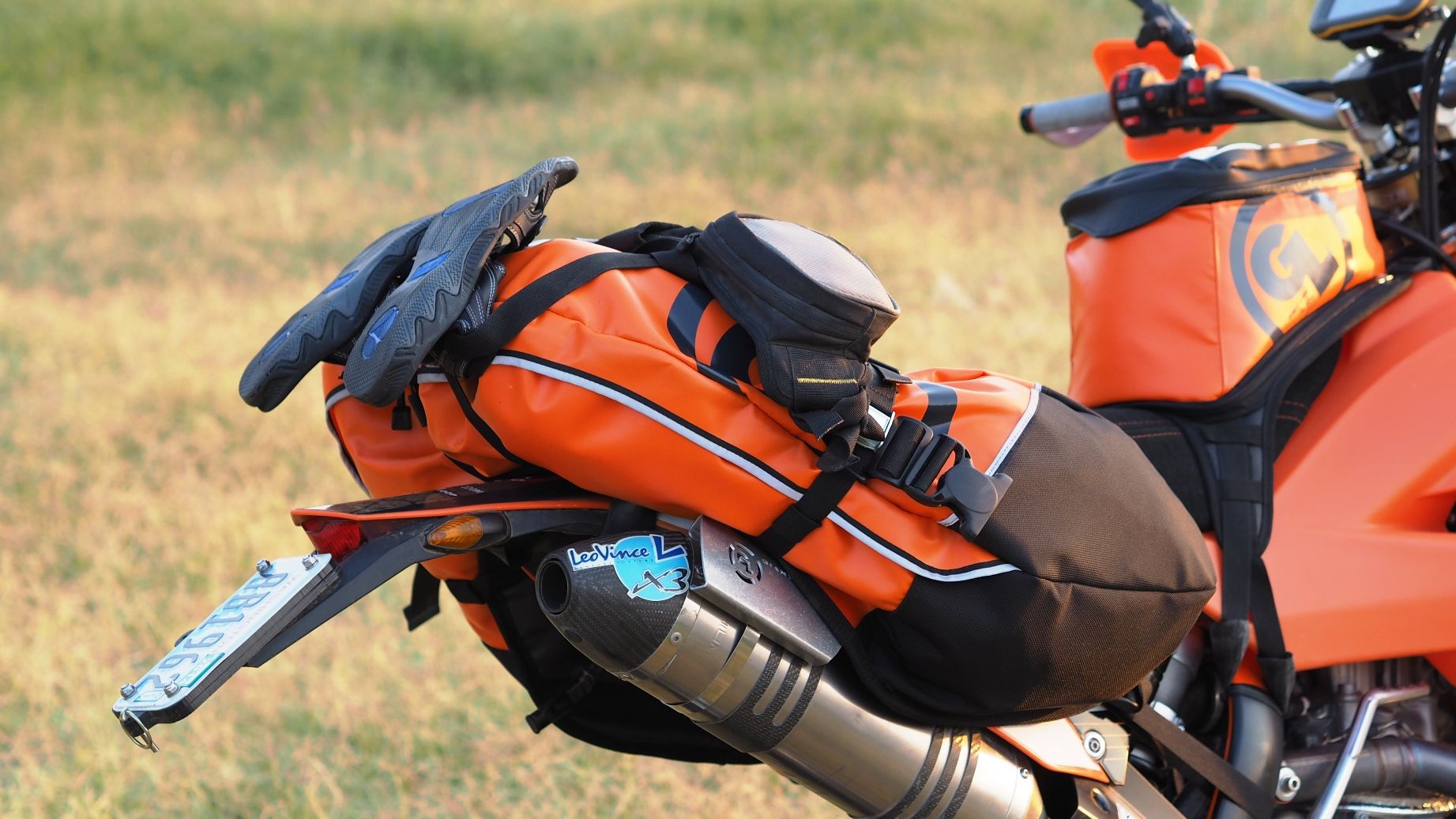 Spot Locator: This is my preferred location for carrying my spot, it's easy to turn on/off in this location and I can look down and see the lights blinking to verify that it's on. I use the Giant Loop Proghorn straps to hold the unit firmly in place. One piece of equipment that I don't venture far out in the wild without, plus family back home loves following our trip in virtually real time on Google earth
GPS mount: I run the Garmin Montana and mount it with the Garmin rugged mount/charge cradle attached to an Enduro Engineering bar mount adapter. The Montana replaced my trusty 478 and has performed great on every trip so far. I really like the GPS in this location as it's tucked down out of the way and easily visible while on the trail.
Here's my 10 day luggage setup. You'll notice it's a lot smaller than the original kit pictured above. I've decided to leave the chair behind (even though the butterfly chair is small I just don't use it that much so I'd rather not have the bulk). I've also decided to leave the stove behind, I did update to the Jetboil stove for the last couple trips but there again I just don't use it much and can easily pack food that doesn't need to be cooked. My food stash is much smaller now as well since we always eat something wherever we fill up for fuel and usually are only eating snacks at dinner time.
I carry the tent in it's own dry bag, then stuff it in the GL. I do this so any moisture that is still on the tent doesn't soak into the down sleeping bag. Another tip, since the bag is so compressed get it out and shake it to fluff it up as soon as you get to camp, let it sit in the tent so it can loft again and be ready to keep you warm when you hit the sack.
Sleeping Bag: I picked up the Ultra Light Zpacks 20deg bag. The bag is filled with 900 fill hydrophobic down and weighs in at a scant 16.7 oz! It's also very compressible freeing up ton's of room in the giant loop. I'm carrying the bag in a light weight Sea-to-Summit waterproof compression sack, the sack has a waterproof breathable bottom on it that lets air out as you compress the bag....works great! A couple shots of the bag from the web...I'll post up my own photo's soon.
Small pack towel, toothbrush/paste, mouth wash and body/baby wipes (a shower in the desert).
Cloths and Sleeping Pad. I now pack really light on clothing. I carry two pairs of light weight hiking pants (The kind with the zip off legs), two pairs of quick dry light weight shirts (Russel is a good brand, they dry quick and don't stink after one days use), two pairs of vented underwear, two pairs of socks (Smartwool) and one sweatshirt.
During trips I wear a pair of Aerostitch Darien Gortex pants over the hiking pants when riding, when I stop to eat or get to camp I just unzip the Darien's and I'm instantly walking around in something comfortable. We usually stop every two-three days at a hotel while on trips so I take all the cloths into the shower and wash them each time we do, they dry quickly and are ready to be packed back up again in the am.
The sleeping pad is a Thermorest Neoair unit, an ultralight insulated sleeping pad and only weighs 12oz. This cuts weight and bulk from the pack vs the Big Agnes pad I used to carry. The Neoair is very comfortable and warm but is really noisy (it crinkles each time you move), this doesn't bother me but it could be a deal breaker on this pad if your a light sleeper.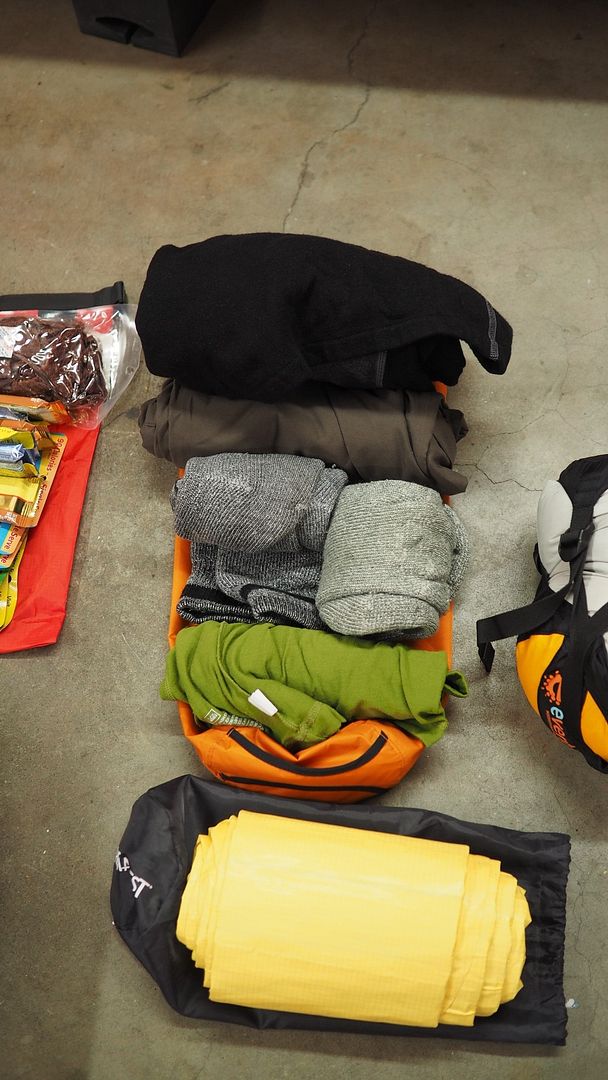 Food. Mainly just snack items now...power bars, Jerky, tuna and spam packs. All of these are easily replaceable from mini marts etc when stopping for fuel, no need to carry enough for the whole trip from the start.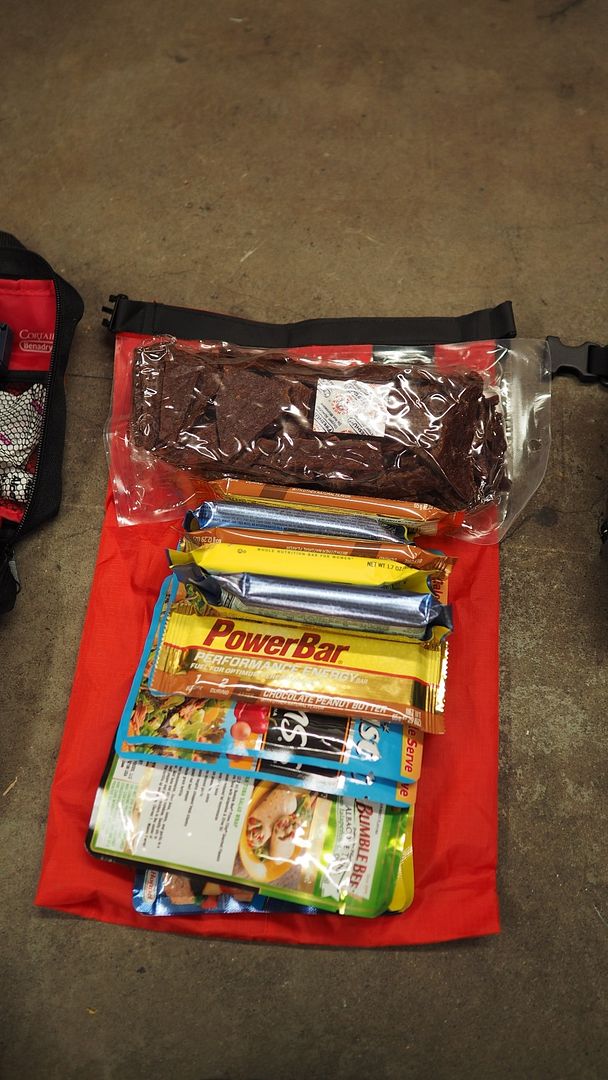 First aid Kit. All the usual stuff plus a pack of blood clotting agents, sewing kit, mole skin, Eye drops, chewable pepto tablets, Bug net for your head, etc.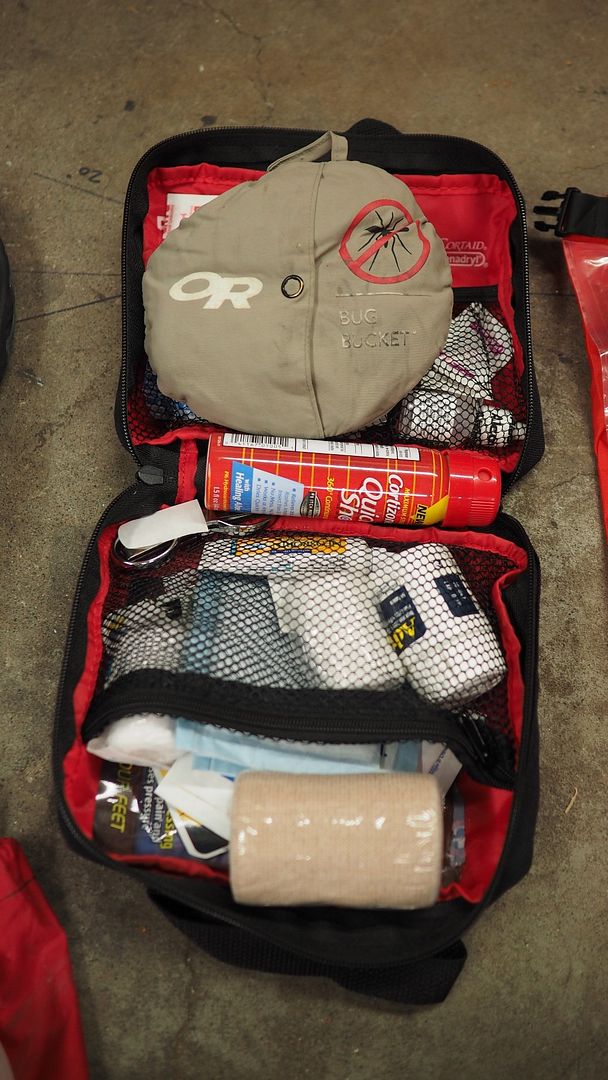 Water Purifier. I'm still using my tried and true Sweet Water pump setup. We often camp near streams and rely on pumps to fill our hydration packs. I'll add pics of my Klim pack later.
Filter Skins and Supplies: On our first trip I carried oiled filter skins as well as a couple extra clean and oiled air filters, since that first trip I've learned how well the filter skins work and have stopped carrying extra air filters altogether. We now complete an entire 1600 mile desert trip on one air filter...changing filter skins daily. The oiled skins really do an excellent job of catching the majority of the dirt, each morning when I remove the skin to install a new one the filter looks great underneath.
I also carry a small Nagene bottle full of Windex (used for tire bead lubrication when patching tubes, a bottle of Rain-X for goggles and Gopro lens and a small container of BelRay grease (I use a thick layer on the filter rim). I also carry a pair of thin latex gloves for each days filter skin changing ritual....BelRay filter oil has to be the stickiest stuff known to man, don't want to get than on your hands when your out camping.
Motor Oil. On long distance trips I change the engine and trans oil when we leave, then I carry enough oil to change the engine side oil at the half way point of the trip. I carry the oil in Nagene bottles since they are bulletproof and won't leak, as an extra measure I use electrical tape to secure the caps in place. This amount of oil gives me enough to change the engine side and have enough to top the engine off with each morning.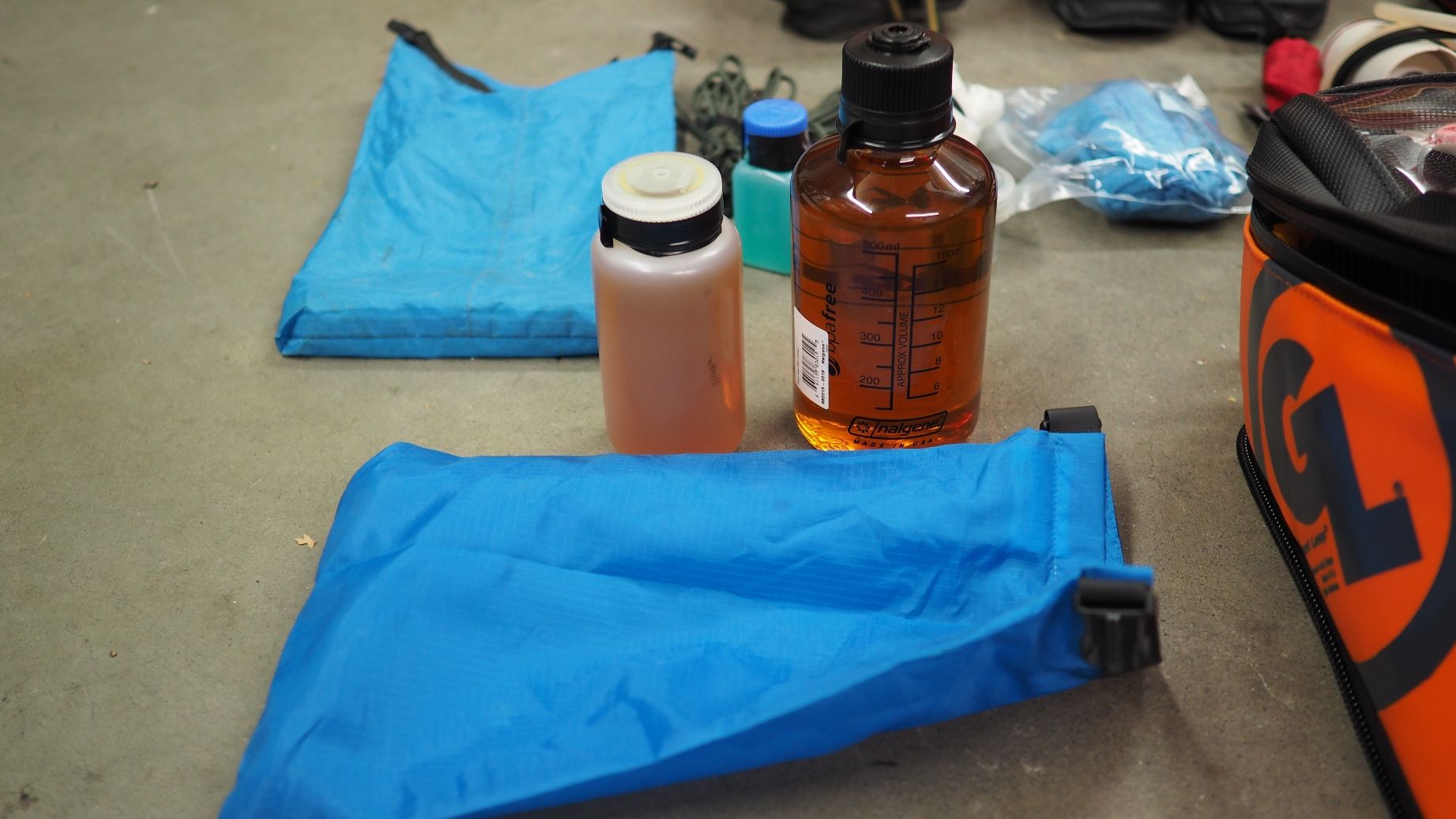 Misc tank bag items: Phone waterproof pouch, camera, batts, waterproof pad for trip diary, LED headlamp etc. There are a few items missing from this picture such as the batt chargers and the GoPro equipment.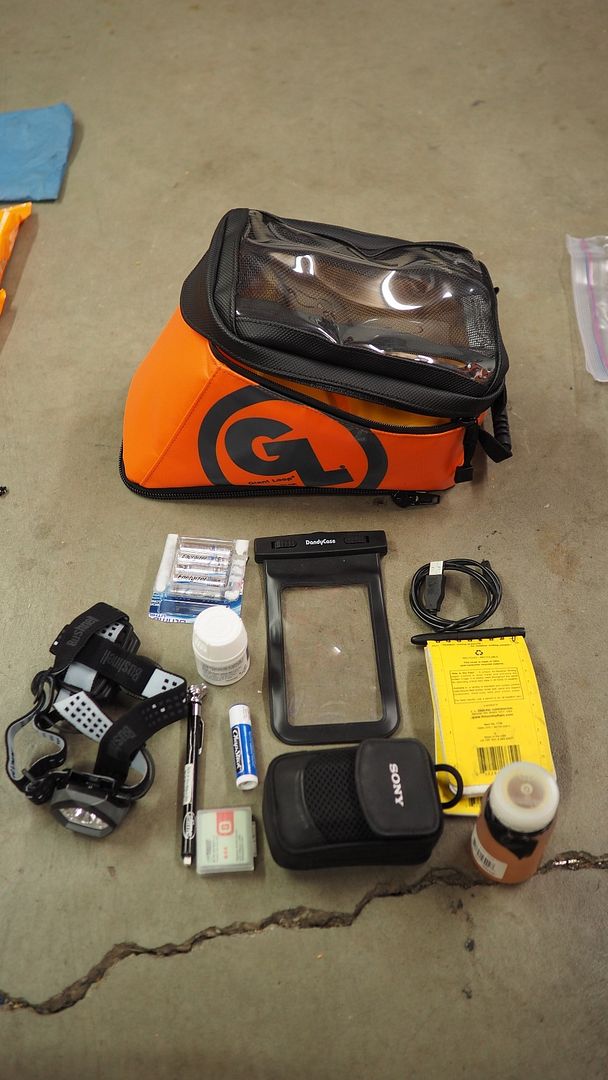 Tent: I've used the Big Agnes Seedhouse 2 tent now for several years and love it. It sets up quick, it's light weight, very waterproof and it's large enough to bring my gear inside with me so everything stays dry. Every couple years treat the tent and ground cloth with 3M Sunbrella, it's a UV blocker and water proofing agent that works really well! Below is a picture of the tent set up from a trip a few years back...lots of stuff along on that trip.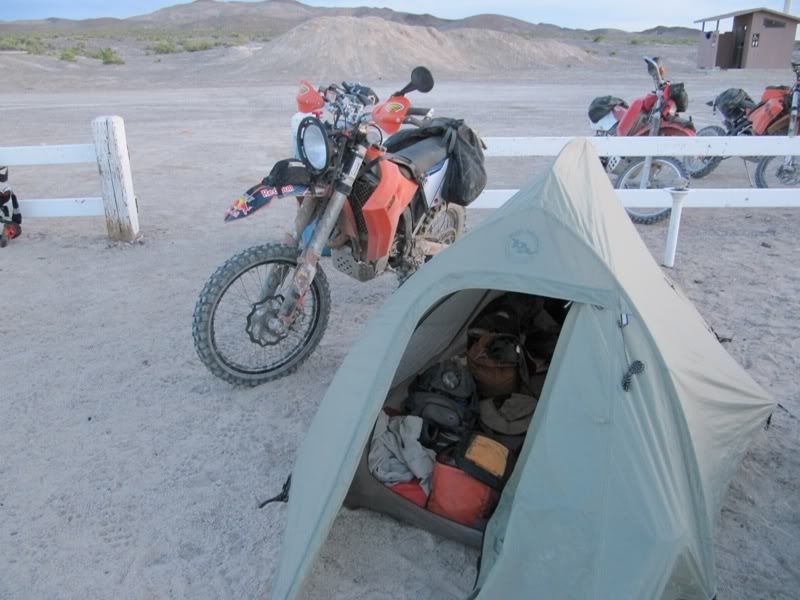 Over the next few days I'll add the rest such as the tire repair kit on the fender pack, riding gear etc.
Hodakaguy