1999 Toyota 4Runner with 117K highway miles. It is black with tan interior both in great shape. It has a power windows, locks, antenna, sun roof, tow package, keyless entry and the stock Toyota VIP security system.
· Oil changes every 5k with Amsoil, with meticulous attention to KNN air filter, MAF sensor, throttle body, Geased all the zerk fittings with Amsoil grease.
· @ 90K miles the Timing Belt/Water pump, serpentine belts, spark plugs/wires,
· Fuel filter was recently replaced.
·New Brake Pads and Rotors @ 108K
· The transmission, coolant, brake fluid, front+rear diffs, transfer case were all flushed with Amsoil at 115K miles.
· @ 105K miles new CV Joints, Upper and Lower Ball Joints, Inner and Outer Tie Rods were replaced with Toyota OE,
· NEW Optima Red Top Battery.
· New exhaust system from the cat back with flowmaster muffler.
· BRAND New Koyo Radiator and a Tru-Cool Transmission Cooler.
· Husky liner floor mats and a weather tech cargo liner.
· Under-carriage was treated with POR-15
OPEN TRADES WITH TDI DIESEL VOLKSWAGEN CARS ONLY.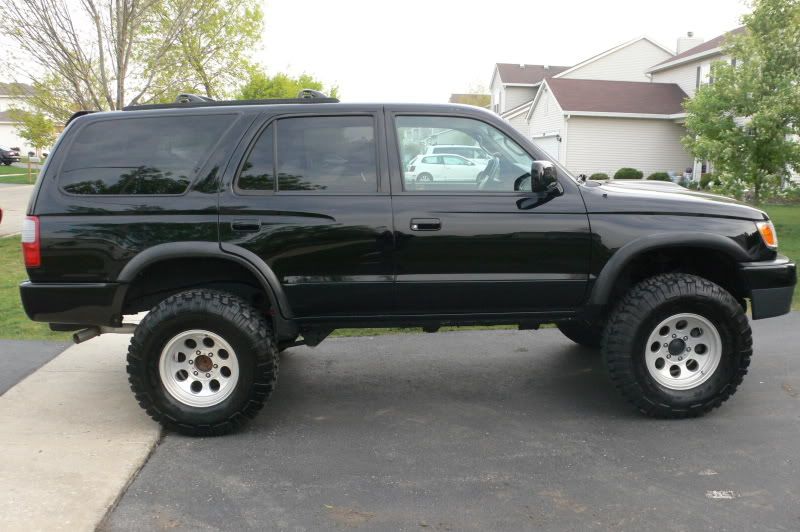 Modifications:
3" Lift - Tundra TRD front/ 95 Land-cruiser Coils rear (
http://www.sonoransteel.com/store_complete_liftkits.html
)
1"Diff Drop from Sonoransteel
Old Man Emu Comfort shocks (
Nitrocharger Shock Absorbers
)
Wab-Fab Quick Link Disconnects (
Toyota 4X4 Products & Custom Fabrication | WabFab Off Road
)
285/75/16 Goodyear MTRs with 15/32 tread (
Goodyear Wrangler MTR 4x4 Tire
)
Mickey Thompson Classic ii wheels (
Mickey Thompson 350411 - Mickey Thompson Classic II Polished Wheels - Overview - SummitRacing.com
)
Audio:
Alpine IVA-W200 Head Unit with I-Pod cable
JBL Speakers and tweeters
Dynamat on all doors
You can see the rest of the album below
http://s61.photobucket.com/albums/h57/jrbolanos1/
Last edited: