I wanted to put together a review of sorts on Four Wheel Campers as the information on the 'Net for these highly desirable campers is surprisingly scarce. This report will focus on my lengthy search for a used unit plus the reasons I chose and purchased my Eagle model camper. I've only owned the camper for a week, but already I have experienced a few different scenarios that I was curious to see how the camper would handle. I will add to this thread as the trips and nights camped, accumulate.
***Looks like this review will be in parts due to pic counts and heavy verbage***
What's the big idea? -
I began my search for a camping solution when my second child was born and I needed more room and comforts than a tent or truck camping could allow for. My goal was to find a camper that would have enough room to take my two small children (5 & 2) up to Yellowstone NP or just the local mountains for a 2 or 3 day weekend, but also be stong and lightweight enough that I could live out of it for several days or weeks while going solo on off road trips. It would have to be able to endure the high winds of Wyoming, the heavy rains of chance, the heavy snows of the Rockies and my desire to constantly see what's off the beaten track.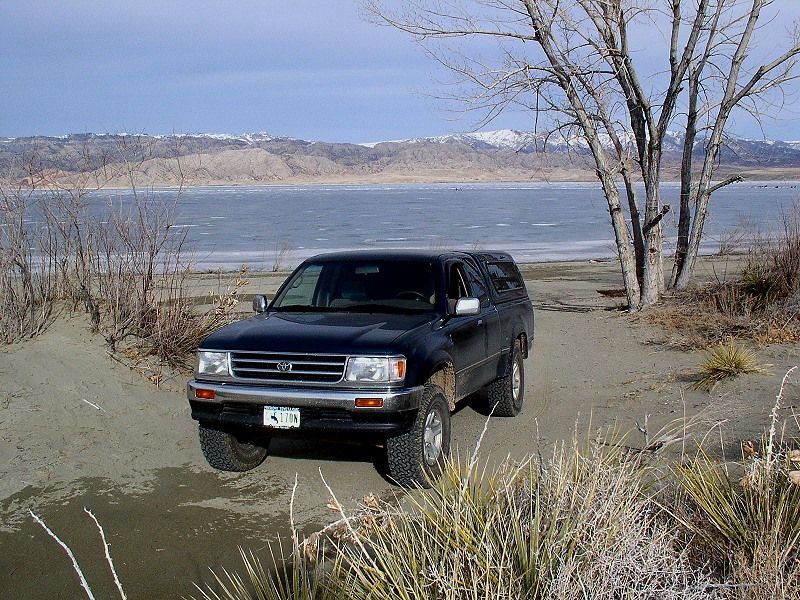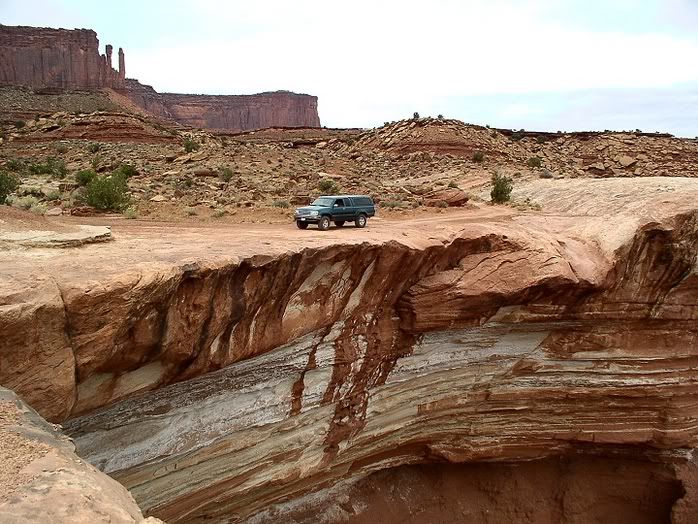 Why a Slide-in Camper?
- I came to the conclusion that a small slide in camper was the best option for me when I realistically looked at my needs and wants. I briefly considered a trailer for family camping trips and did a lot of research on lightweight one piece fiberglass trailer manufacturers like Casita, Scamp, Burro and Bigfoot. I quickly decided against a trailer because I wanted the option of camping and towing a trailer with my snowmobile or an ATV on it. If I were ever to get a small boat, I would also need the ability to tow. Other reasons include needing to have a trailer registered and licensed, insured, etc. Additionally with moving parts there is always something that could go wrong and needs replaced.
A hard sided slide-in camper was not seriously considered due to the weight and profile. Other considerations were roof top tents and/or a larger family size tent. A roof top tent with a 4 year old who has "to go" in the middle of the night didn't sound very appealing and I've packed up enough wet tents to know I wanted to avoid that in the future. I also closely looked at the Wildernest and Flip-Pac camper shells with built in tents. The Wildernest was out after figuring out that finding a model to fit my truck was going to be near impossible. They are now out of business so ordering parts or getting factory support would not be likely either. The Flip-Pac was a very viable and desireable option and had one come available for my truck before I had found the Eagle, I would now be writing a review of my new Flip-Pac.
So which slide-in camper would I chose?
- With a clear idea of what I wanted from my camper, it was simply a matter of going through the manufacturers websites online, looking at the models and specs and determining who had the lightest, strongest and most durable camper. These were factors I would not be able to improve on, so they had to be right from the factory. Comfort and storage options were important but could be improved on by me if necessary. I also looked at customer testimonials and camper forums to try and get an idea of which manufacturer was giving excellent customer service. The same name kept coming up over and over, Four Wheel Campers. They were touted as having the best product for those seeking tough and light campers. Further research showed that Turtle Expedition, LTD has used Four Wheel Campers on 3 different vehicles they have built to travel around the world. Those were the credentials for rugged off road use I was looking for! A further review of the FWC web site revealed 2 models that would fit my odd ball T100, the Eagle and Hawk. The narrower Eagle would be my choice as the sides of the camper sit flush and neat with the bed rails on a T100, where the wider Hawk model extended a few inches over both sides.
The search for an Eagle Model FWC for me
- With the exact model I was looking for in mind, I set out to find a used unit in very good condition. Not knowing for certain if it would work for me, and a base price tag of $8800, I was hoping to find a seldom used older model with as many of the features that I wanted. I began my search in the usual places, online at RVTraderonline.com, eBaymotors, Craigslist, RVHunter.com, etc. as well as in RV classified mags, plus local, Denver and Salt Lake City newspapers. There was the occaisional listing for an Eagle, but the price was near new or it was on the East Coast or in need of too much TLC. I was hoping to find something fairly close to me, for under $5K in ready to use condition. After 2 years I found a real candidate that was close by with an excellent previous owner history in very good condition. Preparation and luck played a huge part as I spotted the listing the very first day it came up and I beat out several other callers who were offering the seller more money than he had it listed for! However, the seller was a quality person and honored our agreement and we had a deal pending my inspection of the unit on Easter Sunday.
On the seller's Tacoma -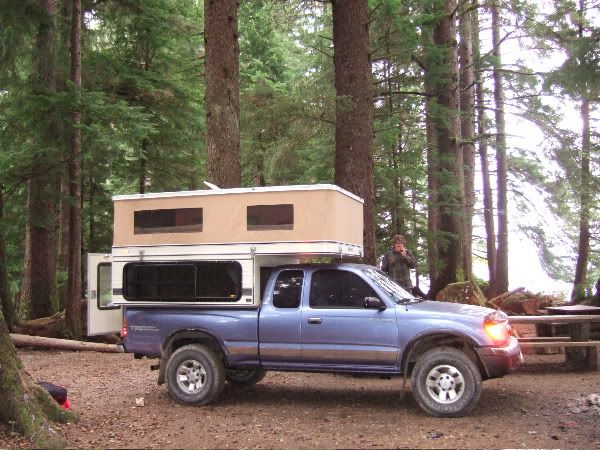 The trip to bring it home
- The camper was located in Sun Valley, ID which is about 400 miles due west of me. After removing my topper and tailgate, I left Lander on Good Friday evening for the 3 hour drive up to Jackson Hole, WY. I got a room for the night there and woke up the next morning to low hanging clouds and a steady but light rain. The drive over Teton Pass (8500 foot elv) is often hairy but more for the crazies that drive it than the road itself! I continued west in heavy headwinds through Twin Falls, ID to Craters of the Moon National Monument, where I took a few pics although the weather wasn't very cooperative. Finally I arrived in the nation's premier ski resort town of Sun Valley but the low overhanging clouds didn't allow for any decent views. Up to the seller's house I go, hoping for the very best but preparing myself to be dissapointed at the same time.
Targhee Natl Forest Idaho, back side of the Tetons -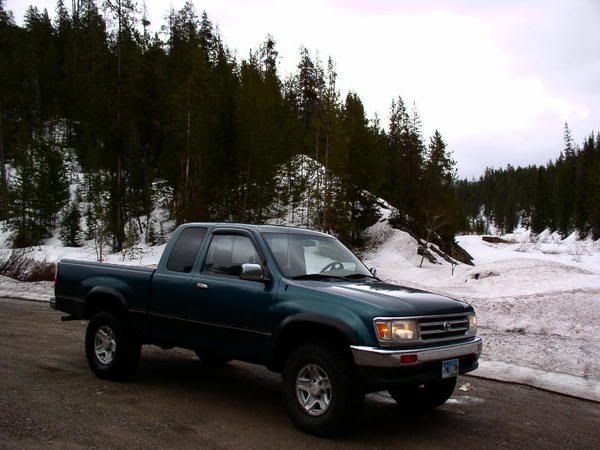 Weather at Craters of the Moon Natl Monument -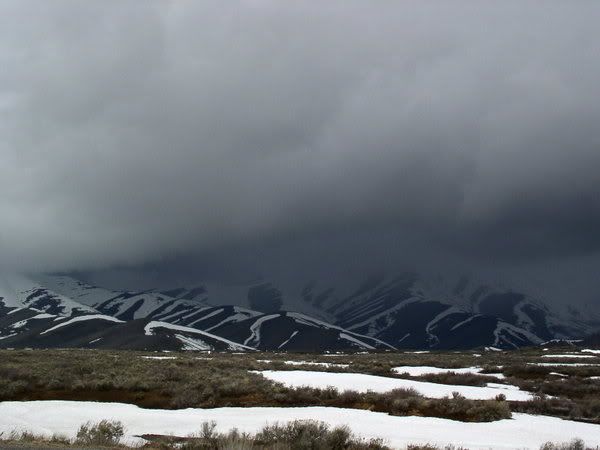 First impressions of the camper
- I had gotten a very good feeling about the seller, Rudy, on the phone. When I pulled up to his house I was relieved to see the camper was in excellent condition. And really, if someone can afford to live in a million dollar home in Sun Valley, they're likely the kind of people who'll take care of their things. Rudy was the second owner and had a stack of paperwork from the original owner, who was some sort of FWC fanatic. The camper had been completely refurbished at the factory in '99, even down to a new serial # sticker! Following a quick check of the stove, lights, and heater we practiced setting it up and taking it down. That it takes 30 seconds to set up is no exaggeration.
****......To Be Continued -
.
Last edited: