Well, here goes. I've never done a build thread before so please bear with me if it's a little patchy.
April of 2011, the day I brought my new jeep home. Inline 6 with a 6spd standard transmission. Dana 30 up front with a Dana 44 with limited slip in the rear. I put in a K&N Drop filter that day. I also ran new transmission and axle breather lines up to the engine fire wall for deep water crossings.
Just a week later I bought a 2.5 inch lift and installed it. Didn't like the way the jeep sat compared to my old TJ. Since it was an LJ with a longer wheel base I put a 1" spacer on top of that and was satisfied with the clearance. I Installed a Rough Country track bar in the front and track bar spacer for the rear. Also a Rough Country sway bar disconect too.
Next I didn't like the Color of the factory wheels so I dismounted them and painted the centers. Spent an hour on each wheel sanding and taping off each wheel before primer and some rattle can wheel paint. Rustolium wheel paint. Installed spider trax 1.25 wheel spacers too. I also painted the headlight bezels flat black. Turned out pretty nice I thought.
I had a buddy selling a set of 33x10.50 BFG At's with less than 8000 miles off of his jeep. Those will do for the time being.
With the new tires I learned at full flex I was stuffing the tires in the wells pretty deep. I put on a JKS 1.25" body lift.
Next I found with the lift that the Jeep had the evil death wobble demon so I started that battle. First I put on some JKS upper control arms to adjust the caster trying to stop it with no success. Next bought a set of lowers. No luck. Then replaced the ball joints. Three strikes. Next the tie rod and drag link by Rugged Ridge along with a new Old Man Emu steering stabalizer. Nope. So after spending $1500.00 dollars trying to fix the problem I had a friend tell me that I need to have the steering drag link and trackbar in alignment to stop the problem. Spent 2 dollars on a YJ pitman arm and the problem was solved. Live and learn I guess.
After that it was time to replace the top. I went with a Bestop Safari Top, wrap around Wind Jammer and Tonneau Cover. I knew all along I was going to turn this LJ into a pickup truck, so this was a good start.
Next it was time for the rear factory roll bars to go. This was a lot harder to do than I had thought. I did a ton of research to find out if there would be any down sides to removing the rear bars.( Tub tweaking or body damage) All sources I checked said I'd be ok for a while, but some roll bars within a year or two wouldn't be a bad idea. So I sat in my drive with a sawsall for thirty minutes before I made the cut. I'd say it went well. I also installed a procomp rear bumper and took off the factory reciever hitch. I then took out the factory gas tank skid and cut out 2" and welded it back together. Both helped the departure angles out a ton. Next I put on a set of rearview mirrors that work with no doors. Nothing is better than driving around with your doors off. Even better when your not getting pulled over for not having any mirrors.
I got bored during the beginning of the fall so I made a set of rocker guards out of 1/8 2" angle and a light bar for the fog lights. I put on a hood visor to help protect the paint on the hood. Life is tough for the leading edge of a hood up here in the mountains.
I found that the top I had assembled wasn't working out for a multitude of reasons. I had to find something that worked better. After a little research I found out that rampage made a top that would work perfectly. Ordered it and it was great. It buttoned right into the Bestop Tonneau cover.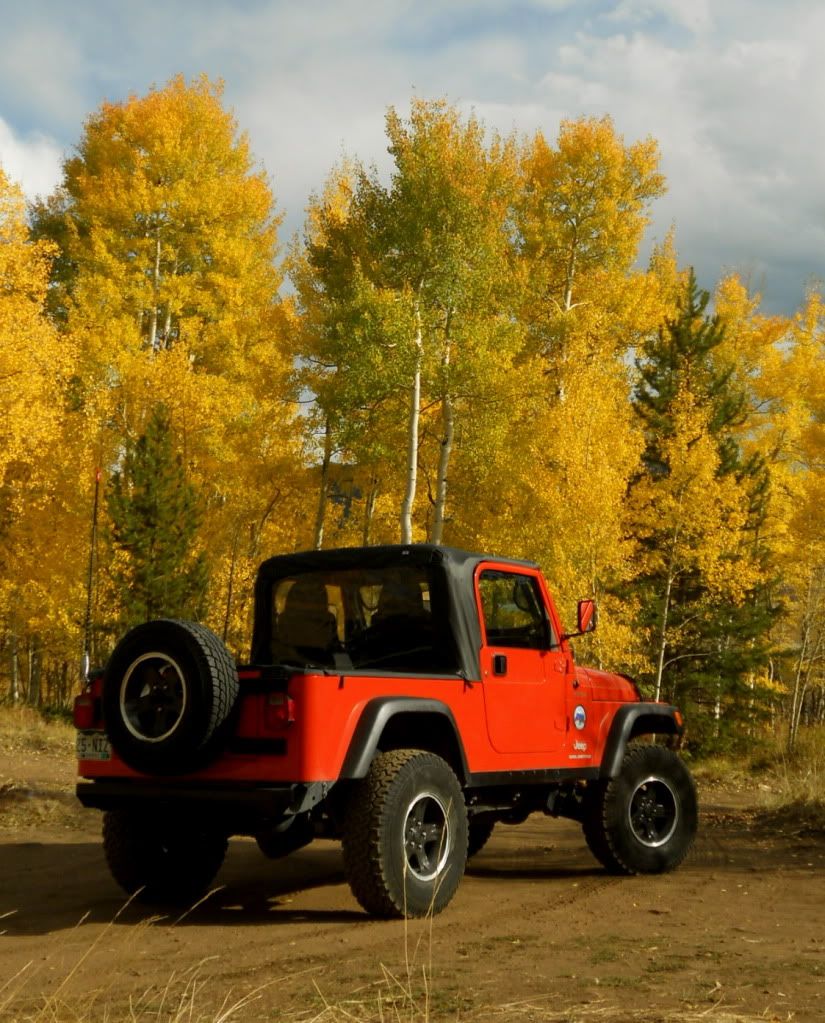 Now it was almost time to hit the trail. First I needed some safety and strength added to the Jeep. It was time for a roll cage. I decided on a Rock Hard bolt in Roll cage. The cage showed up bare metal so it had to be primed and painted before it's installed. I decided to go with the same paint I used on my wheels.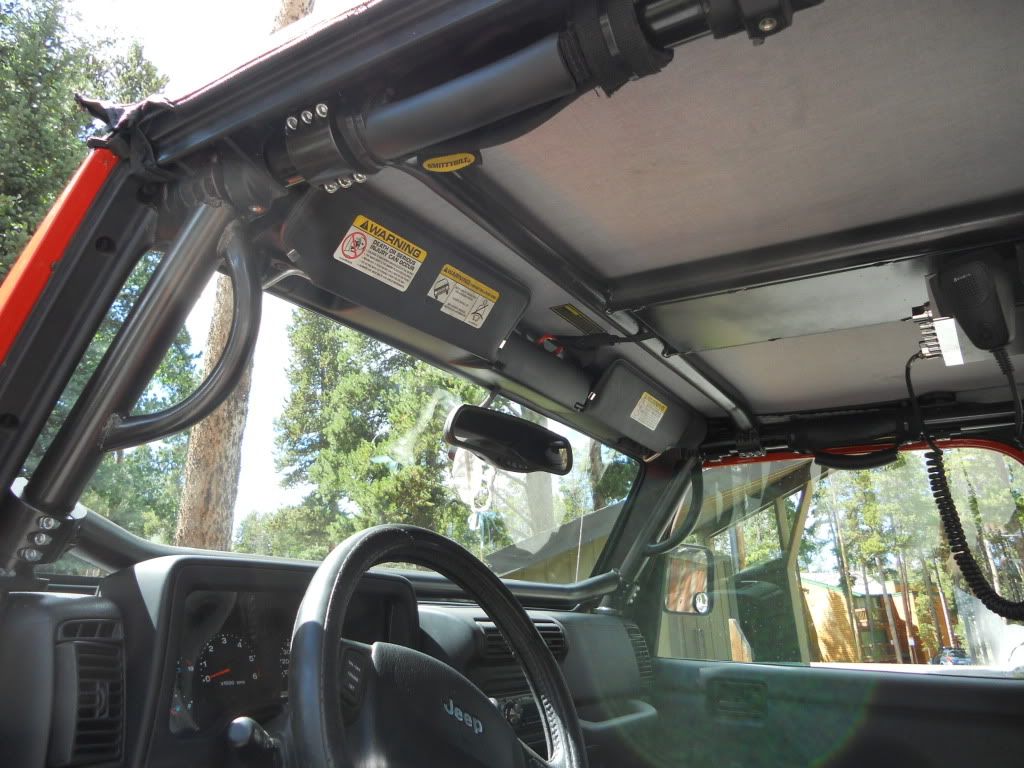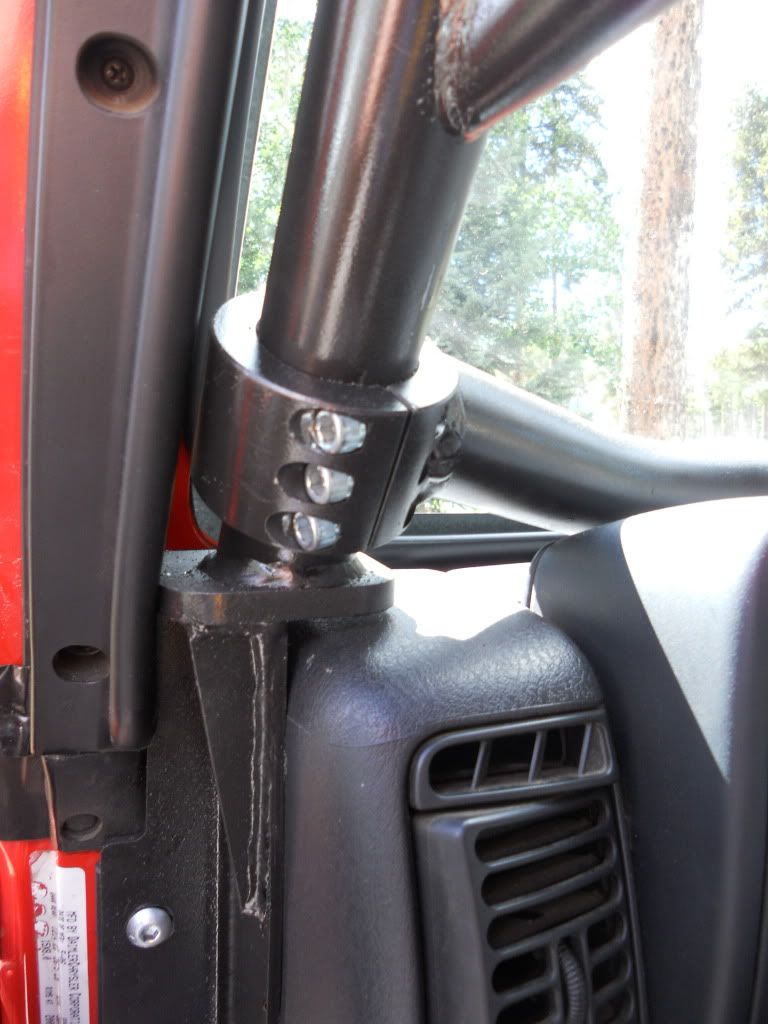 I decided that I should get a more aggressive set of 5 matching tires. I get a good deal through my work on BFG's, so I decided to go with a set of 33x10.50 KM2's. I think that they look good and work great for a daily driver 4x4. I also put on a set of Warrior Products corner gaurds. I put on a Flowmaster 44 with 2.5" tail pipe to add a little growl and free up some of the exhaust restriction.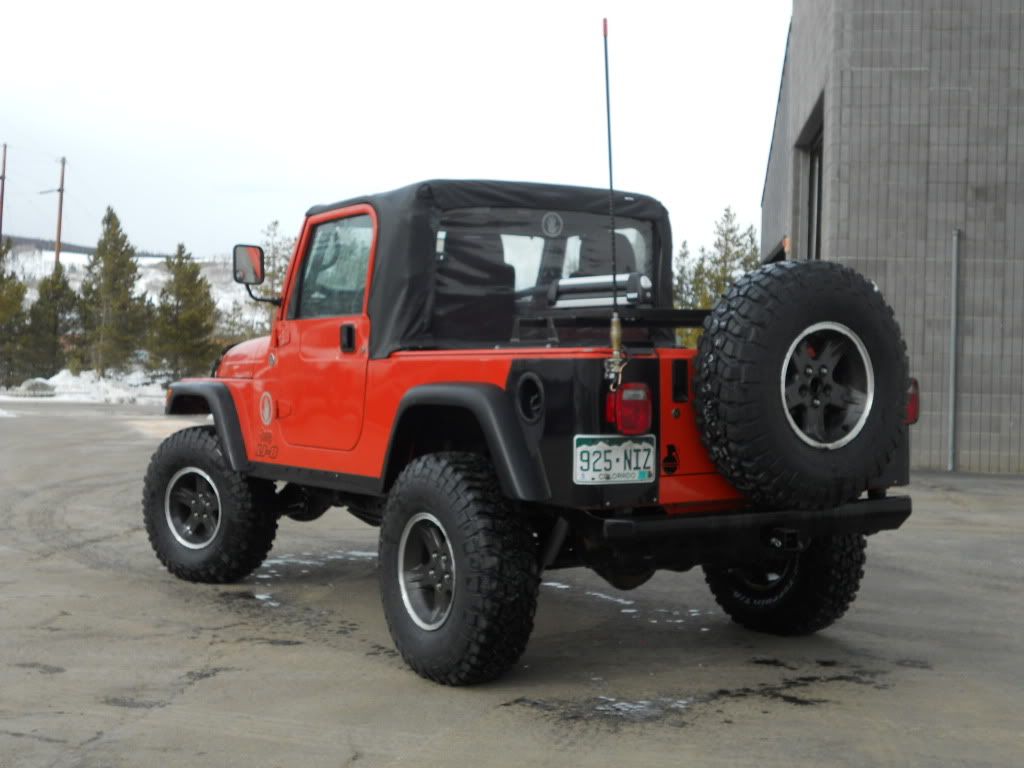 Next I decided to order the bulkhead to make the jeep a true pickup. GR8Tops made a great product and was even better to work with. They sent me the wrong bulkhead to begin with, but with no questions asked sent me the right one before I had even sent the old one back. It was an easy install. I added a piece of angle on top to add a little strength to the bulkhead. Next I wanted to get the bed sprayed with a bed liner. Every professional company I talked to wanted 600+ dollars to spray it. Guess I'll do it myself then. Did some homework and decided to go with Al's Bed Liner. The kit with a spray gun was 120.00 off of Amazon. Took a whole morning of prep and sanding to get the bed just write before spraying.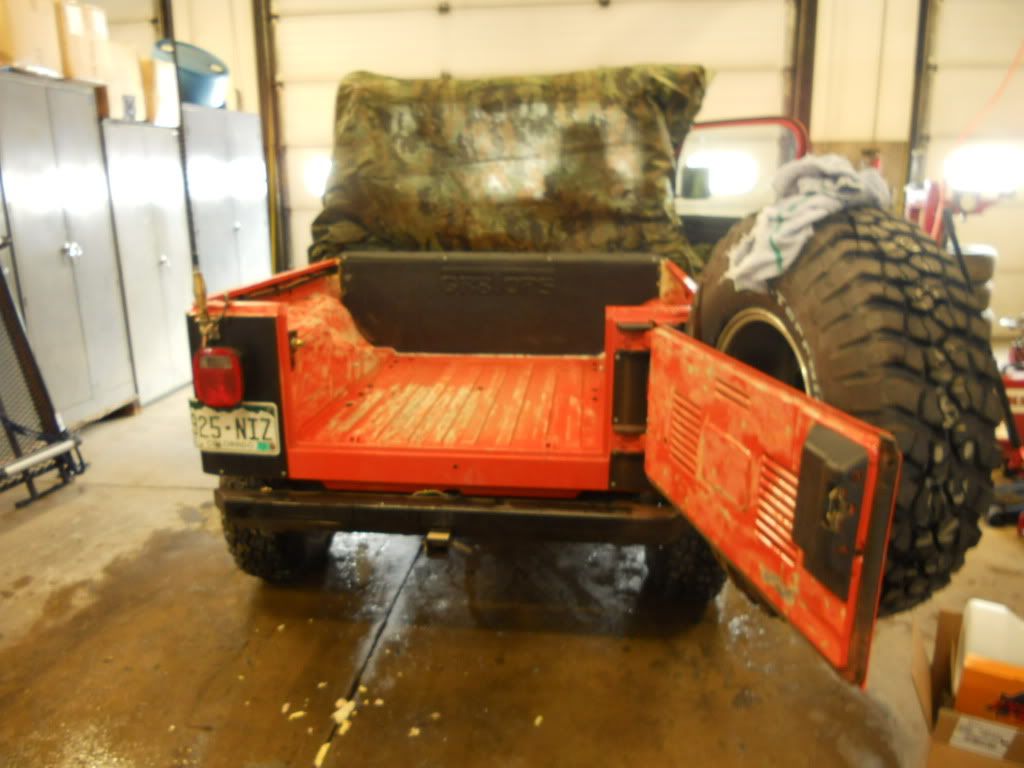 Next I sprayed the bed myself. The liner was a lot easier to apply than I thought. The final product was fantastic. It took longer to dry than the instructions had said. Like three days longer.
It was now time to get a set a steelies for my rig. I went with a set of 5 Pro Comp soft 8's with a 3.75 offset. They look great. Nothing can replace a wheel that bends instead of breaks. I also got a set of soft doors from my loving and very understanding wife for my birthday.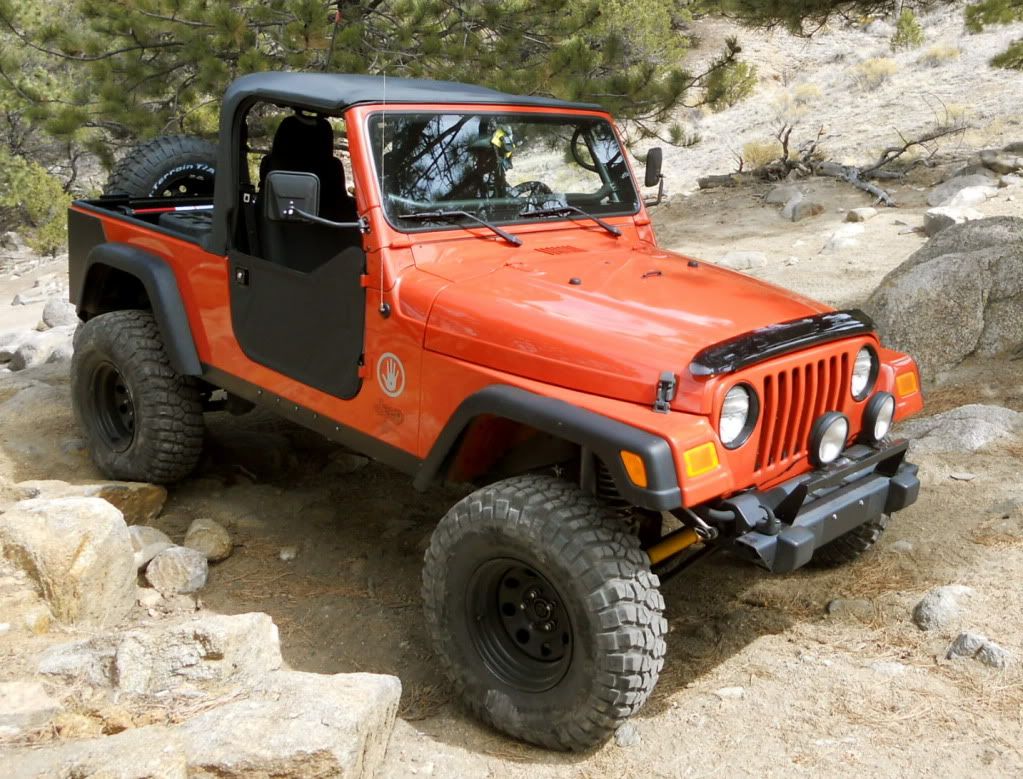 Thats all that I have done to her so far. I have a Rocmen Belly Up & Jks 1" motor mount lift, Smittybuilt winch, Xenon 4" Fender Flares and a Tera Flex, terra low 4to1 all in the mail right now. I'll post up some more pics as I install them over the next couple of weeks. :safari-rig:
Last edited: