After lots and lots of lurking in other people's build threads, I figured it was time to begin a build thread of my own.
I started with a bone stock 2005 Chevy TrailBlazer. While it's not what you would think of for a expo platform, it comes well equipped from the factory.
The final product of this build will transform this grocery getter into a capable off road vehicle that can support me, my wife, and my friends on our long weekend trips off road.
My trailblazer is not only trimmed with nice bells and whistles like XM radio, heated leather seats, and a sunroof, but it has a good foundation too. It's built on a fully boxed frame (no unibody here) with a 275 hp I6 engine (decent fuel economy). The drive train is headed by an NVG 226 transfer case, which gives 2HI, Auto4WD, 4HI, and 4LO with a 2.71:1 crawl ratio. The rear axle comes (not standard) equipped with an Eaton auto locker which works quite well.
Here it is in it's current trim (I'll update this as I go):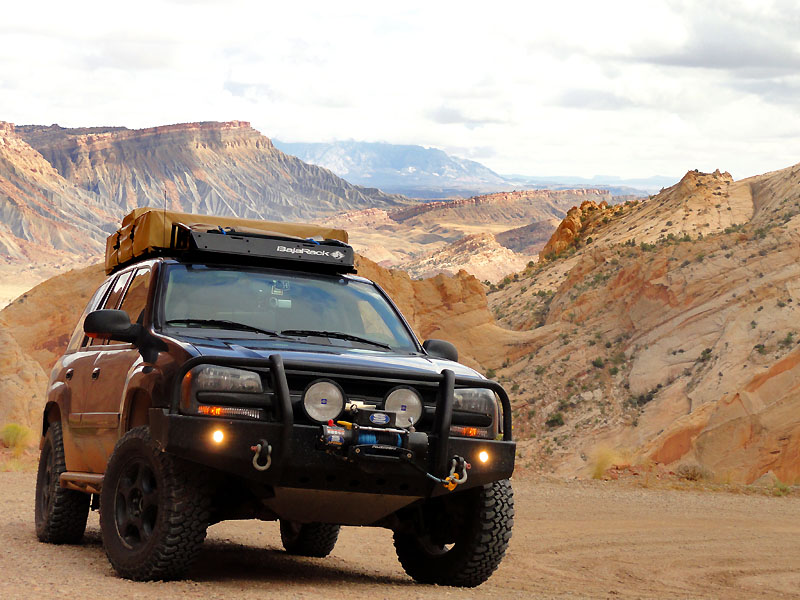 Suspension/Powertrain Modifications:
285/70/R17 (33") Mastercraft Courser MXT
1.5" Billet Aluminum Wheel Spacers from WheelAdapter.com
FRONT
Radflo Adjustable Coilovers
Custom Upper Control Arms
Swaybar Delete
4.56 Gears
REAR
2" BDS Suspension Lift
Tahoe Z71 GM Rear Springs 15234633
BDS Rear Shocks 55619
Swaybar Deleted
4.56 Gears + Powertrax No-Slip Locker
Exterior Modifications:
Custom Front Receiver Bumper - Hella Rallye 4000s - Hella Micro DE fogs - By Tactical Armor Group - Modified by Freaky Tree Fabrication
Custom Rear Swing-Out Bumper - By Freaky Tree Fabrication
Trasharoo on the Spare Tire
Roof Top Tent - Homemade by me
Custom Rock Sliders - By Freaky Tree Fabrication
Aluminum Oilpan Skidplate and Custom Radiator Skid Plate - By MDB Fabrication
Low Profile Half-Roof Rack with a pair of 72W Kawell LED lights and bike mounts
Diff protector - By Purple Cranium
Engine Modifications:
Synthetic Motor Oil & Diff Oils
Removed Exhaust Resonator
That's it!
Interior Modifications:
Custom Rear Cargo Drawer & Cargo Cases
Weather Tech Floor Mats
12V Fridge mounted to...
Custom Rear Seat Replacement Deck
Custom Switch Cluster
Bail-out fire extinguisher
Red/White Hazard/Emergency LED Strobes (For roadside emergencies)
Electrical Modifications:
Dual Battery Setup - Homemade
750 Watt Inverter
Ram-Mount Laptop Table
Microsoft Surface for Nav
Scangauge II w/ Xmount
Cobra 19DX IV CB Radio
3' Firestick Firefly CB Antenna on Custom Mount
iPod input for factory radio
Sears Diehard Platinum AGM primary battery
On Board Air
On Board Water
Recovery/Vehicle Equipment:
Superwinch LP8500 Electric Winch mounted on Curt Receiver Winch Plate - Amsteel Blue Syn line
Hi-Lift Recovery Jack + Offroad Winch Kit + Lift Mate + O-R Base
WARN Snatch Block
Recovery Shackle Receiver Mount
30' ARB Recovery Strap
10' ARB Tree Strap
75' Amsteel Blue Winch Extension Line
Bridging Ladders
20' Static Rigging Strap
Chain, D-rings, etc
Staun Tire Deflators
A ton of tools and survival gear
Last edited: