Matt Nakari of Earthroamer sent me information about the new tire/wheel/suspension package for the XV-LT.
The new tire is the Continental MPT81, in size 335/80 R 20. Here's what it looks like compared to the Michelin XDA 295/60 R 22.5 that will continue to be standard equipment on the XV-LT. I'm not sure where the smaller tire came from. I don't think it's the stock F550's 225/70R19.5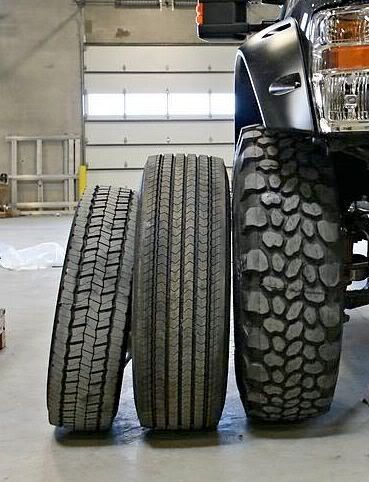 The 41 inch tall MPT81 requires a suspension lift and different fender flares. Earthroamer adds air bags at all four corners as part of the upgrade. No word yet on changes to the final drive ratio. Moving from 36.5 inch tall 22.5 tires to 41 inch tall 20 inch units raises the overall gear ratio by 13%. Maybe the 6.4L Powerstroke's 650 lb-ft of torque can handle the taller ratio.
Reasons to consider the MPT81
-- more ground clearance
-- more aggressive tread for off-road conditions
-- more air volume in the tire permits greater load capacity at lower tire pressure
-- air suspension may allow fine tuning of ride quality to different conditions
-- totally **************' appearance
Here's a link to more photos of the Earthroamer as it gets its new shoes:
http://www.earthroamer.com/mpt81ontruck/
Matt Nakari says the photos don't show the production wheels.
No word on the cost of the upgrade to MPT81, or whether it can be retrofitted to existing Earthroamers.
Chip Haven