So I'm trying to design a
simple
water system for a (yet to be acquired) camper van. The one I am looking at-- a 2wd Sportsmobile--has a furnished interior with cabinetry, counters, storage, and a Gaucho bench seat, and Penthouse roof. However it doesn't have a propane or water system. For the water system I would like to install a sink and install the fresh/grey water tanks and other system components in the cupboard beneath the sink. I would like to keep the system as simple as possible, but also incorporate a filter (for taste mostly) into the system. I don't know much when it comes to plumbing or vehicle water systems but I have done a fair amount of research and it doesn't seem too complicated.
The system I envision would use a 5 Gallon Scepter MWC for the freshwater and Greywater tanks (this would allow for a backup 5 gallons of freshwater to be stored on or in the vehicle and easily be switched once the primary MWC is depleted). From the freshwater tank a flexible hose would connect to the water pump and than a water filter/purifier before connecting to the faucet. The sink drain would connect to another flexible hose which would in turn connect to a 2 way valve. This valve would channel water either into the 5 gallon grey water tank or onto the ground through the floor of the vehicle.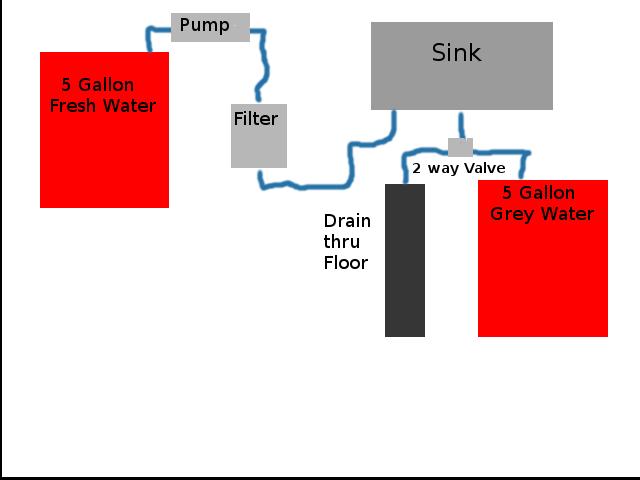 Advantages:
Simple
Tanks located inside the vehicle (wouldn't freeze)
Filtered
Ability to carry extra 5g tanks to switch out with empties
Versatile tanks could be removed from water system and used for other purposes or on different rigs
Disadvantages:
No hot water system (easy to add later i think?)
Tanks located inside the vehicle (lose storage space)
So what do you think? Am I missing something do you see any drop backs not mentioned?
As this is simply theoretical at this point, is it possible to use 5g scepter containers in this manner?
Any advice on an inline water filter (will be traveling in US/Canada potable water sources should be easy enough to find) price, size, flow rate, are my primary considerations. Do you need an extra tank for an RO system?
Any advice on choosing a water pump?
Thanks for the feedback guys!