Supporting Sponsor - Sierra Expeditions
Well in June with the expected arrival of our new expedition partner, it is time to re-configure the rear plaform to allow, "gasp," a baby seat!
I would like to keep the Engel in the cab, but do not care to have the entire rear seat in. Any brilliant ideas?
Here is a picture of our current configuration:
It is made from Plywood and covered with the cheapest carpet from Home depot. I was able to use all the existing seat holes to mount the wood, and the rear shelf utilized the existing hole that held the hooks in place.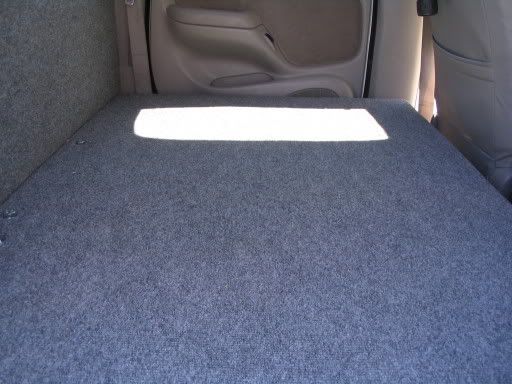 The Engel Slide (slides out the door) is currently on the driver side, and slides out. I would prefer to have my "kitchen" set up on that side.
Any Ideas?