My current boots have had their last day in the sun. They were made by Asolo, but I cannot remember the model. They were an older version similar to the TPS 535 V
They were great boots and have lasted me through 12 winters and summers. The leather upper is still in pretty good shape, but unfortunately like most things today, the out soles are toss always and they cannot be resoled/re-crafted. It was when I realized this, that I knew my next boots would be of stitch-down/Norwegian welt construction. I love the idea of having something for a long time, not just a few years and then send it off to the trash heap with so much of our other waste.
I looked at quite a few boots, and eventually found myself at the Danner website. They had quite a few options but the one that really caught my eye was the classic and venerable Danner Mountain Light II. They are a one piece full leather upper, with stich-down construction with a Vibram kletterlift out-sole. They are heavy, and that's okay, some people will profess the virtues of ultra light boots and trail shoes, but they aren't for me, and that's okay. Everyone has different feet and different wants/needs out of a pair of footwear, and thats okay too.
Here is a picture of the model I chose, the Mountain Light II. They have a few very minor differences against the original Mountain Light.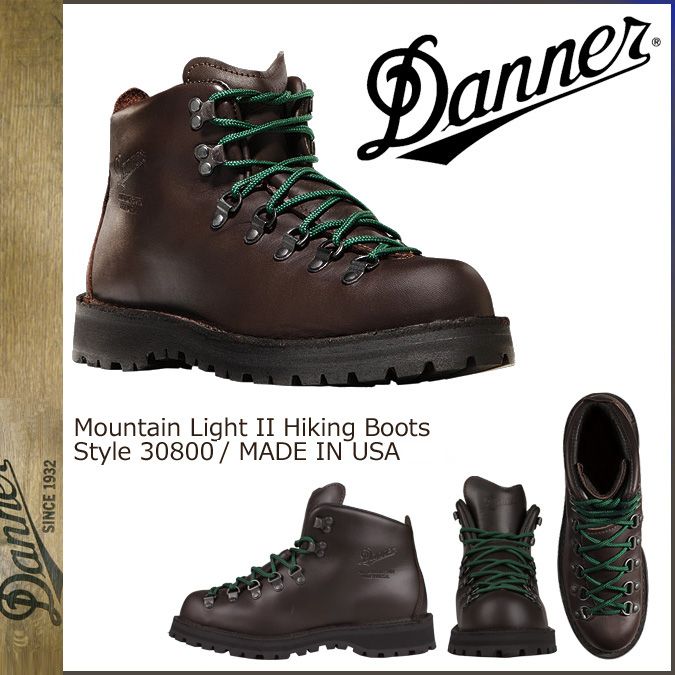 They are made in the USA, which although I am from Canada is still an moniker of quality North of the Border, just as hopefully Made in Canada is down South. These boots are built to last, and hopefully will last me well over a decade. At that point I can box them up, and send them back to Danner to be re crafted, which can be anything from new soles to complete reconstruction.
Believe it or not, this is the same pair of boots. The one of the left is how the boot came into the Portalnd, Oregon facility, and on the right as it left. I believe this is the second time that theses have come back, the difference is astonishing. Although a different pair and style of boots to those I have bought, obviously a lot of time, effort and love has gone into making these look almost new. I am happy to have that passion behind the makers of my boots.
I am currently anxiously awaiting the arrival of my boots (they are somewhere between British Columbia and Ontario), and should hopefully have them mid next week. A tough leather boot like this will take some time to break in. My intention of this thread is to create an on-going review of the break in process, the pros and cons, as well as some picture documentation as the boots age (all boots look better with some miles under them).
If you have any questions or comments feel free to reply.