Looking for bigger rocks.
Isn't it funny how life changes and flows…?
In the last two years, my wife and I got married, bought a "forever home", built her 5th Gen 4Runner for adventuring, acquired a really cool rock buggy, bought my "dream" Tundra, picked up some quads, and got a couple trailers to haul everything around. We were having a blast playing with our toys and finally being in a spot that we had dreamed about. However, God had other plans and answered a long-forgotten prayer. Amy, who was told that she could never have kids, got pregnant and we are expecting our little boy to be born in March!
With a new baby on the way, our lifestyle and finances needed an overhaul. (Child care is expensive!) We sold the buggy, then the car hauler, then the Tundra, then one of the quads… We were able to get out of some payments and pay down some debt to get ready for the next chapter in our lives. However, that left me without a truck and that wasn't going to work. I made a list of what I needed a truck to do for me in this stage of my life and figured out how much we could spend. This truck is the result of that and I hope that it will be a member of our family for quite a while.
I was looking for a pre-1992 Toyota pickup or 4Runner. I wanted a truck that was mostly turn-key as I wouldn't have time (or extra money) to build anything. I needed a truck that I could wheel pretty hard but still drive 4 hours on the highway to take me elk hunting. Long term dream would be something I could load up, drive from Portland, OR to Rubicon Trail, wheel the trail, then drive home… Oh, without spending a bunch of money on it. That is not a small order! After shopping for a while, I ended up with this: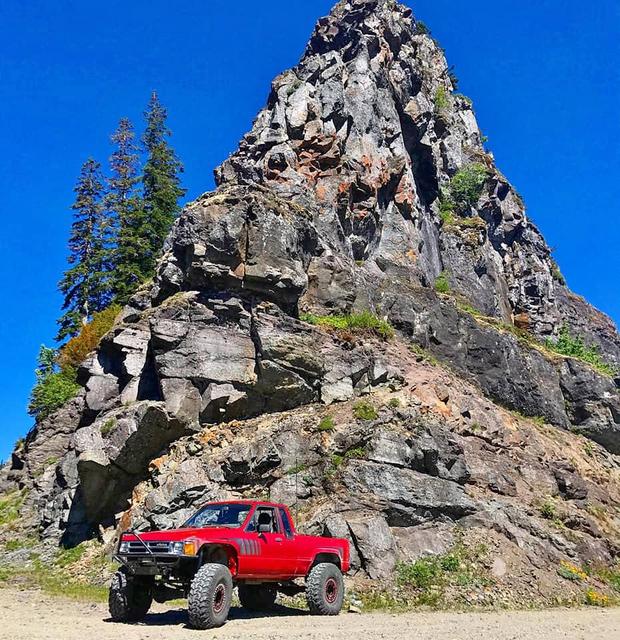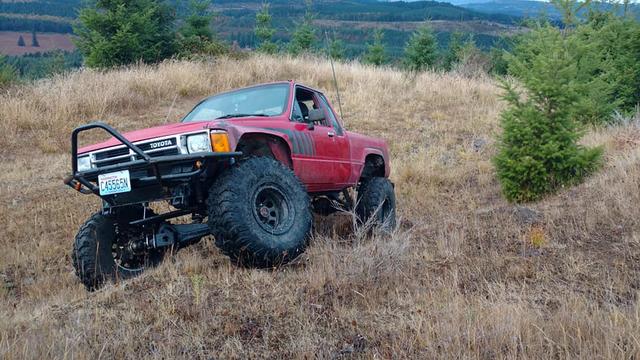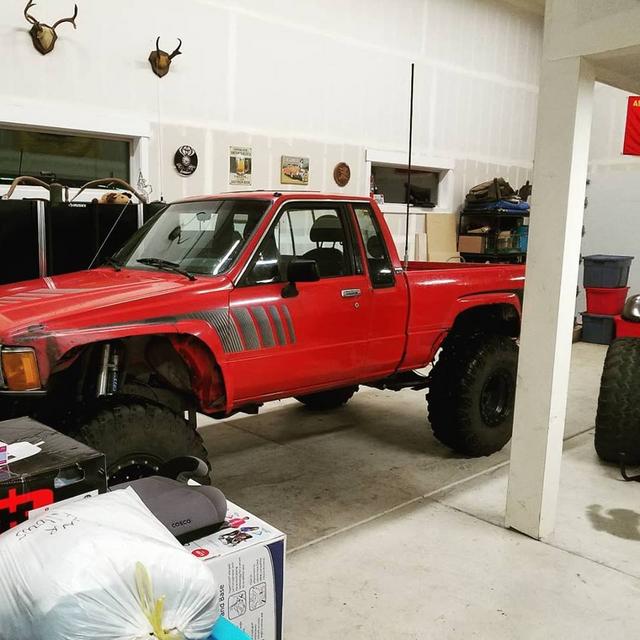 She is a 1985 Xtra-Cab with an '87 SR5 body swapped on at some point. The bed is bobbed and the fenders are cut at least 4". She has a 22RE that has been supposedly rebuilt with an intake, cam, header, and exhaust. It feels strong and doesn't make any noises it shouldn't. The 5-speed shifts great and it is currently running a stock transfer-case. The front axle has high-steer, 3" Trail-Gear springs with a leaf removed, 14" Fox remote resi shocks, 5.29 gears, Detroit locker, 1.5" spacers, and 30-spline RCVs. The rear is an IFS housing, f150 springs, 14" Bilstein 5100s, 5.29 gears, and a spool. She is currently running 36" radial Iroks on 15" fake beadlock wheels. Other stuff it has is rock lights, heated Mini Cooper seats, a homemade DOM tube front bumper, projector headlights with LED bulbs, and almost everything works! The PO drove the truck daily, so it drives very nicely.
I will be making small changes as I go along, so this thread is just to document the changes and the adventures. Hope you enjoy it!