EDIT:
Not sure how I got two threads, but this is the older one.
The more complete on is there.
http://expeditionportal.com/forum/showthread.php?t=18563
I have been working on building my rig worthy of an expedition type rig since I got it July of '06.
I have a buildup thread on YotaTech and others, but it would take to long to copy it all here.
But I can copy the last few entries here, and then continue to update this thread when I update my others.
The buildup from the beginning
Here are the past few entires starting with the install of my Maggiolina roof top tent, Camping Labs awning, and the ARB fridge relocation I finally got around to yesterday.
Maggiolina AirLand Roof Top Tent installed 3-21-2008
Spring has sprung, thus a new year of mods having been dormant over this past winter.
There is a constant joke on a few FJ Cruiser forums that goes around in threads asking "Can you sleep in it."
Of course you can, member LandCruiserSteve (a moderator over on fjcruiserforums.com) has proven that by building a nice bed system in the back of his rig that accommodates him very well.
With the way I have my rig setup
in the back,
that will not work out for me.
I have been looking at roof top tents as of late, and finally settled on a fiberglass one made in Italy like Wayne has.
Many thanks to Wayne (member KD7NAC_07FJ) for helping me make a selection on this model, it is the same one he has on his FJ Cruiser, the medium model.
Wayne used Yakima Lowrider clamps on the stock FJ rack, and then 58" crossbars held in place via the Lowriders.
The AirLand mounts to the crossbars.
I went to the shop Friday the 21st of March to get it installed, and they recommend I use four crossbars instead of two to distribute the weight, as that is the way they have been doing them.
I just got done opening it up for the first time since I left the shop after the install, and I am really impressed with the quality of the AirLand unit.
It cranks up just like a tent trailer (I have owned two of them in the past) after undoing two latches up front, and one latch back aft.
After cranking it up you can grab the aluminum ladder from inside and extend it.
It is fully adjustable to accommodate any vehicle.
Once I had the ladder up I climbed inside and took out the three pillow it came with and put the flannel pillow cases on that I bought.
For the medium AirLand tent, full size sheets are a perfect fit.
The bottom sheet is a fitted one, with the top sheet being the normal tuck in type.
I still need to pick up a warm down comforter, and the size that will fit will be a twin as to not have to much over the sides.
Getting up and down the ladder for me was not that difficult at all.
Now when exiting the tent and coming down backwards, you want to use caution since you can not see the rungs, you feel for them with your feet.
If I can do it, anyone can.
After getting the sheets on and the pillows in place, I climbed up inside for a few pictures of the interior, then I laid out like I was going to sleep in it.
There is plenty of room, and my feet do not even touch the ends of the tent wall.
I am about 5'10", and I did not feel cramped at all.
There is plenty of room for a second person too, and possibly a child if you have one.
It would be better with just two people though.
And not once did it feel rickety to me.
It was very stable, and a very cool feeling being up in the air like that.
I have a feeling I am going to sleep very well in this tent.
The best thing of all is being able to pull into a site whether in a regular campground, or when you are out 4wheeling, Overlanding/exploring, and just whip out the hand crank and crank up the tent and have your bed all setup in less than one minute.
This is the real advantage to a unit like this.
Here are a few pictures of the AirLand.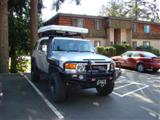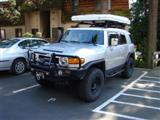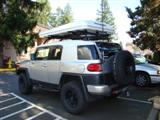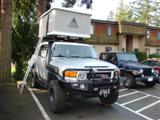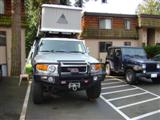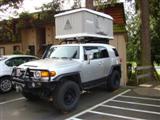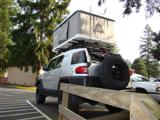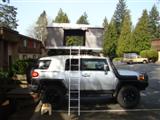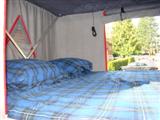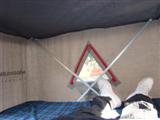 Links:
Maggiolina AirLand tent
Autohome's main site in Italy
Lowrider clamps
58" crossbars
Rack n Road Bellevue, WA. store
[ame="http://www.amazon.com/exec/obidos/ASIN/B000PKCCF6/ref=nosim/ihco-20"]Full size flannel sheets[/ame]
Lacrosse down comforter, full-Ultra Warmth model
The Rack n Road store I visited (official reseller of these for WA. state as seen on AutoHome's website) has a team of top notch installers/manager working there.
Evan (store manager) and Colin were the two installers who installed it.
Shortly before I left too YotaTech member nickr9287 showed up, he also works for the Bellevue store and is an installer.
If looking for a system like this or any Yakima or Thule type of gear for your rig around our area, give these guy's a call.
Great team to work with.
Probably around sometime in May I will have some camping pictures from up at Greenwater with the tent all setup in the outdoors, and some other new camping gear I have been hoarding up on for a good time out in the woods.
With this I think my rig is nearing completion.
Still have to settle on a rear bumper, there are still a few in works.
The selection is getting bigger all the time.
More AirLand pics in next post.
Ten picture per post limit here, I had to many.
Last edited: