Here's a few pictures from a recent loop in CA. I'm first aiming for Kirk Creek CG in the south end of Big Sur area, but a late start so decide to do the quick route. Up 5 to Lost Hills, then west across 46 to Paso Robles, through Fort Hunter-Liggett to
Fergusson-Nacimiento Rd
. Locals from the coast were happy when this road opened up because it is a long way up or down Rt. 1 to get inland.
Heading up from Morro Bay requires a much earlier start. I've been lucky to get a site at Kirk Creek every time I've been, but arriving early in the day is the ticket – and better to arrive on not a peak day. Half the sites are reservation only, but the best sites are not, which is kinda cool. I stop for gas at the Pleyto Country store – expensive, but I know it's a long way to more, and probably pricier on the coast, so I fill up.
It's always a little strange to enter a military base, even if you know it's dual-use and everything's ok. The signs are intimidating "expect 30 minute delays for military maneuvers", "ordinance testing zone", "entering vehicles subject to search" and so on.
No one was at the gate, but I stopped to make sure I'd read the signs. Someone rolls up behind me and says yep, this is the way, you'll just turn left before camp. He follows me, and waves when I make the turn a few miles later.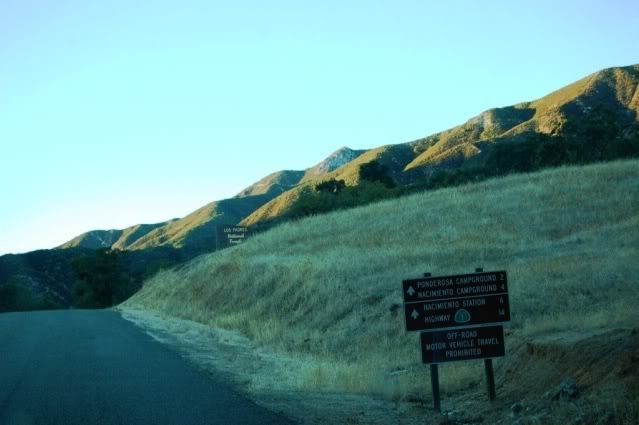 It's almost 5:00 and the sun sets earlier these days, so I camp on the hill. Save the downhill drive for the AM when I can see it, cause it's spectacular. I check out Ponderosa CG but got a strange vibe from some folks there, so on to the other one – Nacimiento CG. It's much smaller, and I have the place to myself. Right on the road, but it's not a very busy road – maybe 2 cars passed while I was there. There's a creek by most of the spots, it's dark and moist and everything is green – very peaceful.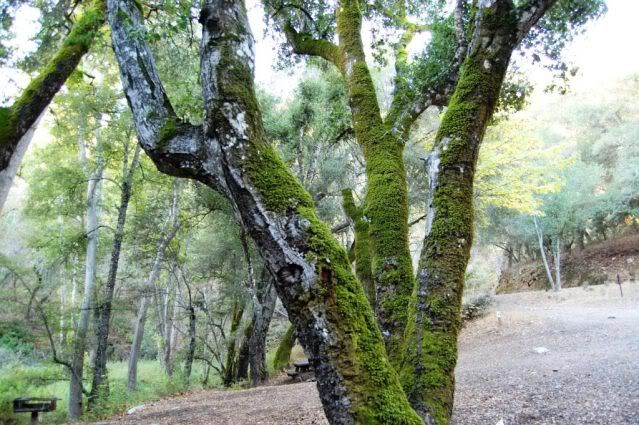 These are the
St Lucia mountains
. The Chalk Fire burned up here in 2008, and some of the dirt trails are still closed. Just below is the Pacific ocean.
Near Nacimiento Station: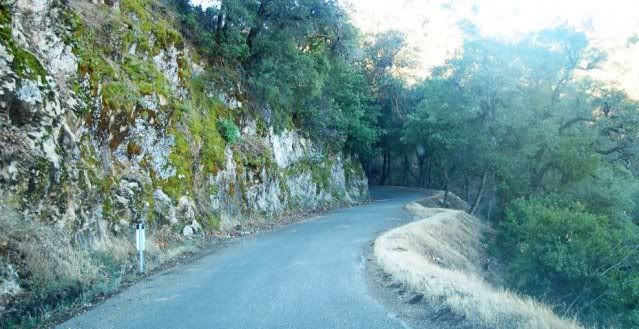 Coming down I cross the Coast Rd, and signs for other trails. Crazy swirling mountain winds up here, elevation close to 3000 ft.
South Coast Ridge Rd 20S05, heading towards Prewitt Ridge Rd. I go down this road a bit but turn around because I want to get a spot at Kirk Creek, and the drive down this mountain is worth the whole trip.
A glimpse of the ocean, that road to the right is the central coast trail (Vincente/ San Antonio trail) heading north into the
Ventana wilderness
. Part of it's still closed because of the fire.
Nacimineto-Fergusson Rd, it's in decent shape:
There's Rt. 1 down below, looking north:
And south: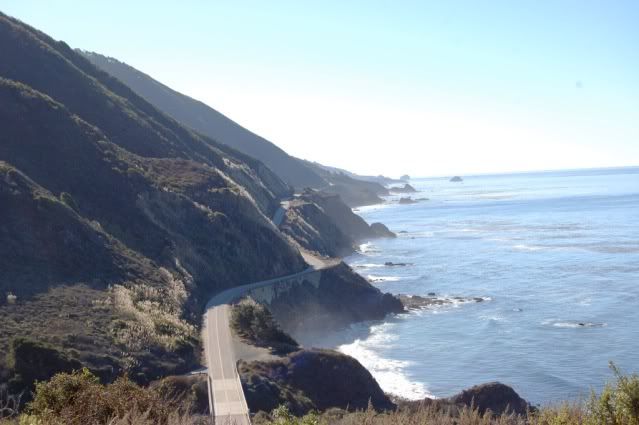 The last little piece before you get onto Rt. 1: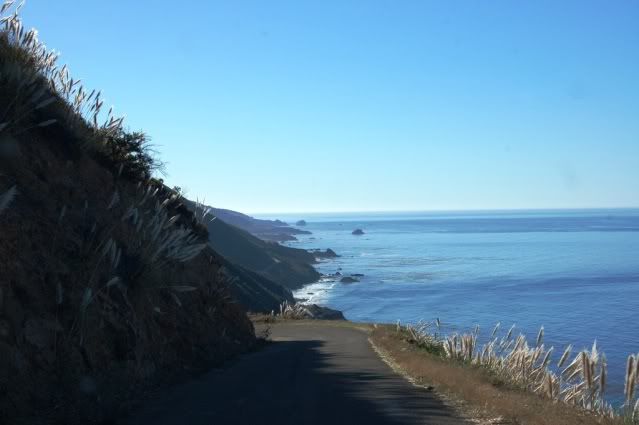 Just a smidge north on Rt. 1 is Kirk Creek CG, one of the only places west of the highway that you can camp.
You just can' beat the views. Rick is still the host here, he actually remembered me – and what spot I was in last time! Unbelievable. He says it's like being a bartender, you may not remember someone's name – but you know where they sit and what they drink.
This time I get a spot right on the ocean, oh yeah. Course it's Monday, 10 AM – the CG is full by mid-afternoon almost every day of the year, it's really hit or miss as to whether you get in. View from my site:
My 76 year old CG neighbor, kayaking below.