One thing I did before the trip, was tackle the accessory drive system. The pulleys have been making some noise for quite some time, so it was time to fix it before it leaves me stranded somewhere. I removed the tensioner pulley, and both idlers. One of the idlers was very bad, but I replaced all 3 just because.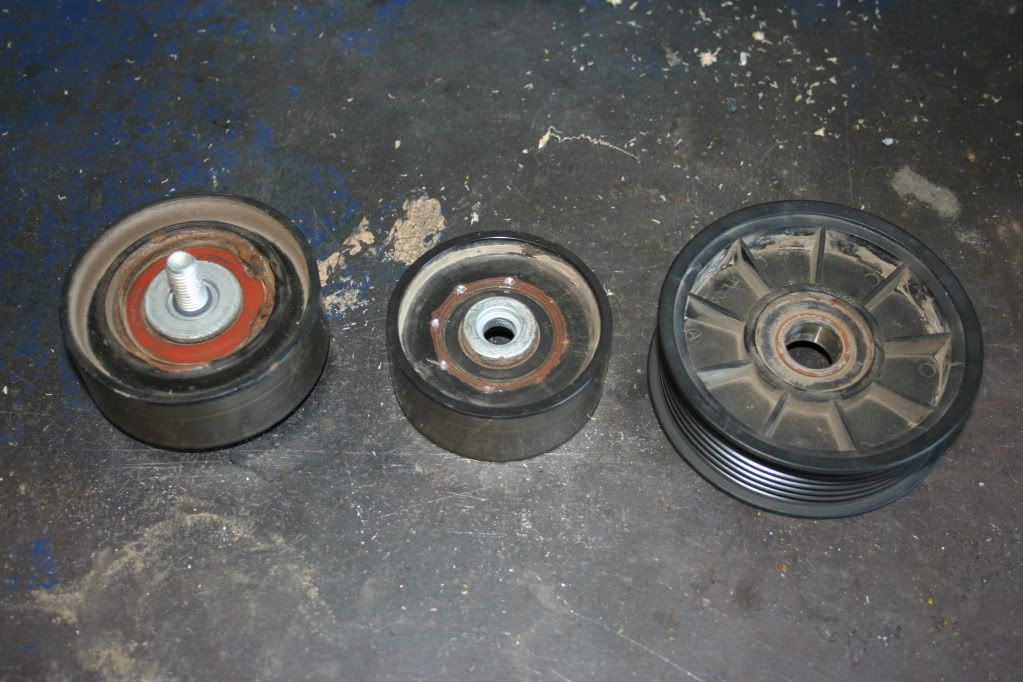 From left to right, idler with 6304 bearing, idler with 6203 bearing, and tensioner pulley ~90mm 7-rib with 6203 bearing.
The 6304 bearing is uncommon, and had to be overnighted to the parts place. Not a huge deal. This bearing is easy to replace, just remove the retainer and press it out. The other idler is a 6203 which is the most common idler bearing, should be in stock wherever you go. Only problem is the bearing is staked in. I had to drill out the stakes which I'd done half of in the photo. Then press it out, press in the new one, and re-stake it. Lastly, the entire tensioner pulley must be replaced, and it's a bit unusual being 7 rib and 90mm. The replacement part I used was a Dayco 89054, same bearing, slightly smaller OD. Had to be overnighted as well. I believe it's off a 1994 Ford F-250.
Lastly, I replaced the belt. I went with a Goodyear Gatorback, based on my experience with them when at Litens Automotive. We used gatorbacks on the pulley torture test rigs, they held up to whatever we threw at them and outlasted the bearings, so that's good enough for me. 92.3" length.