Current photo (Dec 2021)
Untitled
by
Adam Tolman
, on Flickr
Specs at the time of purchase:
.
1995 FZJ80 Moonglow Pearl
187K miles
Factory Lockers
Rancho 2.5" coils
285's
.
Current Specs:
Stage 5 Slinky Long Travel Suspension
75mm Heavy rate Slinky coils
4xOverland spec Stage5 Slinky 2.5 CDC shocks
Swaybar drop brackets/spacers
Blackhawk HD rear swaybar
LCP Front sway bar disconnect
LCP Rear swaybar links
4xOverland (Blackhawk) adjustable upper and lower rear control arms
Adjustable front Panhard, custom rear panhard lift bracket
Slee Caster Plates
Extended brake lines
Timbren Bumpstops
Nitro 4.88:1 gears
37x13.50 Toyo Open Country MT
17x8.5 Icon Alloy Rebound - Bronze
Spidertrax 1.5" wheel spacers
Trail Gear Sliders
Homebuilt Front Bumper
Trail Tailor recovery points
Homebuilt Rear Bumper/Tireswingout/Fuel Can basket
ComeUp Seal Gen2 9.5rs winch
Factor55 Prolink
Prinsu Design Roofrack
TMS Snorkel
42" LED lightbar
3x Hella Optilux HIDs
21" Bumper LED
Pfran Interior LEDs
Group31 AGM Battery
LED headlights
Painted Grill/door handles/flares
20lb CO2 Tank
Tepui Awning
Snomaster Dual Zone Fridge
GooseGear rear Drawer system
LED bulb replacement of dash lights
Uniden Pro 520XL CB Radio
Kenwood HAM
Pioneer Head Unit with DVD player - 4x wireless headphones
RockfordFosgate 6.5 speakers in all 4 doors
VW Jetta Heated/Leather front seats with storage seat covers
EscapeGear Dash storage cover
Ultraguage
iPad -BadElf GPS for Nav.
Trasharoo
Maxtrax
Hilift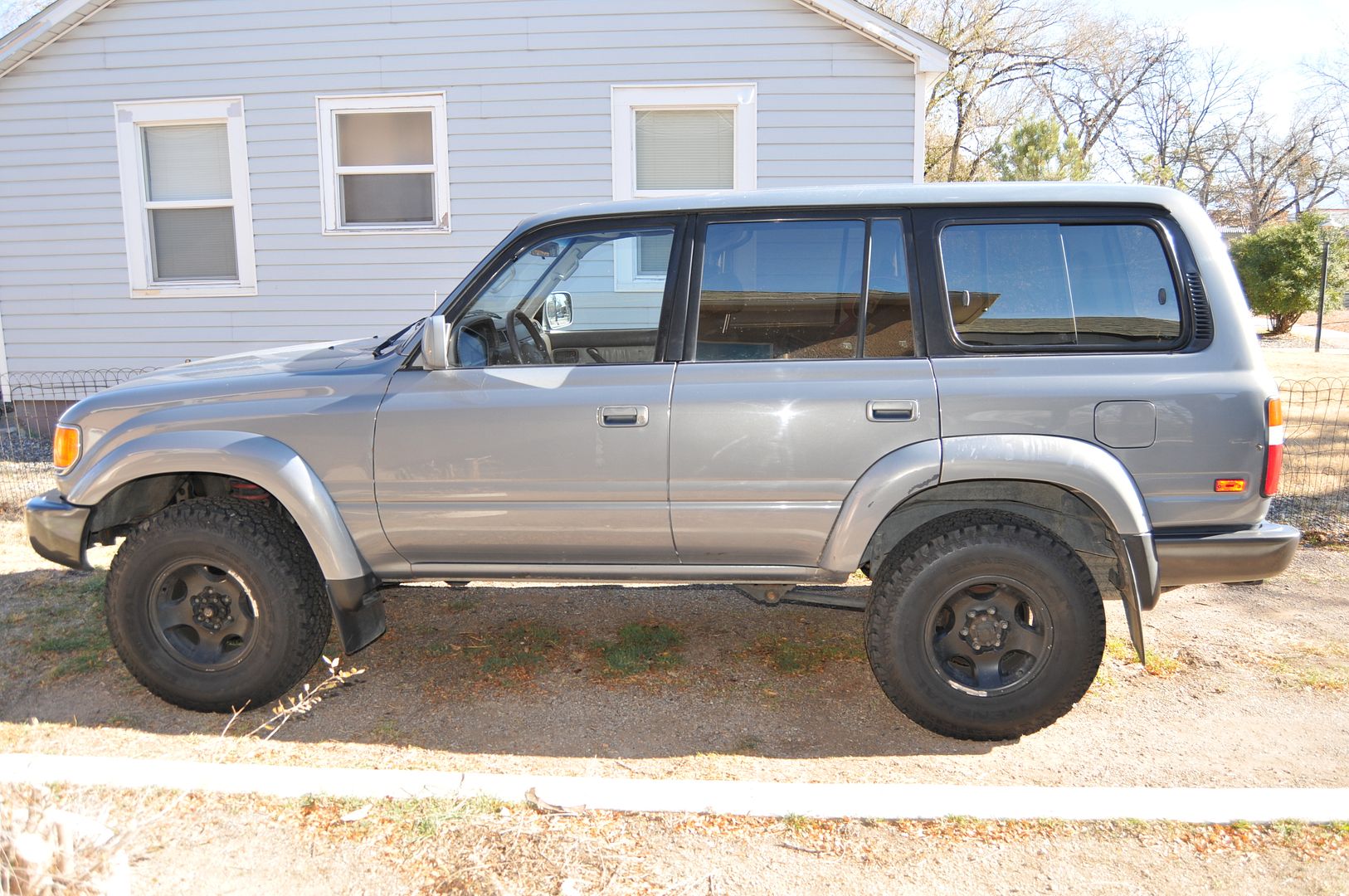 .
It's a bit of a project, but it's mostly just cosmetic. Clearcoat on the hood, roof and flares is peeling. Carpets aren't great. Front seats leather is torn. Minor dings consistent with age. Valve cover leaks a little and the distributor O-ring leaks a little. Front axle is due for complete service. None of that is too serious and I'll address that stuff pretty quickly once I've got the truck.
.
Immediate plans are to swap over bumpers, armor, suspension and tires from my '93. That includes, OME J springs, L shocks, adjustable panhards, caster plates, sway bar drops, ARB front bumper, Wildyoats rear bumper, TG sliders, and 315's. Then address the peeling paint. I also have a line on some "new" front seats that came out of a low mileage '97 anniversary edition truck that are in good shape with no tears in the leather. Those will likely get swapped in the same day of purchase. I'm in the process of getting a roofrack designed and built by Zscott that I think it going to be fantastic and that will carry my RTT. Should be in great shape at that point. I'm really looking forward to being back in an 80.
.
Here's my old 80 to give you an idea what stuff will come off of it.
Last edited: