Current photo as of 8/5/13
This will likely be a slow semi-long-term build up by the time I'm all done with it but the process has begun. I bought this truck 2 weeks ago and it is in good shape and I'm excited to have a solid platform to start things. Truck is currently stock for the most part. It has a front coil spacer and rear lift block and some aftermarket wheels and some 32x11.50 BFGs, and a spray in bedliner. Other than that its totally stock. Very clean inside and out, 78K miles.
First step is to ditch the spacers/block for a proper suspension setup. I looked at several options and I decided to go with the OME HD setup with rear Dakar springs from Cruiser Outfitters. Kurt is awesome and super helpful and fortunately for me he's local so I got to check out his own Tacoma today which is running virtually the same setup and then throw all the new parts into the back of the truck. I'm very excited for the upgraded suspension.
I'll share some pics of that soon as I start getting things torn apart.
Also, UPS sent me the tracking number on my new sliders which should be here within the week.
And a less critical mod in the large scheme of things, but important for those long drives is proper tunes. So Ryan Davis at Ratio is helping me out with an Alpine deck with iPod capabilities later this week.
Future plans as I'm brainstorming include (probably in this order):
Paint wheels Black
Rear Bumper (likely homemade)
Diff Drop
Uniden CB
Bed rack
Front ARB bumper
Winch
BudBuilt Skids
Snorkel
I'll feel pretty good about things with all of that. Hopefully I can find ways to speed up the process. Just glad to have the ball rolling.
Here's a pic of the truck when I brought it home two weeks ago. I'll do some height comparison pics as I get going on the lift.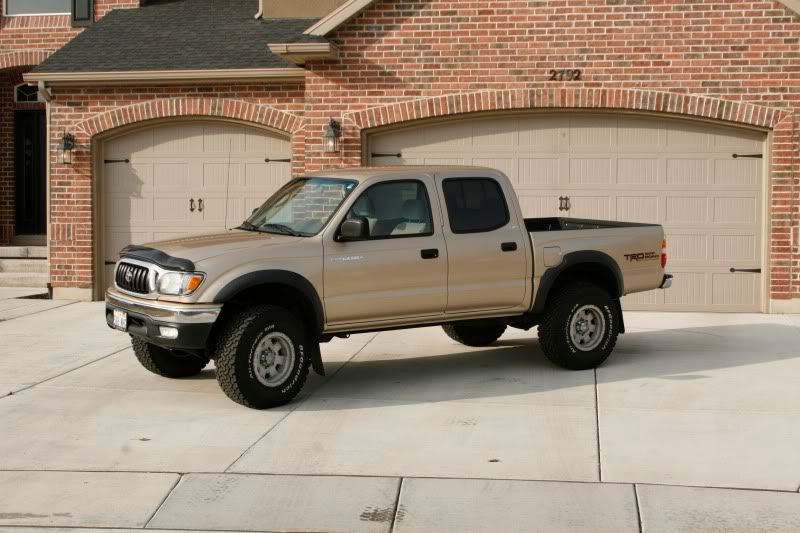 Last edited: