Day 0. I delayed my departure by a day or three because I was still
assembling the truck. I put about 3 miles on it around the
neighborhood in testing. I built another HF tool kit for this one with
a lot more metric, but basically similar to what I had in the flatty
for UA. Overall though, I didn't have jack for spare parts really
other than a driveshaft ( which fits both ends ) and a spare tire. One
thing I noticed, I REALLY took for granted how well packaged
everything in the flat fender is. I probably haven't changed much in
the last 4 years. I know where things are, where they go, etc. I had
ZERO of that in the Lexus and that was annoying. It takes time to
develop a packing system that is somewhat logical and organized. The
Lexus is pretty small, I need to develop a better plan for storing
things for sure. The cabin space fills up pretty quickly. I didn't
want a ton of stuff in the bed because of the weather.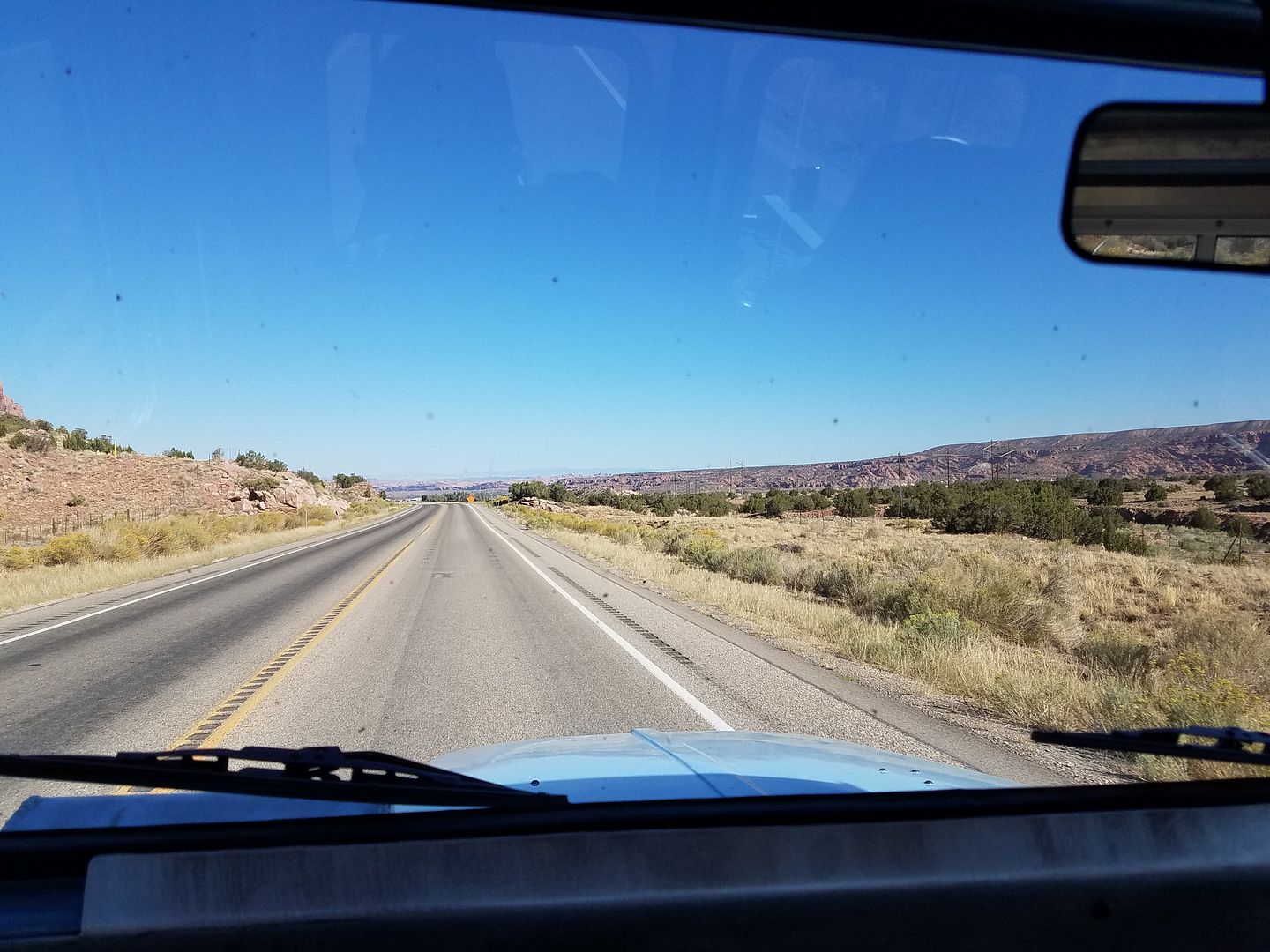 Hey look....Utah.....or was this Nevada.....
Day 1. I packed up the night before and was ready to leave by 1st
light pretty much. I believe I left the house just after 7am. The goal
was to get to Travis's house in Round Mountain, Nevada, which was 733
miles away. Once on the road it was pretty apparent that this little
truck is a completely different animal than my flat fender. This thing
WANTS to go down the road. It will go as fast as you want generally,
going 5+ over the speed limit is easy up and down just about anything.
The only real issues this first day where filling the gas tank and the
transmission shifting was a bit off. The hidden gas filler neck thing
looks super sweet, but it is VERY slow to fill. You basically have to
shoot the fuel into the hole at a pretty slow rate to keep it from
burping back up the filler neck. The good thing is that with a 25+
gallon tank that you don't have to do it often, but when you do fill
it, it takes a long time. I was able to set up the AeroForce
Interceptor before leaving to do it's cycle scan function. This allows
me to watch 8 engine/transmission functions in a 2x4 timed rotation.
Being able to watch so many things made me feel a lot better.
A big win with this rig is that the cooling system for the engine and
transmission are rock solid. The engine runs 190-195F 99.9% of the
time. The transmission runs 165-170F. The only time I see higher temps
is if shut it off and let things heat soak. As soon as the vehicle is
started again the temps fall quickly back into the normal zone. I was
pretty worried about this with only a 24x19 radiator on an LS engine.
I also didn't do any of the fancy surge tank stuff. My first day
included driving up passes at 5 over the speed limit passing just
about everyone in 4th gear at 3000+rpm. Engine and trans temps hold
really well. I do believe that the hood louvers evacuate a HUGE amount
of heat from the engine compartment. Even with complete inner fenders
and the engine intake over the passenger side exhaust manifold, I
never saw high intake temps. They seemed to be about 120F at
most......and that included 95+F degree sunny weather in Nevada.
Oh....the other failure. This truck is fast enough, with bad enough
aero, that it basically folds the side mirrors in at highway speeds. I
need to get some better quality TJ mirrors, probably OEM units, to
try.
It's not as quiet as I thought it would be, basically wind noise. I
still have some work on the doors to do. I kinda had to trash to get
them installed. I will need to spend some more time getting them
adjusted better. They do get pulled around in the wind a bit,
basically like oem jeep soft upper doors. I will probably have to add
something on the inside upper rear corner to keep the seal tight at
60+ mph.
The transmission tune was pretty aggressive for 4-6th. It basically
didn't like going into 5th till about 60mph.....and 6th didn't happen
till 73mph or so. This was kinda annoying. This did get better over
the course of the trip as the transmission did a bit of 'learning' I
think.
I ended up making the entire 733 miles in about 12.5 hours without any
issues. I actually ended up staying up to about midnight helping my
friend Travis thrash on his truck.....and we worked on it another 4-5
hours the next morning too. So....the truck isn't too fatiguing to
drive or anything. I REALLY want cruise control however. I need to
find a way to get the BCM module back in the harness like I originally
planned, but the harness guys couldn't make happen.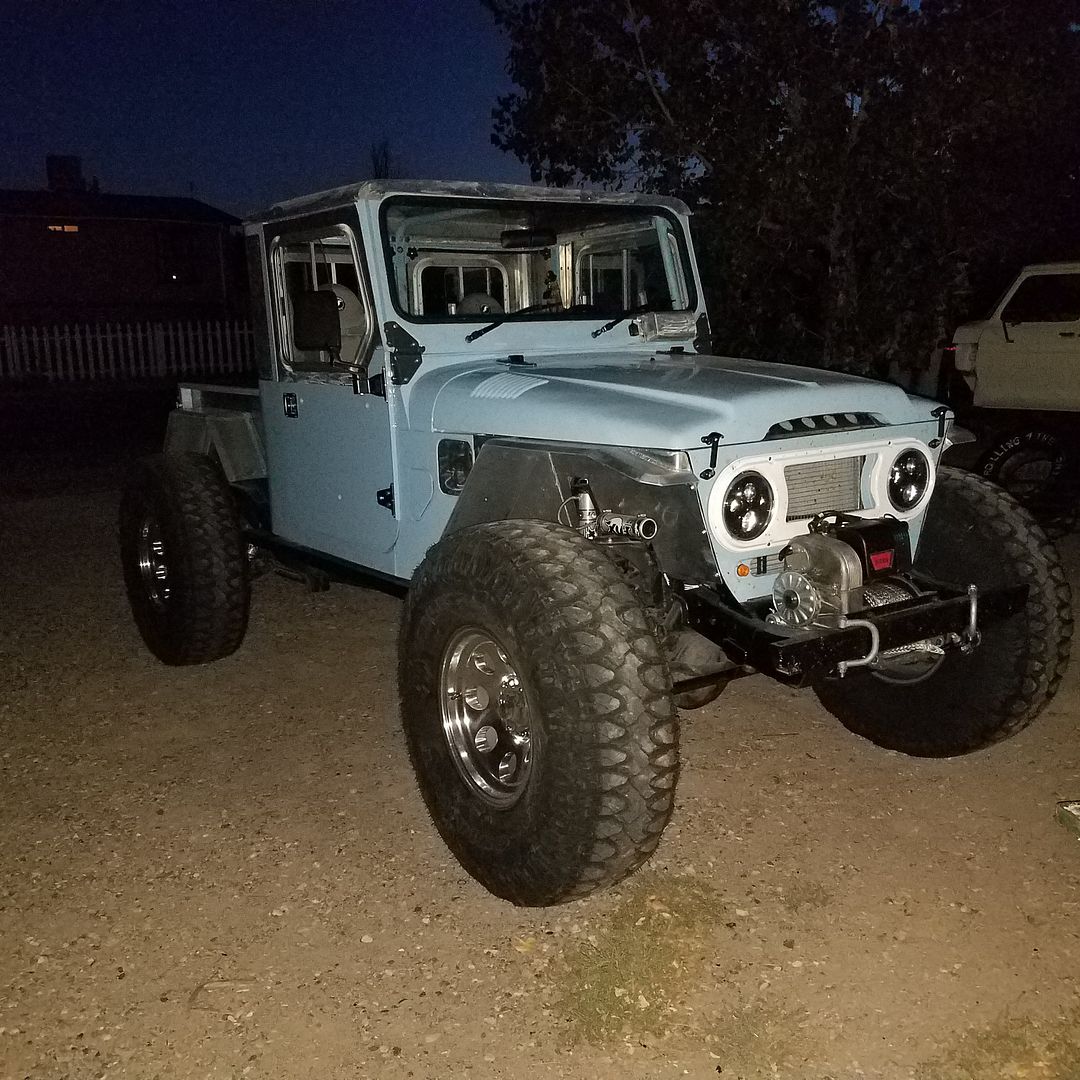 700+ miles later.....safe arrival......
Day 2. After working on Travis's old Ford for the morning, I finally
had to push him to leave basically. With his no-overdrive, older v8
engine, 5.38 gears, and 37" tires he was limited to 55mph pretty much,
I think he got up to 60mph once or twice. I made it about 20 minutes
out of town before I told him he needed an overdrive. I think this was
some weird karma thing that had something to do about my flat fender
being so slow on the highway. Driving the Lexus at 55mph is kinda
boring. With cruise it would have been better. It really wants to go
faster.
Nothing bad happened for either of us really. I did decide to pull out
my 'stuck on high' LED headlights and stick some regular 7" round
headlights from Autozone while Travis did some last minute shopping at
Tractor Supply for a few things. Doing that, I did manage to slip with
a screwdriver and take a BIG chunk our of my hand. Ouch. Once I had
regular lights in the truck, high/low worked fine. Weird.
Oh. I did notice I have a bit of a 'buzz' at 55-57mph. It might be a
harmonic thing with the poly motor mounts, but I think the front
driveline might need a slight angle/caster adjustment. I may have to
pull the front driveshaft to test that theory. The day before I just
didn't drive enough at those speeds to notice.
We got into Phil's place in Minden about dusk and the rest of the crew
had just gotten there too. We visited pretty late into the evening
with everyone.
Day 3. Rubicon Day one. We got out of Minden pretty early in the
morning, but is a decent drive around to the Wentworth side from
Minden, NV. We decided to go in that side to get more of the original
Rubcion experience. I think the Wentworth side entrance is a little
more difficult than the loon side...and sees less traffic. I had also
called Tim Hardy the day before and got him to come out for the day
with us. I think that made my friend Travis's decade. Tim brought the
Grand Vitaria, which he promptly broke about a bit past Wentworth
Campground. He ended up parking it where he could get out in 2wd and
rode along with Phil for a bit.
Other than my driveway, this was the 1st time I had the Lexus in low
range. Unfortunately, low range was acting pretty dang dumb. It just
wasn't shifting right. It would basically get kinda 'lost' in 3rd thru
6th eventually. I ended up figuring out that if I put the shifter in M
mode right after the 1-2 shift it would operate between those gears in
low range normally. That worked fine for the slower speed of the
Rubicon, but I was pretty bummed it wasn't working right. One of the
things I was looking forward to with the 6L80E was the ability to do
about 60 in low range if I wanted.
Other than that the trail was tons of fun. The truck, other than low
range shifting, was working very well. It did take a bit of getting
use to, it feels VERY different from my old flat fender for SURE. I
did jump into the deep end a bit on the Wentworth side, but the truck
handled it just fine. No damage to anything other than scuffed paint
on the rockers and the belly pan got a few scratches. I was even able
to do soup bowl on my 1st try....that was pretty sweet. I was the only
one in the group to make it.
We ended up getting all the way to Buck Island Lake at just about
dark. We found out Travis had popped his short side front axle shaft
about a mile before buck just as you start down the slab section. It
took a little bit of extra spotting to get him to Buck in 3wd.
Everyone was pretty worn out by then after a long day. It was awesome
of those fine upstanding gentleman camped across from us to blast
their music till 2am for us and have a roaring campfire during a fire
ban during one of the worst fire seasons in a decade.
Storage organization still needs work. I still like having gear stored
inside the spare tire, more smaller dry bags would work better than
large ones. I do really like my simple LED bed light and dome light
combo. That makes unpacking for camp in the dark easy. I really want
to build my idea for a collapsible hammock frame that attaches to the
bumpers.