The SEMA monthly magazine arrived today, and this was on the cover: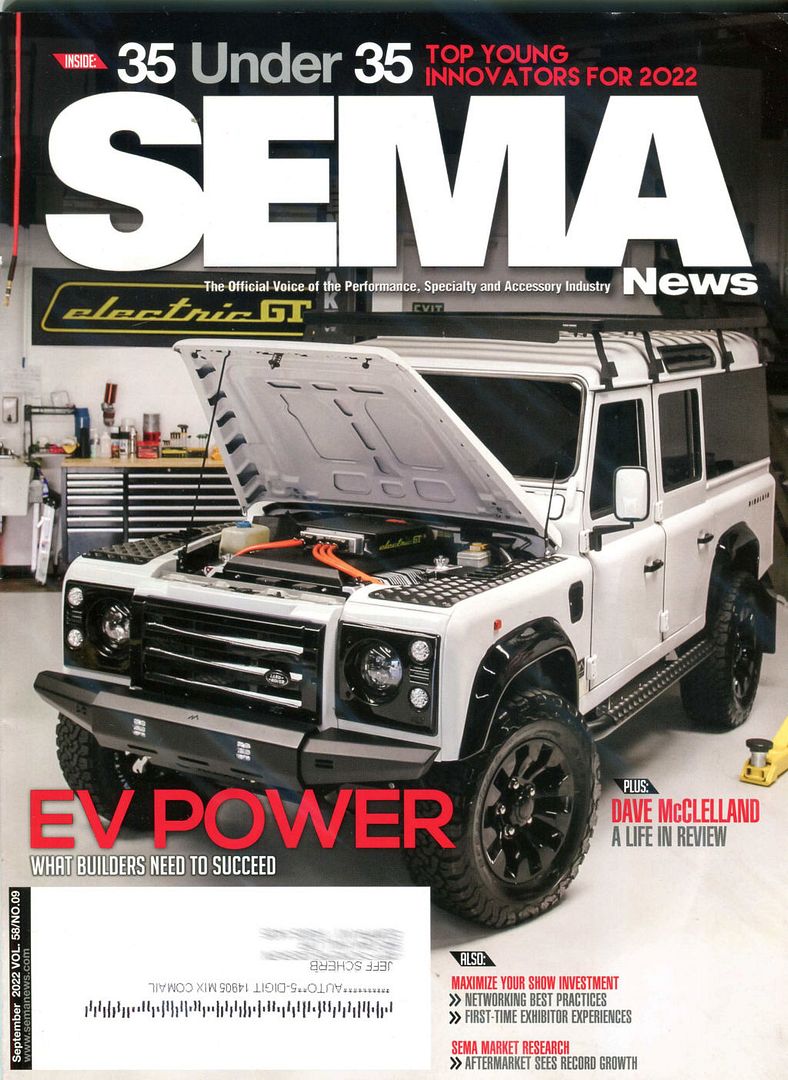 The subtitle of the cover article was "New Juice for Vintage Iron: What Builders Need to Know" and it was about electric conversions. I like the idea of going electric, and possibly even converting a Jeep to full electric, but two things are required for an electric trail vehicle to work for me:
1. Living in upstate NY, we usually drive to Colorado/Utah or other parts west for trail time. We often do 700 miles or more in a day during a 2 1/2 day trip from home to the Rockies. The range of most electric vehicles so far is maybe half that.
2. Ensuring we can get off the trail. It wouldn't do to run out of battery 30 miles from the nearest road (and probably further from the nearest charging point). For fossil fuel vehicles, a jerry can or two will suffice. But electric vehicles aren't going to run very far on a jerry can sized spare battery.
I don't have a solution for #1 other than loading the EV Jeep on a trailer and towing it across the country. For #2, I did a little research to see what might be possible for getting off the trail. Some facts:
EV chargers are classified into three categories: Level 1, Level 2 and direct current (DC) fast charging. One distinction between these three levels is the input voltage, Level 1 uses 110/120 volts, Level 2 uses 208/240 volts and DC fast chargers use between 200 and 600 volts.
Level 1 equipment provides for charging through a common residential 120-volt (120V) AC outlet. Level 1 chargers can take 40-50 hours to charge a battery electric vehicle from empty. Not a practical "get off the trail" solution.
Level 2 equipment offers charging through 240V (in residential applications) or 208V (in commercial applications) electrical service, and is common for home, workplace, and public charging. Level 2 chargers can charge a fully electric vehicle from empty in 4-10 hours and a typical electric vehicle can gain around 10-25 miles of range per hour of charging. Might be practical for getting off the trail if one could find a Level 2 charging source.
Most electric vehicles charging on a 240-volt level 2 charger will draw about 7,200 watts or less. Idea: what about carrying a portable generator with that capacity. Here's one with almost that capacity:
That generator has a 7000-watt surge/30 amp/240 volt rating, so it would appear to be just about capable of providing a Level 2 charge.
The bad news: it weighs 263 lbs and it's roughly 28" wide, 28" high and 47" long. That's a bit more than entire cargo area of a JKU, so I guess if you have no other gear to carry and could find a way to shoehorn that in, it might work.
I guess we've got to keep looking for "get off the trail" solutions to make full electric trail vehicle practical.
In related SEMA news, this envelope arrived yesterday. In it were my and my wife's SEMA Show badges for this year. The show is November 1-4 and I plan to drive the LJ out to Las Vegas (and do a few trails along the way) to attend the show. My wife may be out of the country then so it'll probably be a solo trip