A few years ago at the SEMA Show I talked with a compressor company about different ideas for mounting a compressor in a Jeep and they supplied me with a compressor and tank to prototype with.
Since I have 3 Jeeps and may want to use the compressor with any of them, I decided not to do a fixed on board air mount so for a first prototype I mounted the compressor on a base that fits inside a Fat50 ammo can. There's enough room in the can for the jumper cables to connect the compressor to the Jeep's battery and a 25' coiled air line.


I've used it a couple of times and it worked well; well that is for the size compressor it is since I'm used to the compressor in my garage that has a 60-gallon air tank and plenty of CFM
.
I also tested the compressor with the 2-gallon tank the compressor company gave me. I configured the tank with a pressure regulator with output pressure gauge and the larger gauge shows the pressure in the tank.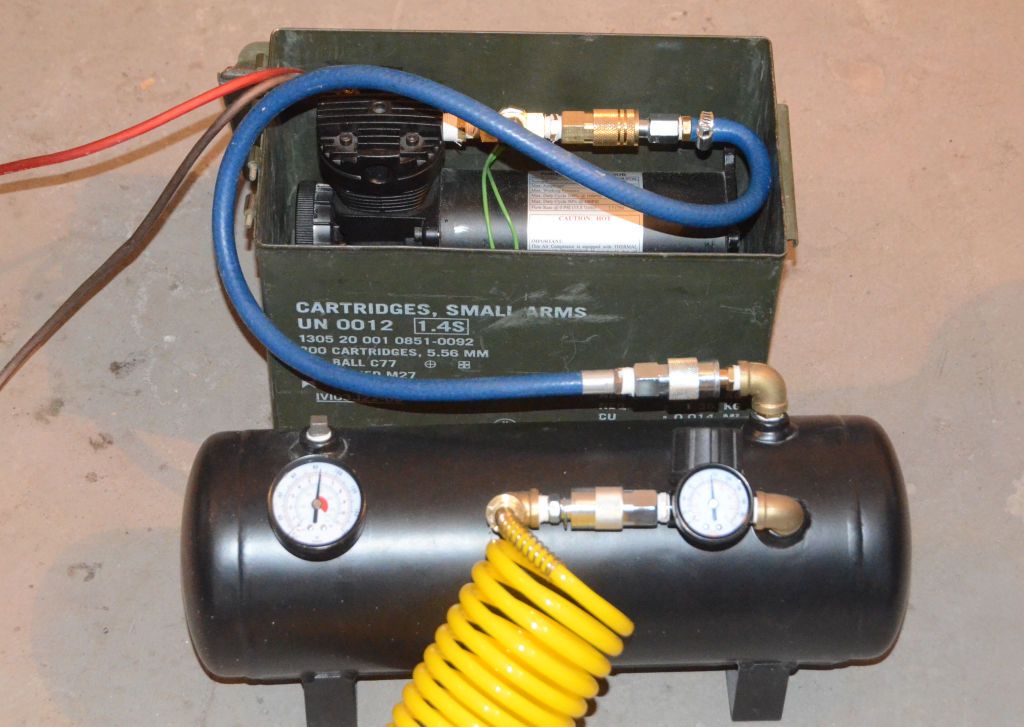 It takes less than a minute for the compressor to get the tank up to full pressure. Airing up a tire is a bit quicker with the tank, but since my 32" tires have a volume of about 12 gallons, the tank doesn't go too far before the compressor has to kick in. Based on my tests with the tank it may not be worth using the tank if the main use of the compressor is airing up tires, especially since storage space is at a premium in most Jeeps.
One thing I don't like about the ammo can solution is that the hard ammo can is a little more difficult to store in the Jeep than a more flexible fabric bag might be, so to get some different ideas for storing the compressor I put it and the tank in a Harbor Freight tool bag I use for my recovery gear.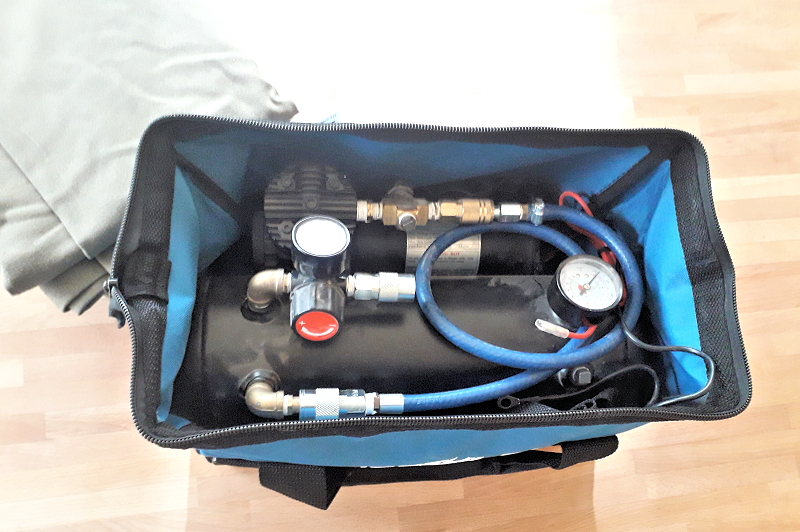 Everything almost fit except the bag won't zip closed, the bag is a little too low. Also the sides of the bag are high enough that air flow to cool the compressor would be restricted, so a different bag design would be required to provide cooling air flow. I'm thinking of designing a bag that would hold the compressor (but maybe not the tank) and have separate pockets for the air hose and perhaps for the power cord, and maybe some pockets for some air accessories. The bag would have a hard bottom that the compressor and some wiring could mount to, and a flap on the top that would open enough to provide unrestricted airflow to cool the compressor.
Before I proceed with the detail design of a bag, does anyone have input for features I might include in the design?