Hey Jeff - just thought of a great idea (at least I think so

)! It popped into my head this morning when brainstorming about how to upgrade my ever-growing collection of first aid kits in the Jeep. I travel a lot to remote areas, often with kids, so I think about this often.

I'm convinced that someone with your talents could design and sew a large first-aid kit that attaches via molle straps to the MORryde drop-down panel in the top of the cargo area that you designed. The kit would be the size of a large binder, and opens like one. The kit would open upward and toward the rear, with the top half flipping back to hang downward into the cargo area for easy access. And of course, it could be removed via the molle straps for easy transport, if needed. It would be so easy to use this kit, compared to the typical approach of having to remove a kit from the Jeep, lay it on the hood or ground, rummage through it and hope you quickly see what you're looking for. This could be a perfect product for Overland Outfitters, and I'd be the first to buy one!

Make sense? If not, I can try to draw a sketch. Just don't laugh at it.
Funny you should mention that, take a look at what's on my sewing table right now... alongside a production first aid bag I designed for Overland Outfitters last year are several yards of heavy cotton duck fabric and a bunch of red cross emblems for my next project.

The Kitchen Keeper project I recently finished and posted about is part of a set of three new ideas I'm working on, all based on a portfolio design that opens for hanging. The Kitchen Keeper was the first; the next two include a "Camper Girl" bag, it'll open the same way and hang and have a mirror mounted in it plus compartments specifically designed to fit common toiletries, cosmetics and other items that a Camper Girl wouldn't want to be without. And the third one is a first aid kit, again with a portfolio design that can hang or lay on the ground next to the injured person. It's intended to be a step above a standard first aid kit, something that a trail First Responder might find useful.

When you posted your idea I was in the process of drafting a post to see if there are any First Responders out there that want to work with me on the final design. I've got several "Camper Girls" working with me on the final design of that bag but until now I haven't put out the word looking for First Responders.

I'm doing the First Responder bag for Overland Outfitters (they sent me the red canvas and the red cross emblems to use for prototyping) and I've suggested to them that they provide a final bag to a First Responder who participates in the final design.

My First Responder bag project isn't exactly what you're suggesting, but it could hang down from the drop-down Molle panel and I'll make sure the straps that are part of the design work for that location.
Other projects and commitments kept me from getting to this project until this week, but here are a few photos of the finished First Responder bag. It can open and lay flat next to your victim for easy access to the supplies it contains: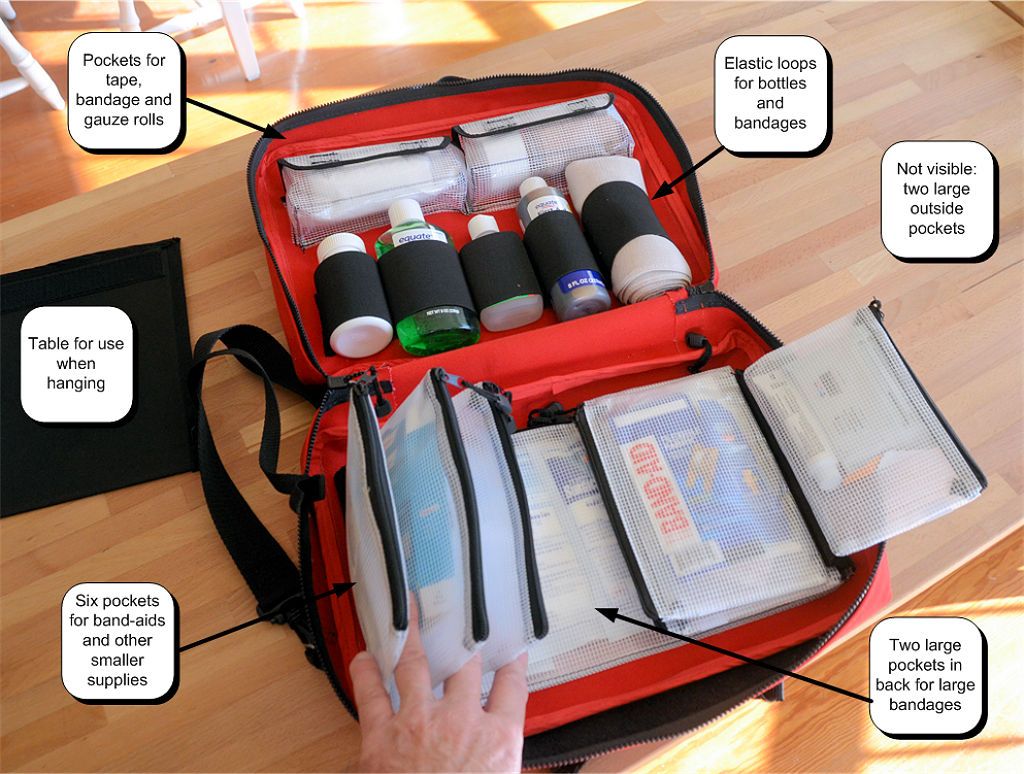 The top half has pockets for rolls of gauze, tape and bandage plus five elastic loops for bottles or bandages - I've got Ibuprofen, Burn Relief Gel, Itch Relief Liquid (bee stings), Antiseptic and a large Ace Bandage in it in these photos. The bottom half has six zipper pockets that flip like the pages of a book and one larger zipper pocket behind the first six and a large unzipped pocket behind that. And there are pockets on the outside on both sides.
It can hang almost anywhere. For hanging it also has an integrated work table.
On a tree: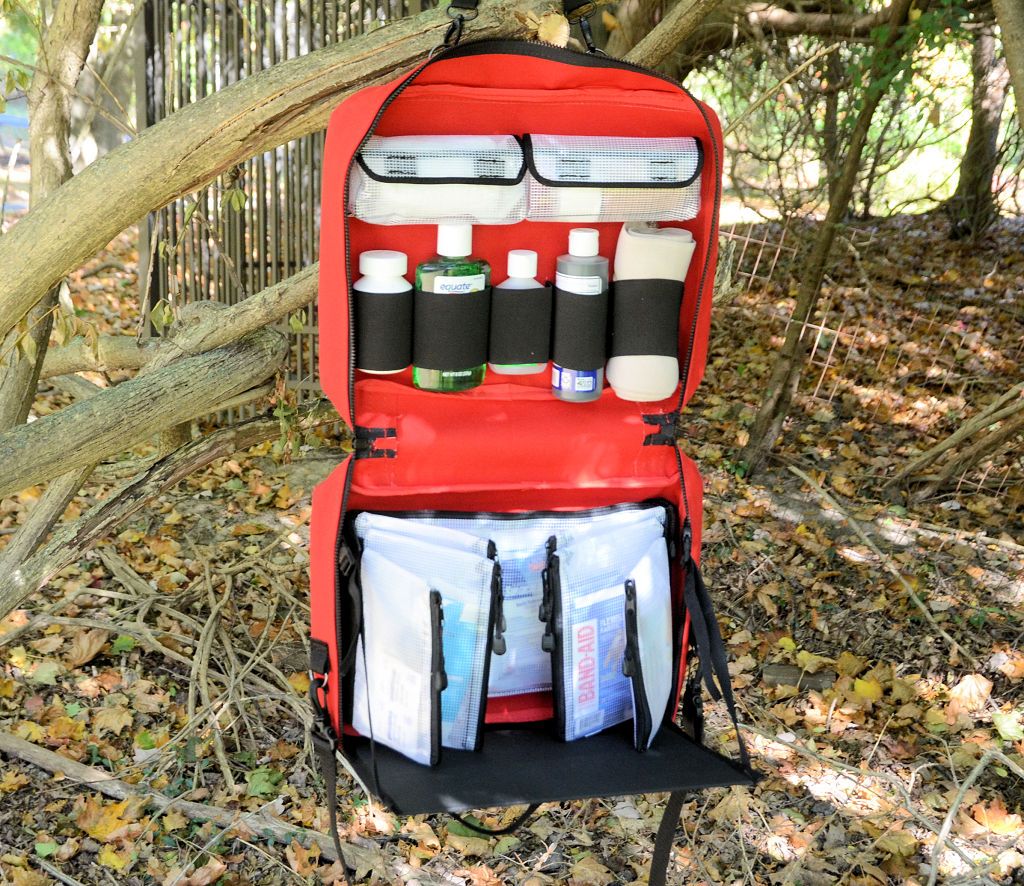 On a drip rail: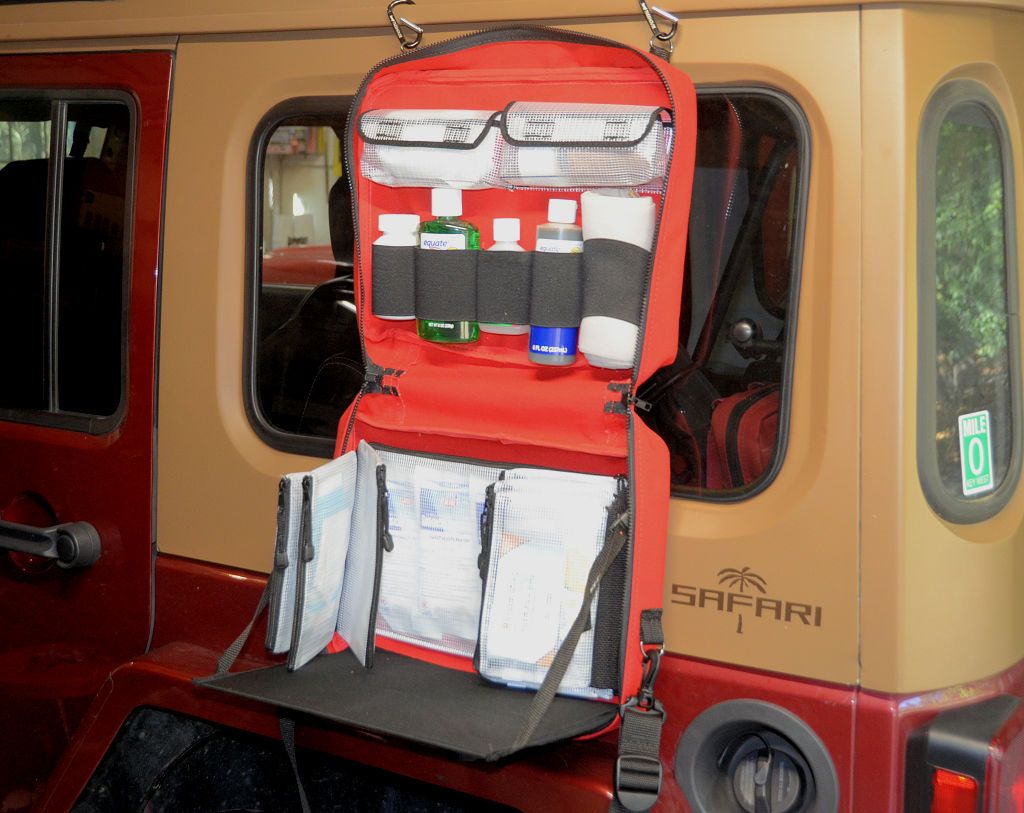 Or as MattJ suggests, on the Overhead Molle, and be opened when needed: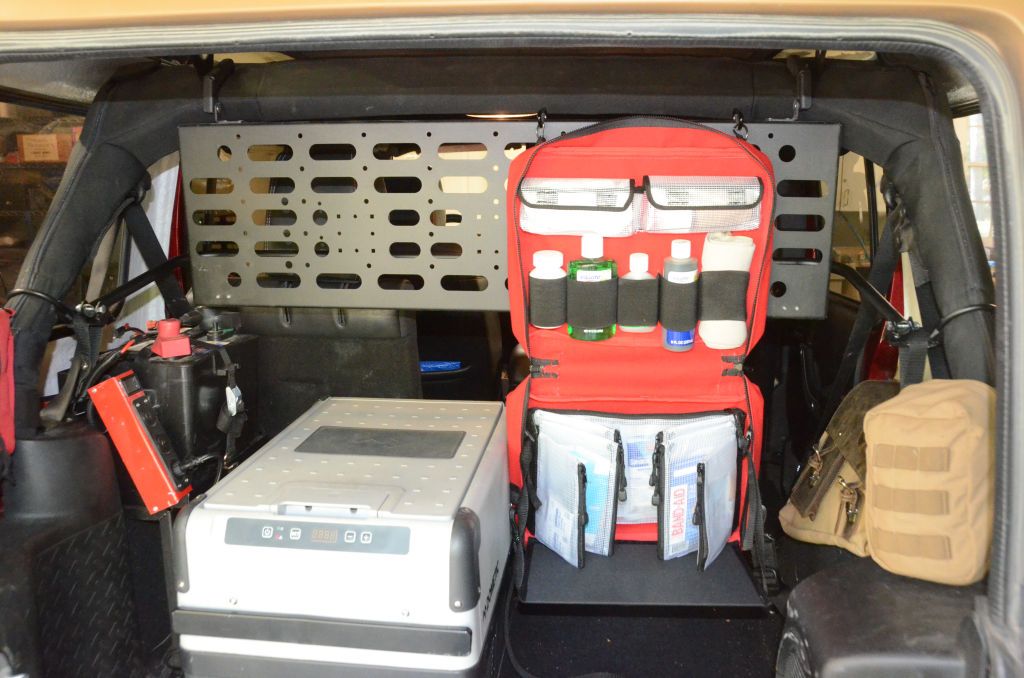 It's got carry handles that unclip and double as hanging loops plus a large shoulder strap and a large pocket on either side.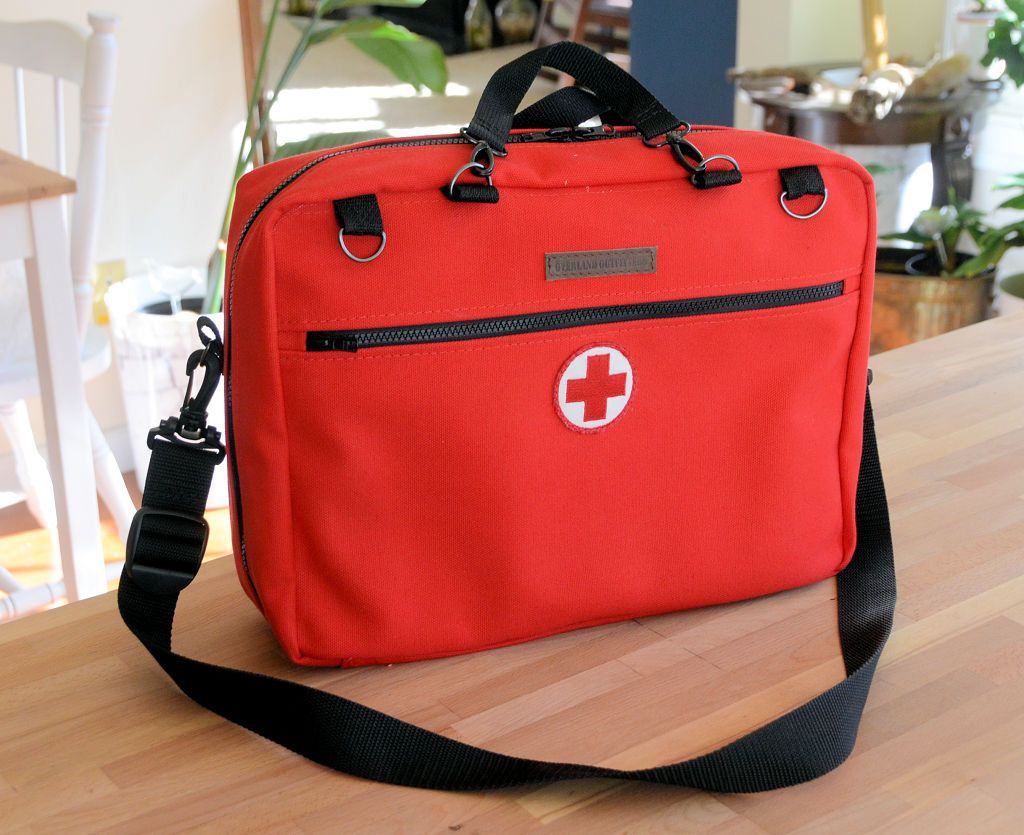 The basic shell is the same as the design I was calling the "Necessity Bag", I did that for manufacturing efficiency. I was invited to a call last week between Overland Outfitters and Quadratec and they both liked the Necessity Bag but QT suggested calling it the Camp Cabinet so I'll refer to it by that name now. I hadn't sewn the First Responder bag in time for the call but I explained the idea to both and they liked that idea as well so it may be that both of these will be coming to a catalog near you sometime soon.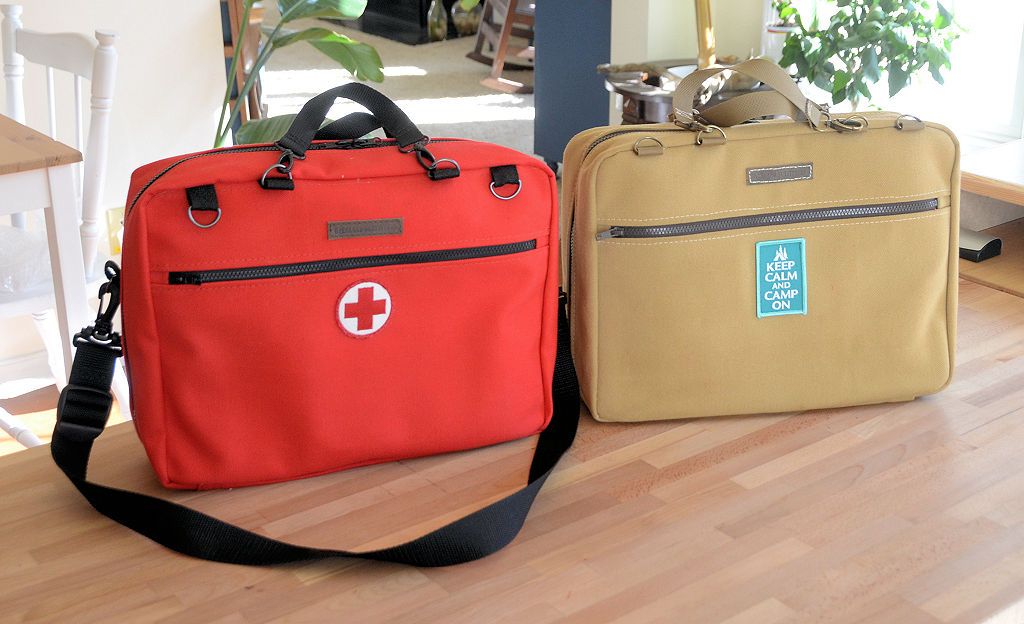 Last edited: