The fantastic Altai
It's report day today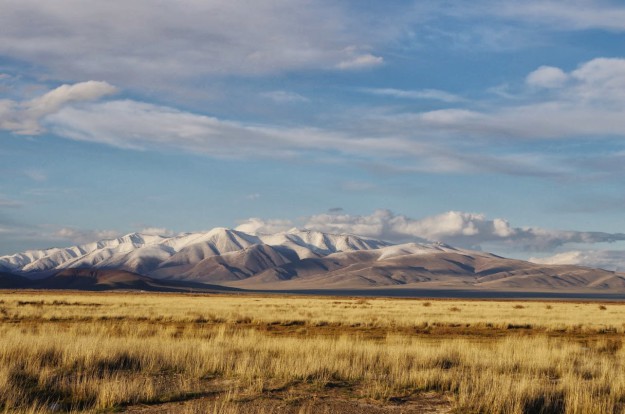 After about 5000km of shaking to bits on Russian roads we have reached the Republic of Altai. As expected the landscape pleases with greenery and mountains, a welcome change after a week of monotonous driving. At first the sights remind of Tatras in Slovakia, but soon we realise that this has it's own charm - it's the vastness and the feeling of freedom that rules here.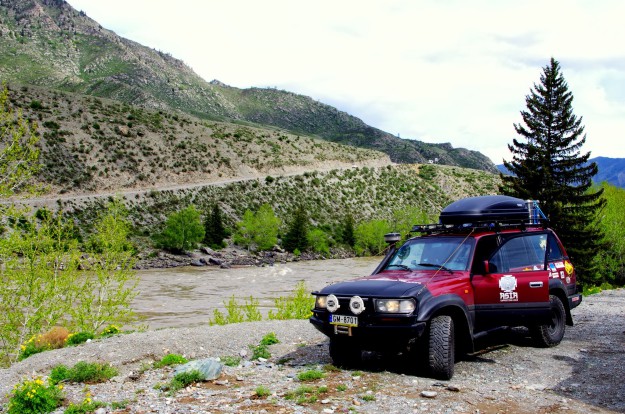 First couple of days we stay at a camping in Souzga, which is 20 minute drive from Gorny Altay. Camping "Ļesoteļ" (
http://lesotel.ru
) has several two-story buildings that are built using massive logs from local forests. There are rooms, kitchen and everything else required for a comfortable stay. This place is very popular among tourists as there are numerous health-boosting procedures - saunas, massages etc. and we don't hesitate to use them. It must be noted that Altai since old times has attracted masses and tourist camps are next to each other near the grand river of Katun. In season it's nearly impossible to find accommodation without prior reservation.
Altai greets us with a wonderful weather, it's sunny and +20C. One of Dodge's spare wheels has an air leak so we seek a local truck service to fix it. On our way back we decide to send some postcards home, but that proves to be not such an easy task. First of all there are no postcards in the local post office, neither in nearby shops. We do finally find some in a small kiosk and hurry to the post office to buy some stamps, which also takes a lot of time, because retired persons in the queue have nowhere to hurry. 1,5 hours later we have sent our postcards. We come to a conclusion that in Russia no-one hurries anywhere except on highways.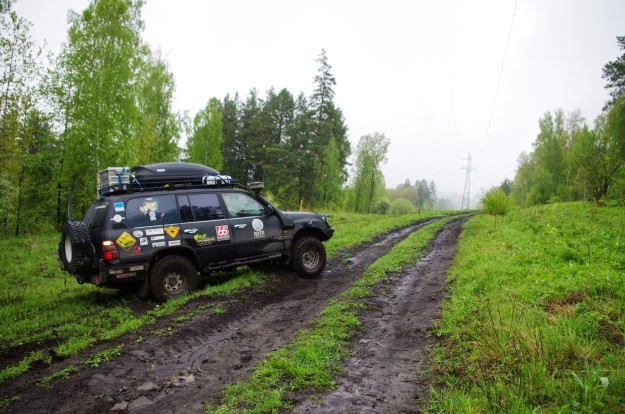 On the next day it's raining and we decide to explore local area with one of Toyotas and possibly reach the highest peak - The Devil Finger, 1300m. Forest tracks have become slippery and road surface reminds of top soil. Mud sticks to wheels in a second and the progress upwards stalls. We fight until the car slips off the road and we need to winch. While winching a trip to a tree and back results with at least three ticks on your legs. The feeling that something creeps on you doesn't stop even in the night.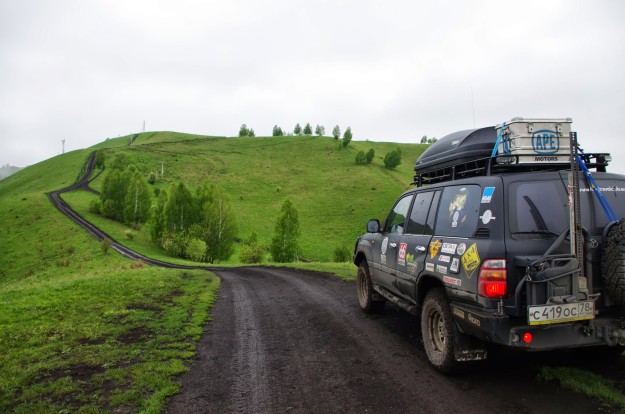 The conquest of The Devil Finger continues via another path, but yet again the wet soil makes handling of the car out of hand and we're forced to capitulate 3/4 before the peak. The way back isn't easy either - we slide more that drive.
Back at the base we find six Land Rover Defenders that have just returned from a month long expedition to Mongolia and Tibet. Fellow travellers share their valuable experiences about the road we're about to face and show us the most interesting places on the map.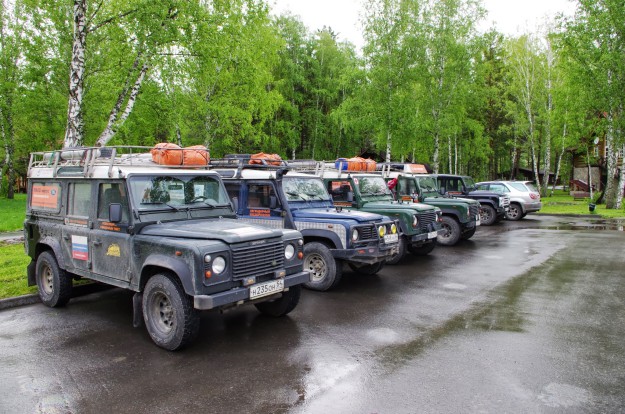 On May 22nd we leave the base and head to Mongolia. There's little traffic, but going isn't that fast as the views and terrain are just too spectacular. Originally we planed to visit Ust-Koks plateau, but we decide to drive as close to Mongolian border as possible and enter Mongolia a day earlier.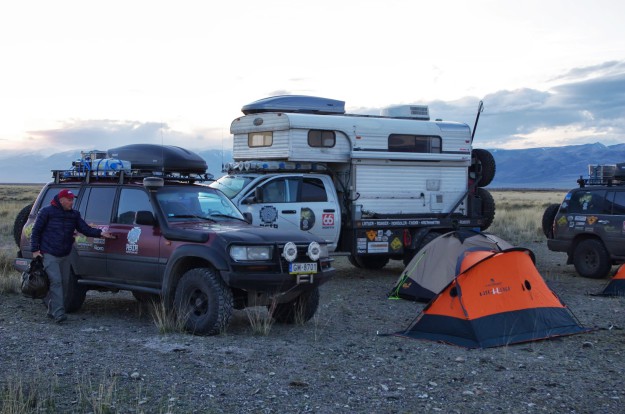 First serious mountain passes at 1700m greet us with a snow storm, but afterwards it's again sunny and +10C. We hold lunch by a river where on the opposite side graze horses, as well as cows and she eps just roam about even on roads. After lunch we have to drive 230km to the city of Kosh-Agach where supposedly the last civilised fuel station is to be found. It takes us 5 hours to reach the city. We fill up and head out in search of a place to spend the night. There're 80kms until the border and right after the city there's a passport control as we enter the border zone. We make camp in steppe. This day has been full of surprises, it's miraculous that on a 450km stretch the nature can be so diverse - from green forests, swift rivers to large rock formations, serpentines and a flat steppe of pure nothingness.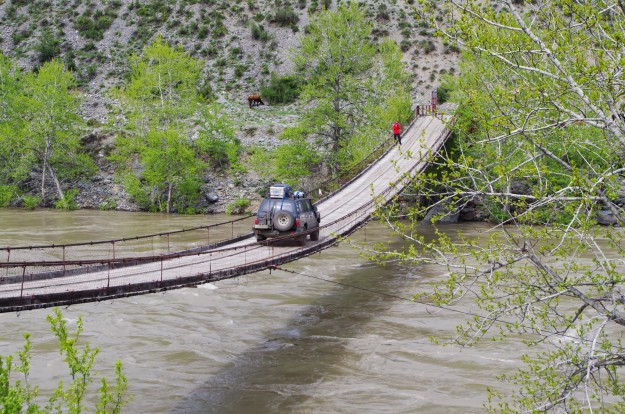 The night seems to take ages and breathing at 2000m is somewhat hard. In the morning it's +3C and we leave camp early to arrive at the border station at 9:00. The station works from 9:00 to 18:00 with a lunch break from 12:00 - 14:00. Surprisingly on Russian side formalities take only an hour and there are only five cars that are willing to use this crossing. After 20km of neutral zone we arrive at Mongolian border post, where the border guards require us to fill out a ton of papers and show a big interest to sniff each and every box of ours. Nevertheless the crossing takes about two hours and we're in Mongolia.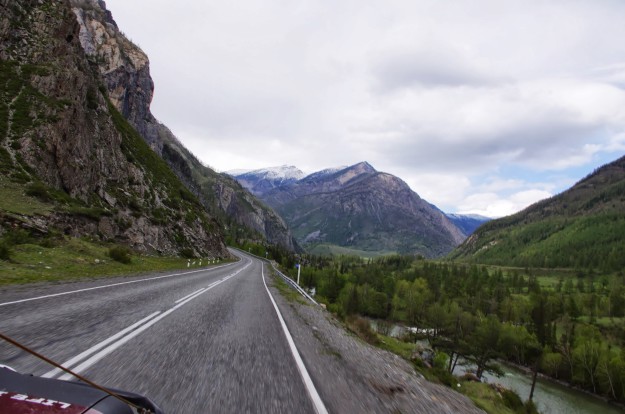 20m on Mongolian soil and we're stopped by some men who require us to buy insurance. While we obediently follow the procedure first begging kids arrive and leave with new souvenirs. And off we rattle into Mongolia - that's right, rattle, because the corrugations are severe here. More about the roads in the next report.
In retrospection the team very much liked Altai with it's beautiful and tidy nature and numerous places to stay, with a note that timely reservation is required. It's just a pity that this place is 5000km of boring drive from Home.
More photos are posted here:
https://plus.google.com/photos/108838916502238926329/albums/5883223581489311873
The team is stuck in the Mongolian city of Olgii for a couple of days. And there's internet! So we expect further news (and pictures!) very soon.