Hi all, I have a 2001 E-350 V10 Chinook Motorhome (Dually) I am considering upgrading to 4x4. Installer recomends finding a F250 - F350 V10 4x4 donor vehicle and swapping in its 4x4 system. Would I need to look for a 4x4 dually or can I go to SRW?
He thinks I can find approp F-250-F350 for $5 - $6k and just swap out 4x4 sytem. He estimated 70 hours or less, so we'd be looking at parts/labor of $12k plus tires for a 4x4 lifted to 4-6". I just put new Power Stop brakes on so I would like to keep these.
He thought a V10 F-250 or F-350 Superduty 4x4 would work. This is very interesting, does anyone see issues with going this route. He does a lot of fabricating and said although a lot of work its fairly easy just time consuming.
Any thoughts or advice on those that did this?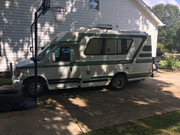 Thanks