I'm selling my baby to fund some other projects. This is one nice vehicle that has been very well taken care of. I have spared no expense on outfitting it. This is a great buy for someone looking for a "ready to go" expedition vehicle. I have documented over $35,000 I have spent on the vehicle, I have kept all receipts. This does not include all my time and labor. The vehicle was purchased for $34,200 new. All together I have over $70,000. in it. I'm selling for $45,000 or Best Offer. The oil was changed every 3,500-5,000 miles documented. I use only Mobile one since the very first oil change. The list of items is far very long that has been done to the vehicle. Here is a link to the build page that shows all that has been done to the vehicle.
http://www.fjcruiserforums.com/forums/member-build-ups/39068-raptor-shadow-warrior-s-build.html
FROM THE DEALER
2007 / 4704C Toyota TRD SE 4x4 FJ Cruiser SUV
Build date: Dec,
Driver & Passenger Airbags
Vehicle Stability
VSC Traction Control Anti Lock
ABS w/ Electronic Brake-Force
EBD Distribution & Brake Assist
3pt Seat Belts
ELR Dr Seat Belts /ADR & ELR Pass Seatbelts
TRD Special Edition
Black Diamond exterior, Exterior color-keyed interior door panel inserts.
A-Trac & Rear Diff Lock
TRD Tuned Bilstein Shocks
TRD SS Exhaust System
TRD 16" x 7.5: Gunmetal Alum Wheels
TRD Special Edition Badges
TRD Logo All Season Floor Mats
TRD Rock Rails
Multi-information display
2-1 audio with 6 disc changer
Driver & Passenger front seat mounted side bolster airbags
1st and 2nd row side Curtain Shield Airbags
Security System Upgrade
Roof Rack
Vehicle Shield Package
Distributor Installed Options
S.S. Exhaust tip
Passenger Armrest
First Aid Kit
Door Sill Enhancements
Skid Plates
Security System Upgrade
Receiver Hitch / Wire Harness
Roof Rack
Spare Tire Cover
Vehicle Shield Package – Lusterizing Sealant, Sound Shield, Sealant Cleaner, Rental Car Assistance.
TOTAL COST FROM DEALER: $34,223.00
The Following is the list of changes that has been done to this base unit. I will be adding more as time permits along with finances. Items will be removed and added to. The Raptor is an ongoing work in progress. The base unit as you can see is a TRD SE. The RAPTOR is being built as an Expedition capable vehicle. I will be updating the thread with the future items along with pictures as the vehicle building progresses.
ARMOR
Road Armor - Titan Front Bumper
Demello Off-Road - Rear Swingout Bumper W/ two Fuel Can Holders
Bud Built Front Skid plate
Bud Built Middle Skid plate
Bud Built Transmission & Transfer Case Skid plate
Bud Built Rear Cross member
Bud Built Fuel Tank Skid Plate
Inchworm E-Locker Motor Skid Plate
All Pro Rear Lower Shock Skid Plate
All Pro Rear Trailing Link Skid Plate
All Phase Rear Differential Skid plate
TRD Sliders
Pro One Side Mirror Light Guards
MANIK Tail Light Guards
Racers Choice Headlight Stone Guards
Total Chaos Front Lower Control Arm Skids (Purchasing)
SUSPENSION AND TIRES
Mickey Thompson 8x16 Classic Locks w/ Black Faux Bead Lock Ring
Dick Cepek Mud Country - 305/70R16
Custom Body Mount Chop
ICON VD
(Donahoe Racing)
3.5" Coilovers "New Version"
ICON VD
(Donahoe Racing)
Rear Shocks & Springs
ICON VD Upper Control Arms
ICON VD - Rear Lower Control Arms
All Pro – Rear Upper Links
Gorilla Lugs & Locks (Black)
RECOVERY
Warn M8000 Winch
Warn Fairlead Roller
Warn Receiver Hitch W/ Recovery Shackles
4 Ton Come-Along
(2) 3.5 Ton Shackles
ARB Tree Saver
ARB Snatch Block
ARB Safety Cover
ARB Snatch Strap
ARB Tow Strap
ARB Large Recovery Storage Bag
Hi-Lift 48" Extreme Jack
Hi-Lift Base
Hi-Lift Bumper Lift
ENGINE PERFORMANCE
TRD CAI (Cold Air Intake)
Relocated Transfer Case, Transmission, Rear Differential & E-Locker Breathers (SCUBA Mod)
ARB Safari Snorkel (Custom Install to CAI)
Std TRD package SS Exhaust System
Mobile One Synthetic Engine Oil
Mobile One Filter
Mobile One Synthetic Grease 75W-90
E3 Spark Plugs (E3.68)
LIGHTING
PIAA 510 Ion Super White Driving Lights (2)
IPF 900XSD Extreme Driving Lights (2)
IPF 900XSS Extreme Pencil Beams (4) Light Bar
Red Neon Under-dash Lighting (Night Vision) Driver & Passenger sides
Interior Overhead Puck Lights (uphill's Idea)
Changed out Dash, Instrument & AC Control lights from white to RED LED's
ELECTRONICS
SONY AM/FM CD/IPOD Player
Cobra 148 NW ST Sound Tracker SSB CB Radio
Lowrance 540C Baja GPS Unit
Uniden CT7 Police Scanner
Scanguage II
3' Fire Stick CB Antenna
Bandi CB Mount
Whistler Radar Detector
Insignia DVD Player
Engel MT45 Freezer/Fridge
Duel Optima Battery Setup
SAFETY
Duel Vehicle Horns
Emergency Window Breakage Tool
Fire Extinguisher
Sceptor 5gal. Fuel Cans (2)
Tire Plugs, Patches & Tools
JB Weld (For Extreme Trail Breakage)
Heavy Work Gloves
Signal Flares
ARB Recovery Damper
Survival Kit (Very Comprehensive)
Emergency Medical Kit (Very Comprehensive)
CCW Weapon Mount
STORAGE
GOBI Ranger Custom Full Size Roof Rack
Sleeping / Tool Storage Box
Rear Door M-PAC Rear Door Storage Rack
Rear Side Storage Wall Racks
Sleeping/Tool Box/On Board AIR
TOOLS & TRAIL EQUIPMENT
WARN SP1 Air Compressor (Running Air Tools)
Ingersoll Rand Impact Kit
Fiskars Axe
Fiskars Shovel
(2) Scepter 2.5 gal Water Cans
Maxx Air Compressor
Staun Tire Deflator
Heavy Duty 4x4 Tire Gauge w/deflator button
Tool Kit including Hack Saw, Breaker Bar
Spare Vehicle Fuses
Gorilla Duct Tape
S.S. Bailing Wire
Large Breaker Bar
35mm Socket (Hubs)
GoJo Hand Cleaner
ADDITIONS
Custom Wet Okole Seat Covers
Vent Visors
Stant Locking Gas Cap
RAM Laptop Vehicle Mount
Ellis Precision CNC Billet Aluminum grab handles
Ellis Precision CNC Billet Aluminum Battery Clamp
Window Tint 5% Driver & Passenger Side windows / All Rear Windows 20%
Replaced the Stock Cheep Door Speakers
CUSTOM PERSONAL MOD's
Removed stock emblems
Blacked out Mirrors, Door Handles & Bezel
Blacked out Front Turn Signals & Rear Tail Lights
Shorted Shifter 3"
Installed Custom Shifters
Removed Plastic Fenders
Painted Brake Calipers (Red)
Personalized License Plate (IH8PVMT)
Built Interior Sleep/Tool/Equipment box
FJ CLEANING ITEMS I USE
303 Aerospace Protectant for all Exterior Plastic
Mr. Clean Car Wash System For Exterior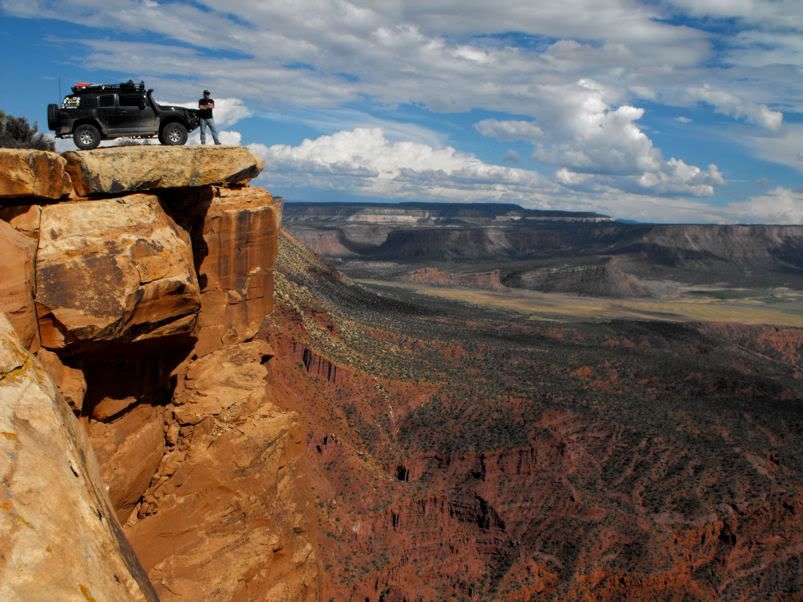 Only Serious Inquires,
Thanks for looking.
Mike
E-mail:
thepatriotsite@yahoo.com